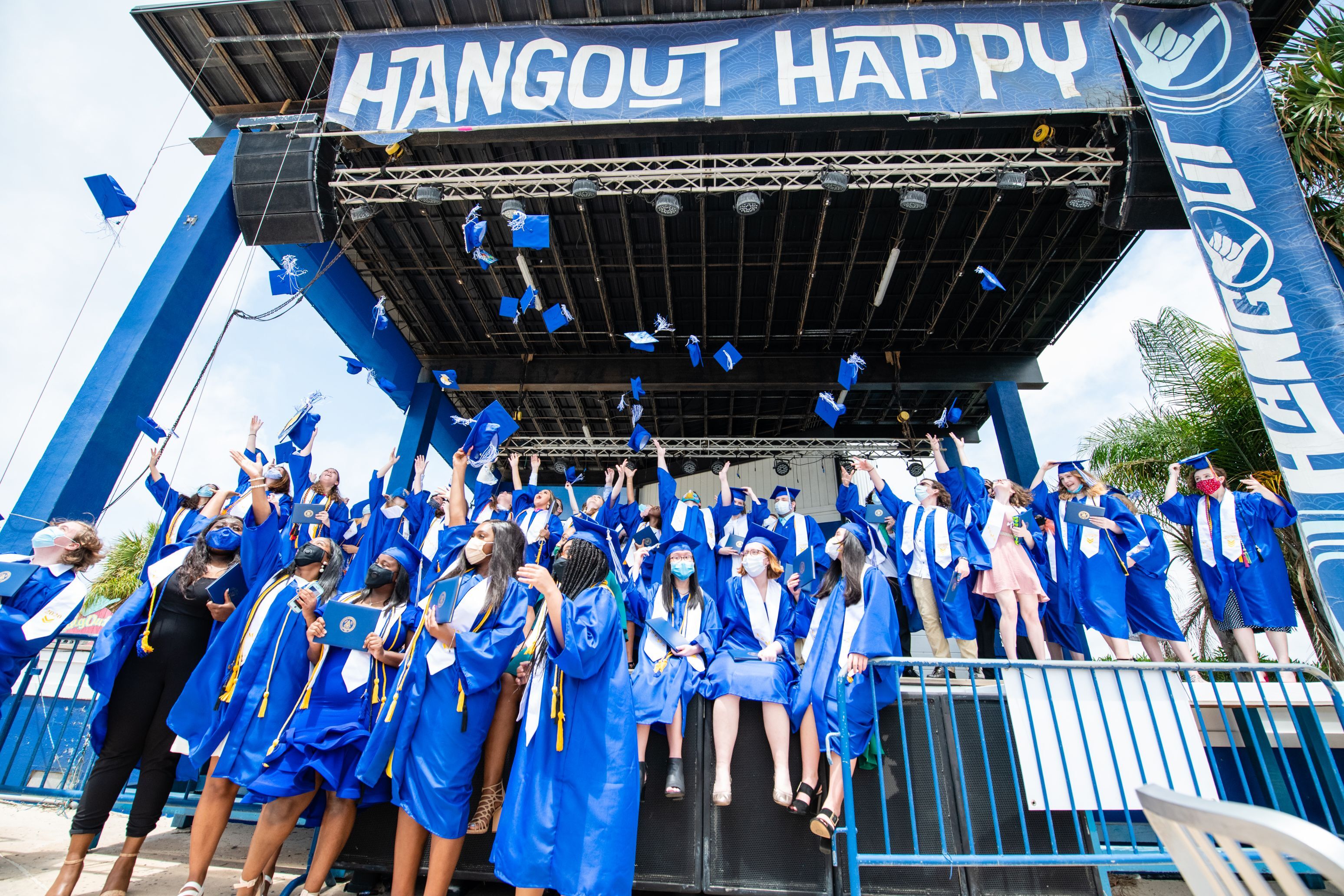 In-person Ceremony, May 27 at 11:00 a.m., The Hangout in Gulf Shores, AL
Schedule
10:15 AM – Doors Open at The Hangout (please arrive promptly at 10:15 AM)
10:15 AM – Check-In Opens
10:55 AM – Check-In Closes
11:00 AM – Ceremony Begins
11:20 AM – Senior Class Line Up mid-Ceremony (this is an approximate time)
11:45 AM – Ceremony Ends, Senior Class Picture on the Stage (this is an approximate time)
Day of Graduation Info. Sheet
View It Here
---
Guests

This in-person ceremony will include components of the traditional ASMS ceremony but will be altered due to health and safety precautions. All persons attending this event are required to wear a mask. Please remember the six-foot social distancing rule must be followed before and during the ceremony. In order to protect the safety of all involved, we are limiting additional guests to no more than 5 guests of the graduate (1 graduate and a max of 5 guests for a total of 6 attendees).
Per CDC guidelines, anyone in a high-risk group should not attend, including older adults and anyone with a serious underlying medical condition. Anyone feeling sick or who has a fever should stay home and should not attend.

Cap and Gown Pick Up, ASMS Campus Photos
Students will be able to pick up their cap and gown starting Thursday, May 13. Students and families are welcome to take cap and gown photos in the auditorium along with outdoor campus photos any time prior to Saturday, May 29 at 2:00 PM. Please contact ASMS security when you arrive on campus. A professional photographer will not be present. Families and students must take their own photos. You are not permitted to wander to other rooms, buildings, or areas of campus as this poses a health and safety risk.
Ceremony Venue
Graduation will take place in the outdoor patio area of The Hangout located at 101 E Beach Blvd, Gulf Shores, AL 36542.

Attire
As this day is both celebratory and regal in nature, please be sure to review the following instructions regarding attire for graduating students. Graduates must be dressed in cap and gown and adhere to the dress code listed below.
Women's Graduation Attire
1. Dresses may be any color but cannot be shorter than 2 inches above the knee.
2. Shoes must be "dressy" and may be any color. Flip-flops, athletic shoes, and boots are not permitted. Shoes must have a back to prevent "flopping" as you walk. Heels should not be higher than 3 inches.
Men's Graduation Attire
1. Shirts must be a solid color and can be long or short sleeved. Patterns, flowers, checks, stripes, etc. are not permitted.
2. You must wear a tie, and it must be a solid color. Bow ties are not permitted.
3. Pants must be "dressy" and may be black, navy or khaki in color. Blue jeans, athletic pants, denim pants, etc. are not permitted.
4. Shoes must be "dressy" and black, navy or brown in color. Sandals, flip-flops, and athletic shoes are not permitted.
Regalia
1. Seniors must wear their official blue ASMS graduation gown and mortar board cap issued by the school.
2. Seniors must wear the official white ASMS graduation stole issued by the school.
3. Seniors may wear colored cords to signify membership in National Honor Societies: blue and gold for the National Honor Society; blue, white, and red for the Société Honoraire de Français; black, red, and gold for the Deutsche Ehrenverbindung; crimson and gold for the Latina Honoris Societas; and red and gold for the Sociedad Honoraria Hispánica.
4. Seniors are only allowed to wear up to three cords and no more. If you have more than three, you must select your three favorites to wear.
5. Seniors can wear any Honor Society or JBLA pins if they have them.
6. Seniors can wear any medals they are awarded at Honors Convocation.
7. Seniors can wear the National Honor Society stole.
8. Seniors who are members of nationally recognized service organizations can wear a cord or pin, but they must not exceed the three cord limit.
9. Seniors are not permitted to wear any stole other than the official ASMS graduation stole or NHS stole.
10. Seniors are not permitted to decorate or alter their mortar board cap in any way.
11. ASMS Research Fellows may wear the blue/green tassels provided by ASMS staff instead of the blue/white ones that are part of the traditional ASMS graduation attire.
Graduation Day is a regal, academically focused celebration and should be treated as such. Seniors who fail to comply with these instructions may be asked to change, remove any non-compliant clothing or items, or may not be permitted to participate in the ceremonies. The decision will be up to the discretion of ASMS faculty and staff members. We ask that all graduates and parents/guardians of graduates help us make this day a dignified and happy occasion for you and your family to enjoy.
Traffic and Parking
Due to Memorial Day weekend, beach traffic will be heavily increased. It is strongly advised that all ASMS graduation attendees plan for an additional 2 hours of travel time to the venue.
Parking at The Hangout is very limited. The venue has two parking lots available for guests. Signs will be placed at the entrance to these lots. If these lots are full, there is a strong possibility that guests will have to park farther away and walk to the venue. We advise all guests to arrive early!
Click the google links for directions to these lots:
Parking Lot 1 is located directly next to The Hangout venue.
Parking Lot 2 is the grassy lot located across the street from The Hangout venue.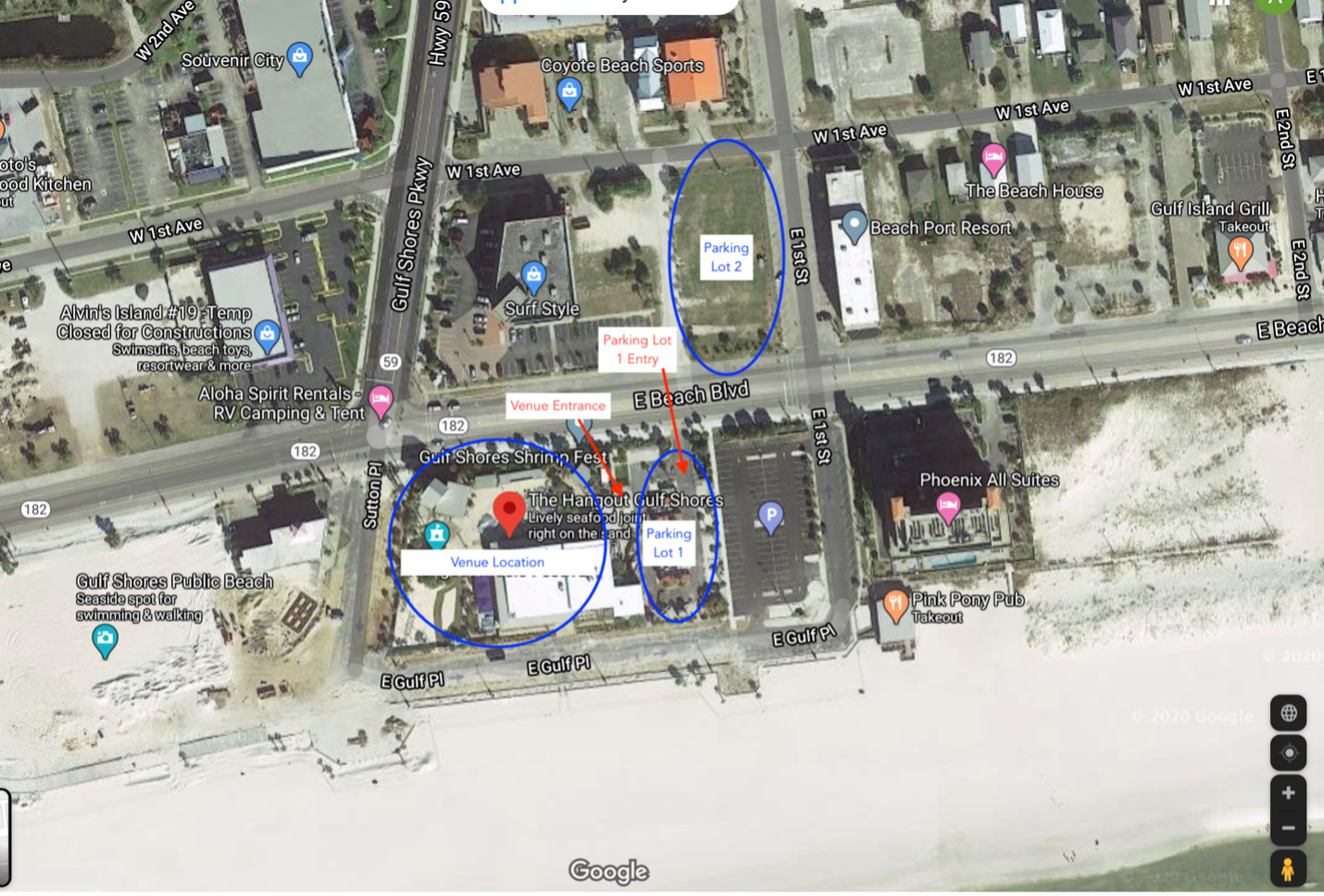 Handicap parking is extremely limited as well. If you have a guest attending who needs accommodations for walking, please plan to drop that guest off at the entrance to the venue and then proceed to park.
After the graduation ceremony, guests who wish to remain at The Hangout or spend time at the beach are permitted to stay in their parking spots from the ceremony.
Parking Pass
A parking pass is REQUIRED for all vehicles that are parked for the ceremony. All ASMS guests must print and place the graduation parking pass in the front window of their vehicle. Parking passes will be e-mailed to parents/guardians who RSVP. Please be sure you and your guests download and print the pass for your use.

RSVP, Check-In, and Entry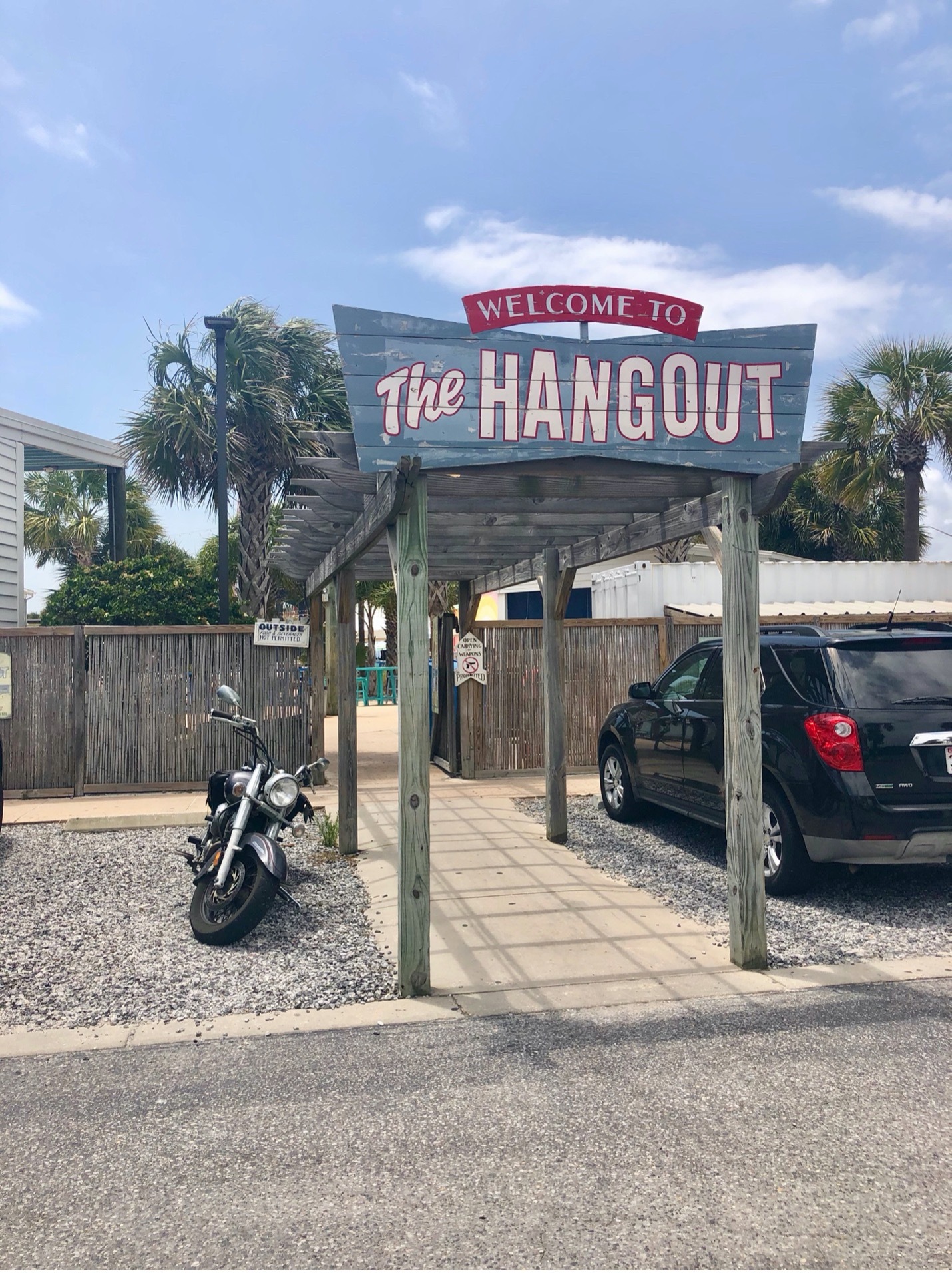 The Hangout staff members will open doors promptly at 10:15 AM. All ASMS graduation attendees should arrive prior to 10:15 AM, so that check-in runs efficiently. The ceremony will begin promptly at 11:00 AM.

Check-in will take place at the parking lot gate for The Hangout (pictured here). There will be a sign at this gate entitled "ASMS Graduation." If you do not see this sign, you are at the incorrect gate.
IMPORTANT: All graduates must RSVP for themselves and their guests, and those who do not RSVP by the deadline will not be permitted entry. We are limiting additional guests to no more than 5 (1 graduate and a max of 5 guests for a total of 6 attendees).

Both The Hangout and ASMS staff members reserve the right to refuse any individual entry for any reason.

Venue Seating and Social Distancing
Guests may be seated at a table of their choice. Graduates should sit with their family members and guests until called upon for line up. Tables are socially distanced from one another. Interactions with other guests should be limited to conversation at a safe social distance and should not include physical contact, including hugs or handshakes. If all chairs or tables are filled, some guests may have to stand. Again, arrive early!
A special thank you to The Coca-Cola Company for donating water bottles for our guests to enjoy at the ceremony.
Weather
As this is an outside event, please prepare for the possibility of rain. You may want to bring ponchos and umbrellas with you.
Ceremony Logistics
Seniors will sit with their families and guests for most of the ceremony.
After the student speeches, Seniors will be called to line up for the presentation of diplomas.
Processional order: Students, in order to have the ceremony run smoothly, we need your help! We will be sending you the processional order prior to graduation. We will also be hosting a virtual graduation practice / meeting on Teams at an assembly prior to graduation. It is imperative you know who is in front of you and who is behind you. We will NOT have the opportunity to practice again at The Hangout.
Once you are lined up on graduation day at The Hangout, Mrs. Godwin and Mrs. Phillips will direct you to the stairs at the rear of the stage. Please do not go up the stairs until they direct you to do so.
Once on stage, and your name is called, please walk to the front of the stage, pick up a diploma off the table, pause, face the front of the stage and have your picture taken, then proceed to the rear of the stage.
You will enter and exit the stage via the same staircase. Do not enter or exit the stage until directed to do so by Mrs. Godwin or Mrs. Phillips.
Once you leave the stage, return to your seat with your family.
We will attempt to get a group photo at the end of the ceremony by calling the graduates back on stage. Participation is voluntary.
Photos and Videos
We will have a professional photographer present taking photos on graduation day and videoing the ceremony. Photos will be available to download for free after graduation. The graduation ceremony will be made available on the ASMS website after it has been edited. The exact date and time of photo and video availability is not known at this time. We also encourage family members to bring their own cameras to photograph their graduate.
IMPORTANT Reminders
Masks are required for all participants – seniors, families, faculty, staff, etc.
Parking passes are required for all vehicles in the Hangout Lots.
Guests are responsible for bringing their own sanitizing materials (wipes, hand sanitizer, etc.)
There will be blank "thank you cards" and pens on the tables at graduation. We will be presenting Mr. Zislin with these at the end of the ceremony. Please have each member of your family write a card to Mr. Zislin. There will be a basket on the check-in table where you can place your completed card(s). Please get them to the check-in table before the ceremony begins.
We look forward to celebrating the Class of 2021!