Welcome ASMS Alumni!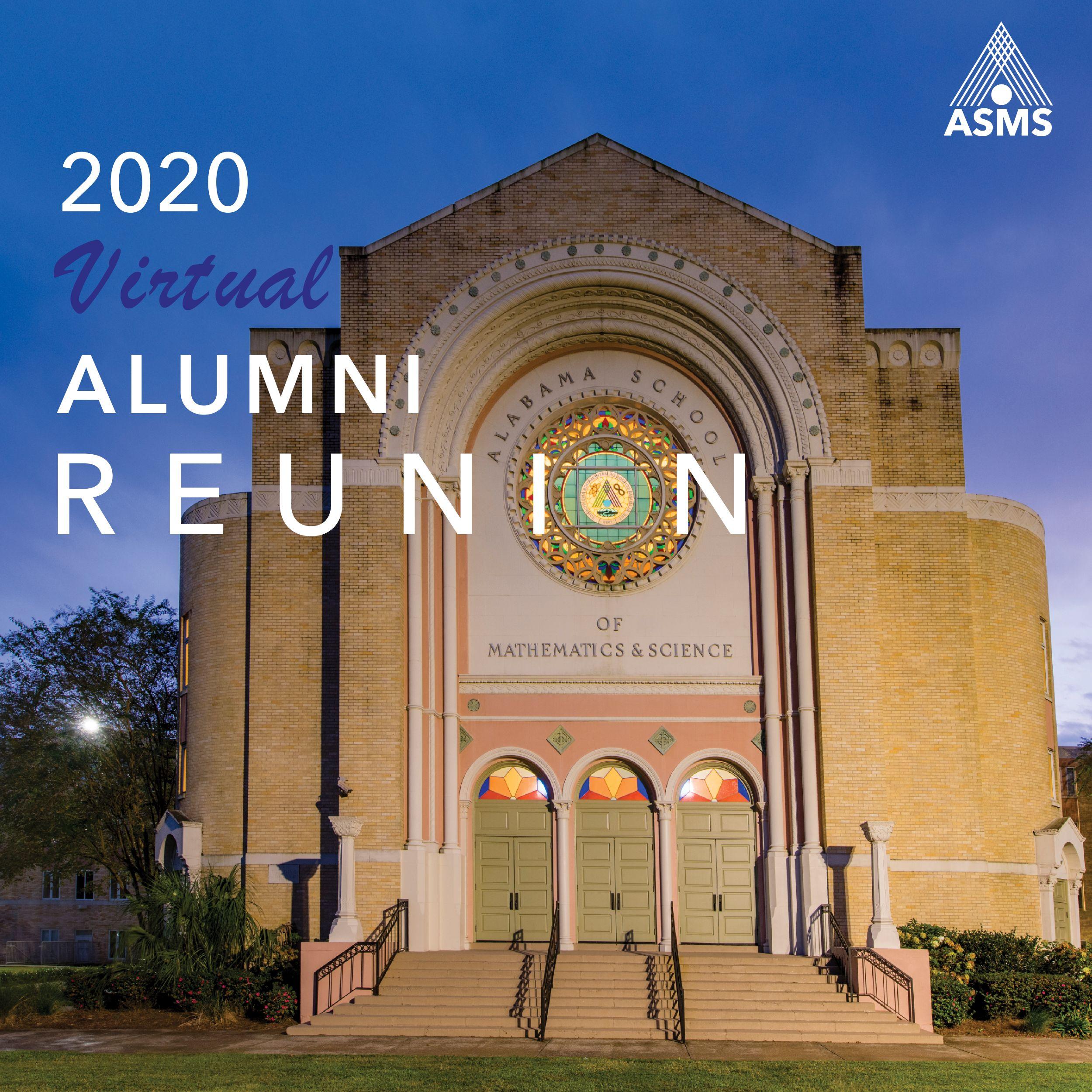 Join us for the 2020 Virtual Alumni Reunion!
In partnership with alumni volunteers, ASMS is excited to host a virtual reunion event for our graduates to reconnect with one another and engage with the school. The reunion will include updates from ASMS, a chance to hear from current ASMS students, opportunities to network, and time for class year reunions. Mark your calendar for Saturday, November 14 at 3:00 PM CST. We hope to see you there!

Event Schedule
2:45 PM - Start of the Reunion Call
3:00 PM - Welcome and Schedule Overview
3:05 PM - State of the School
3:25 PM - Student Presentation
3:40 PM - Alumni Engagement Opportunities
3:50 PM - Explanation of Breakout Rooms and Group Picture
3:55 PM - Quick Break
4:00 PM - Networking Breakout Rooms
4:30 PM - Class Year Breakout Rooms
5:00 PM - End of Official Virtual Reunion

5:00 PM - Alumni Virtual Happy Hour
8:00 PM - Alumni Virtual After Party
Happy Hour
The Virtual Happy Hour will begin at 5:00 PM CST. All established breakout rooms will remain, so alumni are welcome to stay in their class year breakout rooms or return to the main room. This will be a great time to chat and reminisce with fellow alumni near and far. Feel free to hang out and unwind as long as you'd like; this "happy hour" has no official end time. Join the Happy Hour using the Zoom link for the virtual reunion (see below).
After Party
The After Party will begin at 8:00 PM CST. Volunteers will be hosting party games, such as the Jackbox Party Packs. Like the Happy Hour, the After Party will continue as long as the participants would like to stick around. Join the After Party using the Zoom link for the virtual reunion (see below).
Thank you, and we look forward to seeing you very soon!

Registration
Registration is now closed. If you were not able to register by the deadline but would still like to attend, please e-mail amcmaken@asms.net. We look forward to seeing our alumni very soon!
Join the Reunion
Update your Zoom app. Please take a moment to install or update Zoom prior to this Saturday. You can do this by visiting https://zoom.us/download in a browser. We recommend you join on a computer for the best experience, but you can also join using your phone or tablet. Even if you have used Zoom before, please visit that link to make sure you have the latest version! The easiest way to make sure you have the latest version is to simply visit the link above and install Zoom again. If you join with an older version of Zoom, you may have trouble moving between breakout rooms.
Join the meeting. When it's time to join the reunion, please visit this link: https://us02web.zoom.us/j/85816826997?pwd=WDExbEQ5OFdQdGpmQnN0QXRUY212UT09
(Alternatively, in the Zoom app, enter Meeting ID 858 1682 6997 and passcode 1989.)
Enter your name and class year. When you join, please include your graduating class in your name. For example, you might enter "Ashley Smith - 2000" as your name. If you have trouble with this, don't worry - a technical volunteer will notice and will be able to help you.
Need help joining? If you are experiencing difficulties joining the event, please send a text message to (251) 244-4300 to request assistance.
Tips for Operating Zoom
If you haven't used Zoom before, don't worry! You only need to know a few things for the reunion.
You can mute and unmute yourself using the button in the lower left corner of the meeting window. If you forget to mute, a coordinator may take care of it. However, you must unmute yourself to speak - coordinators can't unmute you.
You can choose to view multiple alumni at once, or just view the attendee who is currently speaking. To change views on a computer, click "View" in the upper right corner; on a phone or tablet, swipe left and right.
Tips for Operating Zoom Breakout Rooms
During the second half of the event, we will be utilizing breakout rooms for alumni to connect in smaller groups. A coordinator will announce that it is time to join a breakout room. When this happens, select the Breakout Rooms icon. On a computer, this is located at the bottom of the window; you may have to select "More" in order to see this option. On a phone or tablet, the option will appear in the upper left corner of the screen. If this feature isn't working for you, send a text message to (251) 244-4300, noting your name and the room you'd like to join, and a coordinator will move you to that room.
Need Tech Assistance During the Event?
Send a text message to (251) 244-4300 noting your name, class year, and tech issue. Some of our alumni volunteers who are serving as Zoom coordinators will be happy to assist you!
Questions?
E-mail amcmaken@asms.net or schurch@asms.net