Thank you to our alumni who served on the 2021 Alumni Panel at assembly!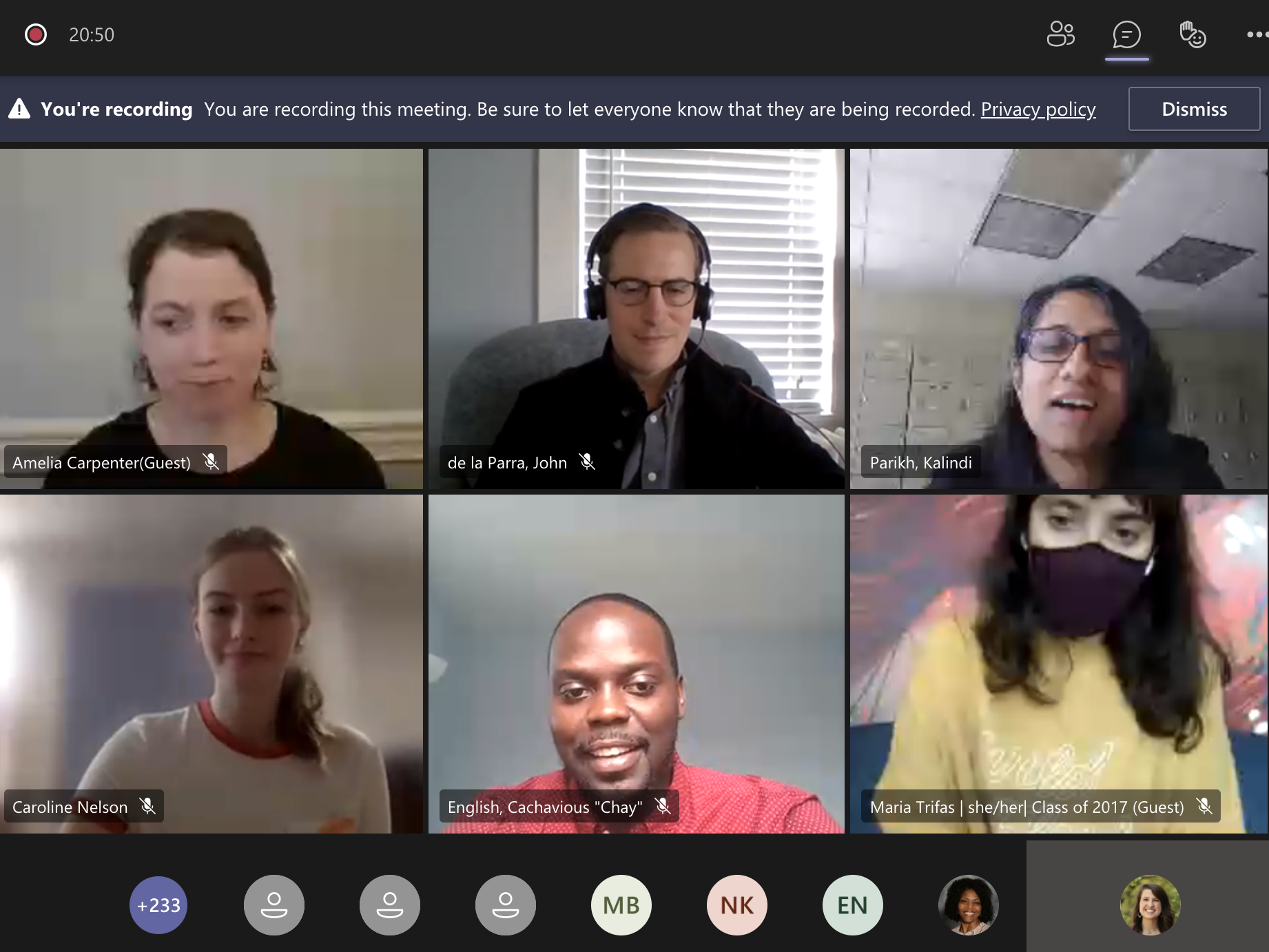 Amelia Carpenter - class of 2006
Amelia (Williams) Carpenter is Senior Hardware Quality Engineer for RF Products at Raytheon Technologies. Amelia is from Autaugaville, Alabama and entered ASMS as a junior in Fall of 2004. While at ASMS, she was fortunate enough to study abroad in Muenster, Germany. Amelia completed her Bachelor of Science degree in Aerospace Engineering and Master of Arts in Technical and Professional Communication from Auburn University. She has over seven years of experience in the commercial and defense aerospace industry.
Dr. John De La Parra - class of 1998
Dr. John de la Parra is an ethnobotanist and plant chemist with expertise in food crops and medicinal plants. He is the Manager of the Global Food Portfolio at The Rockefeller Foundation where he works to advance a more nourishing and sustainable food system. John is also an Associate at Harvard University and a Lecturer at Tufts University where he regularly delivers lectures and short courses on ethnobotany, food system innovation, agriculture, and medicinal plants. He has held additional appointments as a Research Scientist at MIT and a Lecturer of Biotechnology at Northeastern University.
Cachavious English - class of 2003
Cachavious English is originally from Selma, AL and after graduating from ASMS in 2003, English attended the University of Michigan where he majored in African American studies and minored in Economics. From the University of Michigan, English attended law school at The University of Alabama. Upon graduating from law school, Congresswoman Sewell influenced English's decision to move to Washington D.C. to work with her in public policy. Sewell who was elected by Alabama's 7th District, the same district where English grew up, had just been elected as the first African American Congresswoman from Alabama. After working with Congresswoman Sewell, English lobbied for a few years and then later returned as Sewell's Chief of Staff – a position he held for 3 years. Today, he is a Vice President at BGR Group where he engages in bipartisan lobbying, strategic communications, and business solutions.
Dr. Kalindi Parikh - class of 2001
Kalindi Parikh is a cardiologist at the Atlanta Medical Center, where she also serves as Vice-chair for the Department of Medicine and has been distinguished as a fellow of the American College of Cardiology. She is originally from Selma and arrived at ASMS in 1998 as part of the inaugural sophomore class. She received her undergraduate degree in chemical engineering from the Illinois Institute of Technology followed by her M.D. from the Chicago Medical School. She did her residency in Internal Medicine at Thomas Jefferson University in Philadelphia and fellowship in Cardiovascular Diseases at Rush University School of Medicine in Chicago. She went on to complete further training in Advanced Cardiovascular Imaging at the National Institutes of Health (NIH) outside Washington D.C. She is board certified in cardiovascular disease and internal medicine as well as multiple imaging subspecialties including echocardiography, nuclear medicine, cardiac MRI and cardiac CT. Her hobbies include reading, traveling and spending time with her husband, son, and two dogs.
Maria Trifas - class of 2017
Maria Trifas is a graduating senior at Columbia University in New York City. She grew up in Jacksonville, Alabama and arrived at ASMS as a sophomore in 2014. While at ASMS, she was involved with SGA, Women of the World, Science Olympiad, Debate Team, and Science Fair Research. She also played tennis and ran cross country. Maria was inducted into the ASMS Hall of Fame when she graduated in 2017. She then moved to New York City to study at Columbia, where she is majoring in Biochemistry. At Columbia, Maria is involved in stem cell research, the Columbia Undergraduate Science Journal, and Camp Kesem. After she graduates, she plans to pursue an MD/PhD dual degree, and she hopes to have a career as a physician-scientist. Maria is passionate about combining scientific findings and medical practice and actively working for more socially equitable institutions to genuinely extend better healthcare to all.