Welcome ASMS Alumni!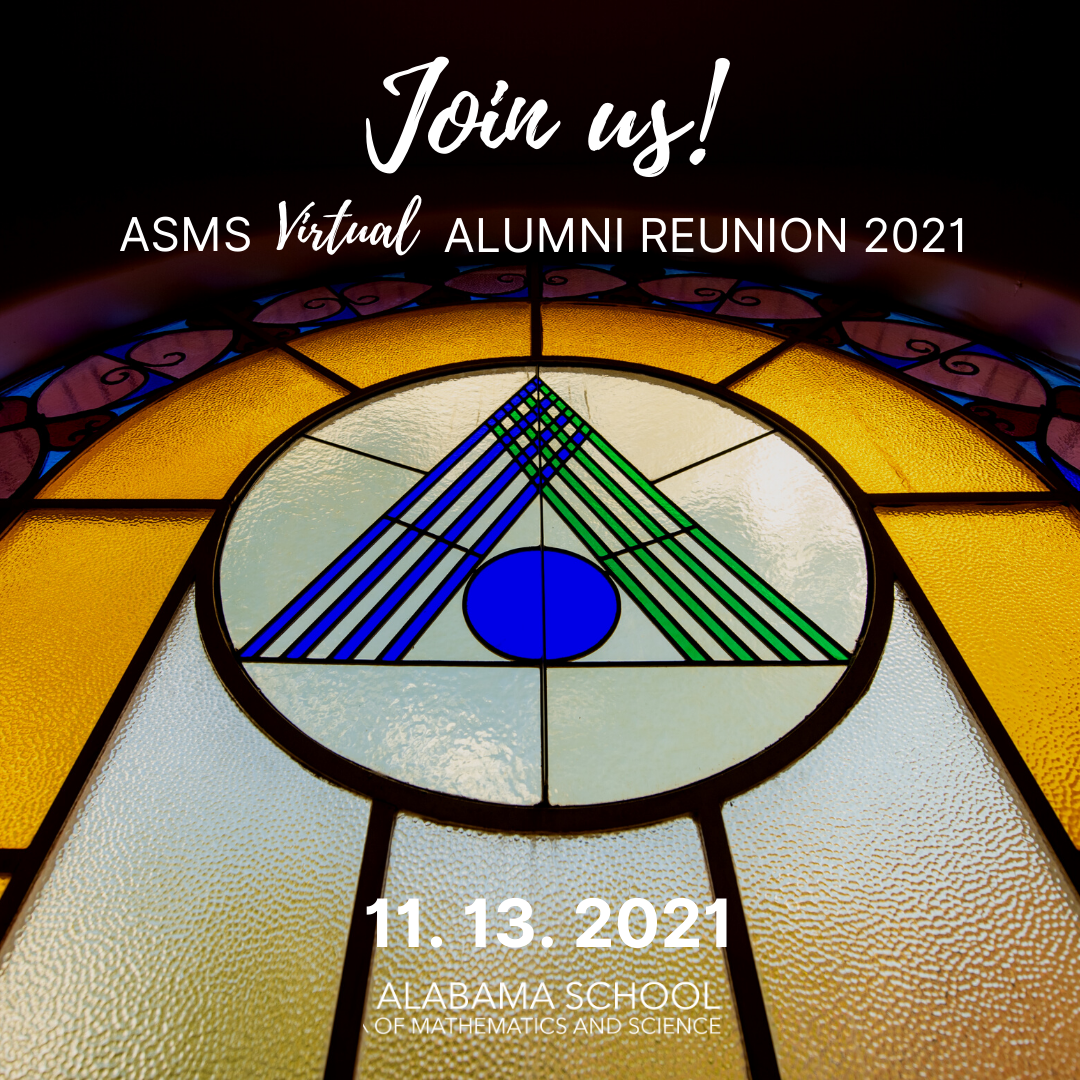 Join us for the 2021 Virtual Alumni Reunion!
In partnership with alumni volunteers, ASMS is excited to host a virtual reunion event for our graduates to reconnect with one another and engage with the school. The reunion will include updates from ASMS, a chance to hear from current ASMS students, opportunities to network, and time for class year reunions. Mark your calendar for Saturday, November 13 starting at 1:00 PM CST. You are welcome to participate in portions of the event based on your schedule. We hope to see you there!

Event Schedule
12:45 PM - Start of the Reunion Zoom Call
1:00 PM - Welcome and Schedule Overview
1:05 PM - State of the School
1:25 PM - Student Presentations
1:55 PM - Alumni Engagement Opportunities
2:05 PM - Q&A
2:15 PM - Explanation of Breakout Rooms and Group Picture
2:20 PM - Quick Break
2:30 PM - Breakout Rooms
3:00 PM - End of Official Virtual Reunion

5:00 PM - Alumni Happy Hour
8:00 PM - Alumni After Party
Happy Hour
The Virtual Happy Hour will begin at 5:00 PM CST. All established breakout rooms will remain, so alumni are welcome to stay in their class year breakout rooms, gather in other rooms, or return to the main room. This will be a great time to chat and reminisce with fellow alumni near and far. Feel free to hang out and unwind as long as you'd like; this "happy hour" has no official end time. You will be able to join the Happy Hour using the Zoom link for the virtual reunion.
After Party
The After Party will begin at 8:00 PM CST. Volunteers will be hosting party games, such as the Jackbox Party Packs. Like the Happy Hour, the After Party will continue as long as the participants would like to stick around. You will be able to join the After Party using the Zoom link for the virtual reunion.
Thank you, and we look forward to seeing you very soon!

Registration
Registration is now open! Registration closes on November 9, 2021.
We understand that alumni may not be available for the whole reunion. On the registration form, you can tell us which parts of the schedule you plan to attend. Even if you can join us for just one part of the event, we hope you will!
Register
---
Join the Reunion
The ASMS 2021 Virtual Alumni Reunion will be held on Zoom. The Zoom link and instructions will be posted on this page closer to the event date.
Questions?
E-mail amcmaken@asms.net or schurch@asms.net