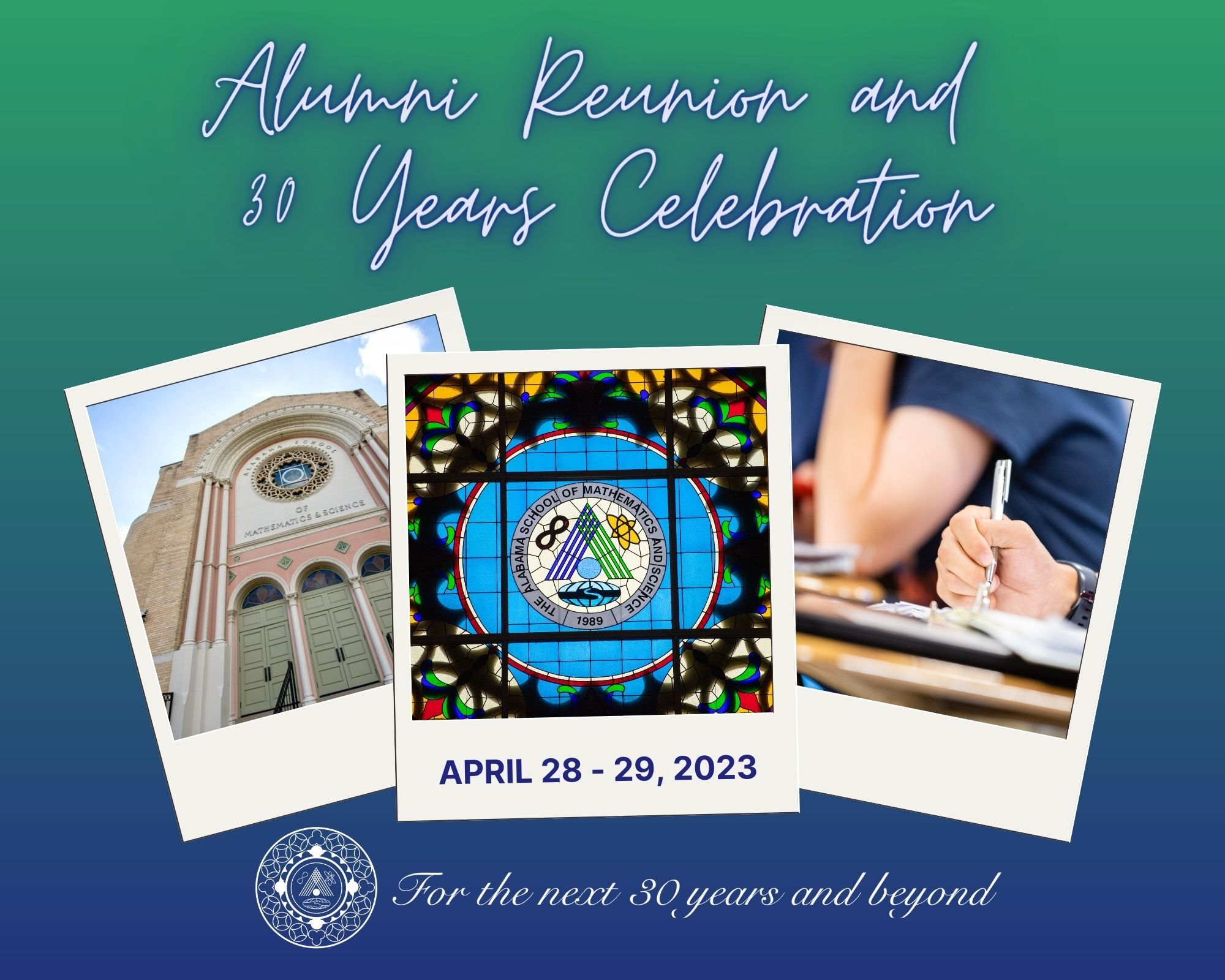 Join us as we celebrate 30 years of ASMS graduates this year!
All alumni are invited to attend the ASMS 30 Years Celebration and Alumni Reunion on Friday, April 28 and Saturday, April 29 in 2023. The events will take place in Mobile, AL, including on the ASMS campus. On this page you can 1) view a sample schedule , 2) register , 3) order t-shirts and merchandise, and 4) nominate alumni for an award. We look forward to seeing you!
Schedule
The weekend will include: Student Spring Research Forum, time to connect with students, tours of campus, time for alumni to reconnect / connect, alumni recognition, updates from the school, and more. Some ASMS graduating classes are also planning separate get togethers outside of the school's formal schedule!
Alumni are more than welcome to come and go from the weekend. We hope you will still join us even if you can only attend one day or portions of the celebration.
View a sample schedule here:
Sample Schedule
---
Register for the Event
Register for the 30 years celebration and alumni reunion by clicking the button below and completing the registration form. The cost is $15.00 per attendee. Alumni are welcome to bring family members to the festivities. There is no cost for children 3 years old and younger, so they do not have to be included on the registration form.
Registration closes Tuesday, April 25 at 11:59pm CST.
Register
---
ASMS T-shirt and Merchandise Order
ASMS 30 Years commemorative t-shirts, our *new* ASMS Dragon logo t-shirts, and other ASMS merchandise (water bottles, stickers, ornament, etc.) are available here on this page for pre-order ahead of the celebration and reunion. They will NOT be sold at the actual event. They will be available for pick up only at the event for those attending in person or mailed to you directly. The deadline to order is March 31, 2023.
Please place your t-shirt and/or merchandise order below by completing the form below. Be sure that you BOTH complete the form AND submit your payment via the link that appears on screen after you submit your order form.

Funds raised through merchandise sales allow the ASMS Parent Council to provide grants to ASMS students, faculty, and staff each school year.
Order Merchandise
---
Alumni Award Nomination
The ASMS Alumni Council is pleased to announce the first Alabama School of Mathematics and Science (ASMS) alumni award which will be presented at the 30th Anniversary Celebration on April 28th and 29th, 2023. They are still taking nominations! Nominate a graduate by clicking the button below and completing the nomination form on the page.
Nominate
---
Help spread the word! Please consider sharing this page, posting in your alumni social media groups, or messaging your fellow graduates to invite them to the celebration and reunion.