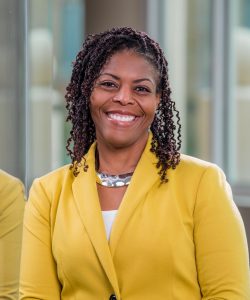 Katrina Thompson
Assistant Director of Judicial and Community Affairs
kthompson@asms.net
|
(251) 441-2111
M.S. - Clinical Mental Health Counseling
B.B.A - Bachelor of Business Administration
Biography: Ms. Thompson values people and their well-being. She has a passion for youth. She feels that compassion, understanding, and genuineness are key components to building healthy relationships with today's youth. Ms. Thompson worked at The University of South Alabama prior to accepting the position of Personal/Academic Counselor at ASMS. Consequently, the positions held and experiences at USA, along with her formal education in Clinical Mental Health Counseling prepared Ms. Thompson for ASMS. Ms. Thompson enjoys working with students at ASMS as they are excited to learn and value guidance and direction equipping them for their bright futures! She is excited for her new position as Asst. Director of Judicial and Community Affairs as it will give her the opportunity to assist the students with community living as well as help prepare them to be productive citizens in society. Ms. Thompson has one daughter who she feels is her greatest accomplishment.
Professional Areas of Expertise: Counseling, Student Development
Accomplishments: Ms. Thompson received several counseling honors and awards during her graduate school career. Ms. Thompson has helped many students learn how to have a successful career at ASMS. She prides herself in her people skills and ability to work well with parents and students. Ms. Thompson hopes to have an even greater impact in student's lives while keeping them aware of policies and helping them to grow through accountability.