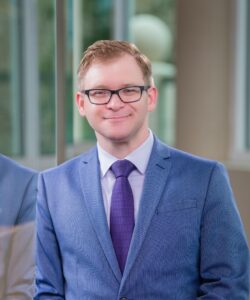 Dr. Mitch Frye
Academic Dean
mfrye@asms.net
|
(251) 441-2124
Ph.D., English – Louisiana State University
M.A., English - University of South Carolina
B.A., English - University of South Carolina
Biography: Dr. Mitch Frye grew up in rural South Carolina and will always be grateful for the educational and social opportunities afforded him by our sister school, the South Carolina Governor's School for Science and Mathematics. At ASMS, Dr. Frye works to ensure that hard-working, high-performing Alabamian students from all backgrounds have access to the world-class education they deserve. Fairness and rigor are two principles that guide his pedagogy. Dr. Frye's own academic research concerns twentieth-century American literature and popular culture. He is married and has one son.
Certifications: Student Research, Curriculum Development, 20th Century American Literature, Shakespeare, Popular Culture, Film Studies, Game Design
Accomplishments: Dr. Frye's academic writing has appeared in such publications as The Chronicle of Higher Education, Critique, Nabokov Studies, and The F. Scott Fitzgerald Review. At ASMS, he has recruited notable guest speakers such as video game designer Chris Avellone and nuclear weapons scholar Dr. Tom Nichols. Drawing from the existing resources of our faculty, he led an initiative for students to receive free standardized test prep for the 2019-2020 school year. Now, he hopes to spearhead the implementation of a campus study hours program for the 2020-2021 school year and beyond.