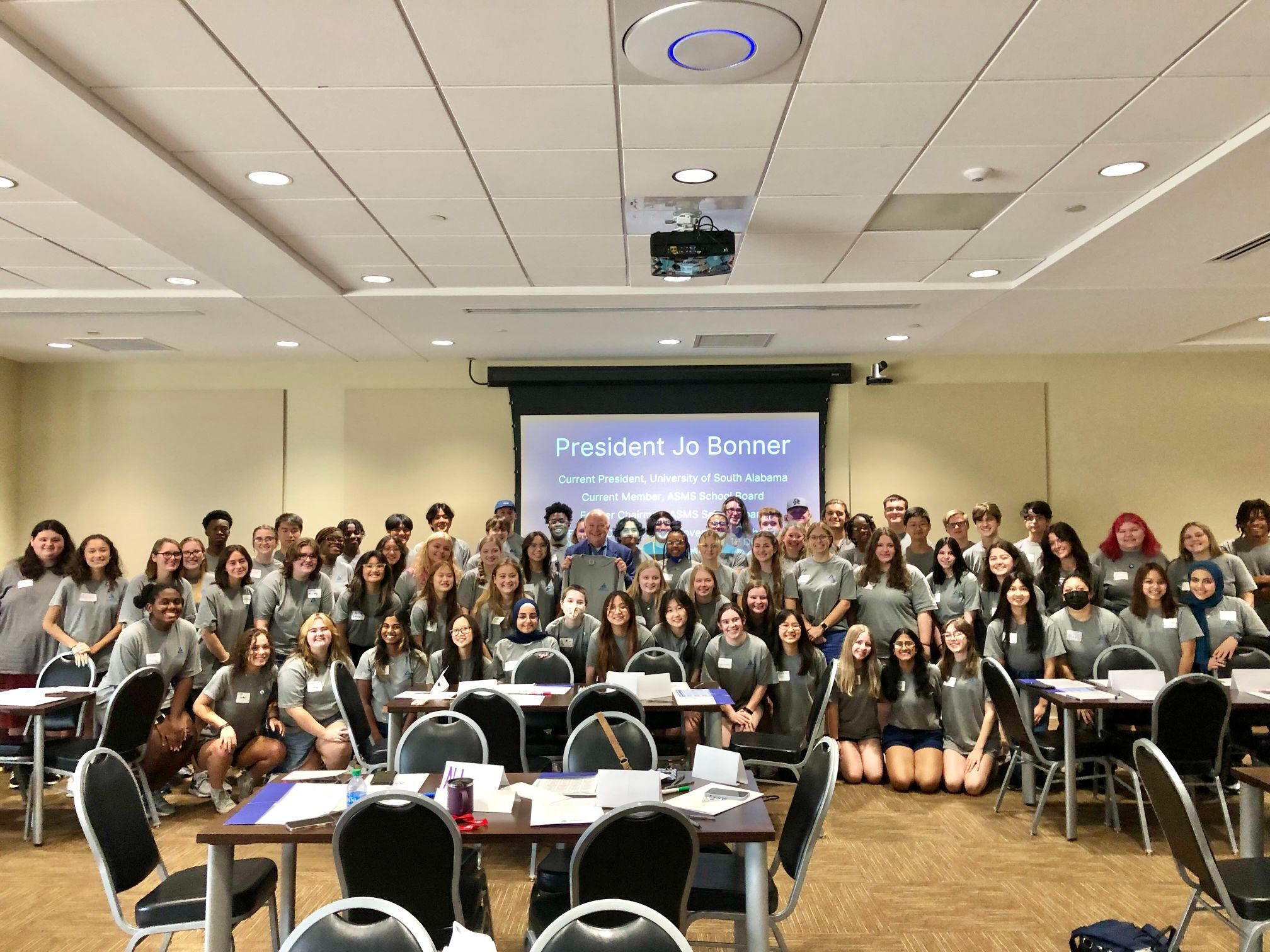 Advancing Student Leadership at ASMS
---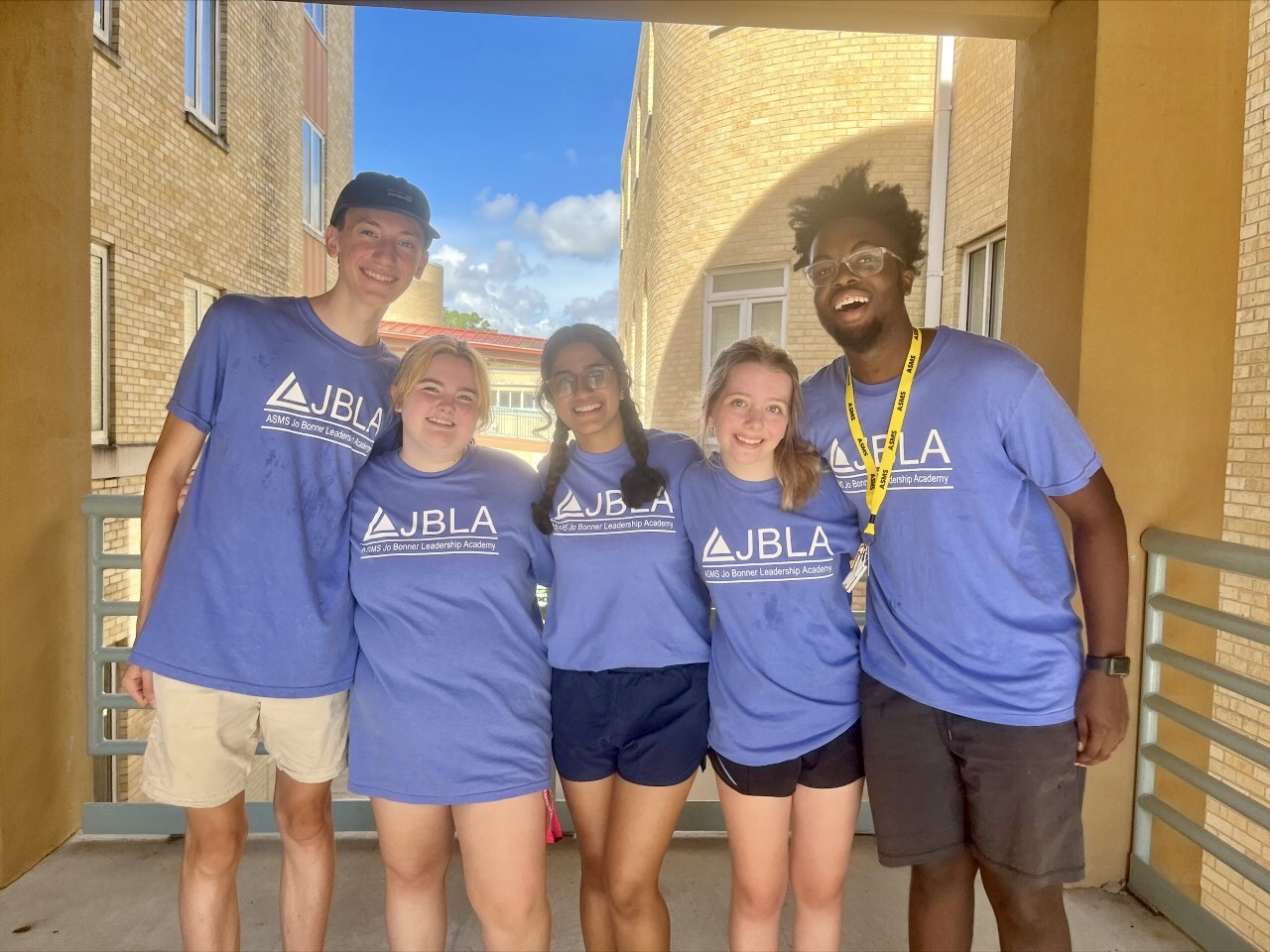 When the legislature created ASMS in 1989, they wanted the school to promote leadership. Leadership is at the very core of the ASMS mission statement. It is our aim to equip students to positively transform their community, state, and nation through their leadership - as current students and as graduates. During their time at ASMS, many of our students become leaders through the positions they hold and the roles they are called to serve in on our campus.

However, is a person a leader simply by holding a position? Is a person prepared to maximize their leadership when given a title or responsibility? Does a person know how to spend their time and energy when entrusted with a leadership role?
The ASMS Jo Bonner Leadership Academy (JBLA) was created to answer all of these questions as our school takes a more intentional approach to student leadership development. Through the JBLA, our students will learn about exemplary leadership, and when we think about exemplary leadership, we think about our school board chairman, Jo Bonner. He graciously agreed to let us name the Leadership Academy after him, and he will serve as our key-note speaker at the JBLA retreat.
---
About JBLA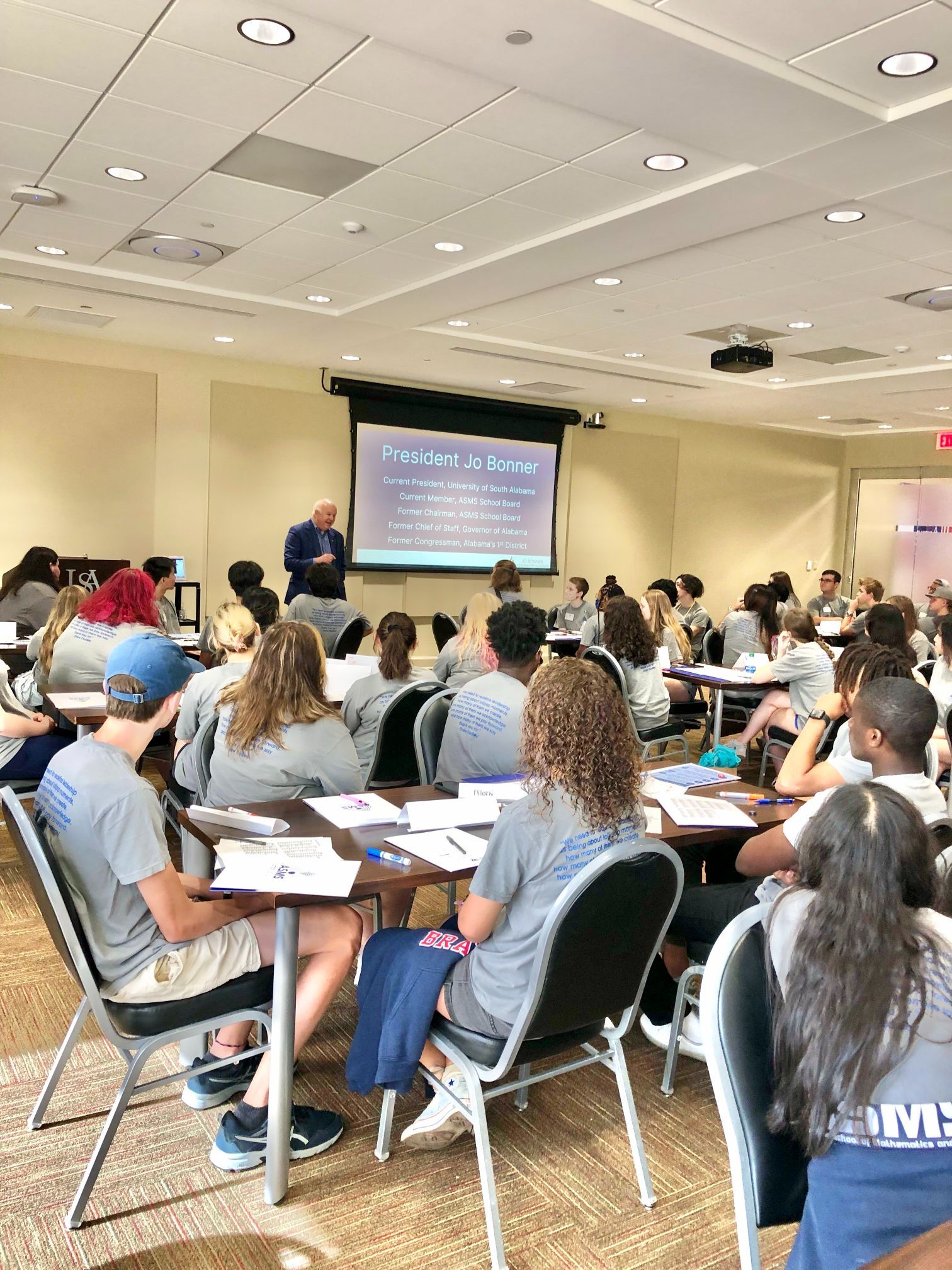 The Jo Bonner Leadership Academy will maximize the potential of ASMS students to do the exceptional and to lead with purpose. Through a combination of leadership development and experiential learning, the academy provides opportunities for students to participate in group workshops, team building exercises, skill trainings, breakout sessions, and personal reflection. Students will learn to achieve goals and address challenges through realizing their own leadership impact and working collaboratively on a team. Graduates of the academy will live with character, serve generously, and envision the future for themselves and the world around them.

The JBLA was created with a long-term view for our students as well. It will provide our students with a robust leadership experience on their resume for the purposes of college admission. It is also modeled after college-level leadership programs, so our students will have a strong leadership foundation when applying to such programs one day.

JBLA 2023 - 2024
Students who want to hold any of the following leadership positions next year must apply and participate in JBLA:
Ambassadors
Peer Advisors
SGA Officers
Club Presidents (for clubs supported by the SGA)
Junior Class Officer VP & President
Senior Class Officer VP & President
Yearbook Head Editor(s)
Oculus Head Editor(s)
Firewire Head Editor(s)
Interest Session Information
Join us on Thursday, March 9 at 12:00pm in the Media Room or 4:00pm in the Media Room!

View Interest Packet
---
Timeline and Important Dates
Application/Interview Process:
Applications are due Thursday, March 30 at 11:59pm for both new and returning applicants. An email will be sent to those selected for an interview. This email will include information about signing up for an interview time. Interviews will be held the week of May 1. You will receive an email by Friday, May 12 if you are chosen to be part of JBLA next year. If you have any questions, please contact Allyson McMaken at amcmaken@asms.net

1. Complete the application.
• Note: You are required to upload a cover letter and resume in pdf format with your application. Please also specify which position(s) you are most interested in.

2. Applications will be reviewed and selected candidates who meet the criteria will be invited to sign up for an interview time.

3. Once all interviews are complete, final selections will be made and candidates will be notified of their status via email.

4. Important Dates:
Informational Meeting: Thursday, March 9, 2023 (12:00 PM and 4:00 PM, Media Room)
Applications Open: Thursday March 16, 2023
Applications Close: Thursday, March 30, 2023
Interviews Offered: decision early / mid April
Interview Sign Ups: mid / late April
Interviews: Tuesday, May 2 to Thursday, May 4
Notification of Final Selection: Friday, May 12
5. Mandatory Requirements (New and Returning):
Retreat: Saturday before School Starts in August 8:00 AM – 5:00 PM
Training 1: Early August (usually a Tuesday) 4:00 PM – 6:00 PM
Training 2: Early August (usually a Tuesday) 4:00 PM – 6:00 PM
Training 3: Early August / September (usually a Tuesday) 4:00 PM – 6:00 PM
Occasional Meetings and/or Reflections during the school year
Spring Meeting and/or Training: TBA (early 2024, usually during Special Projects Week)
End of Year Celebration and Leadership Presentations: May 2024
6. Apply: Applications will open on this webpage on Thursday, March 16.
Apply Now
---