ASMS Faculty Member Receives WKRG Golden Apple Award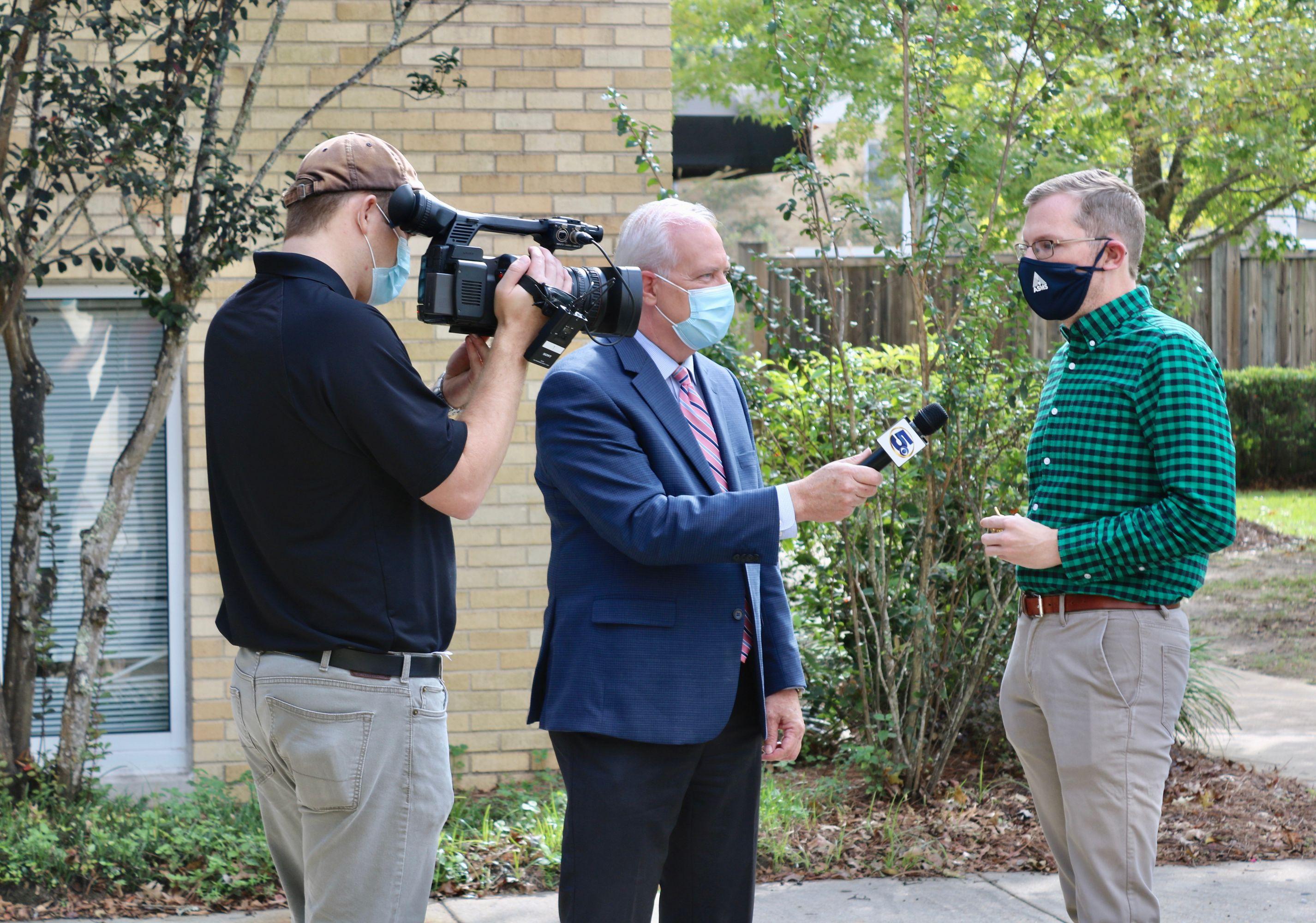 Mobile, Ala. – Alabama School of Mathematics and Science (ASMS) faculty member Daniel Commander was asked to meet in the school courtyard to film a promotional video. Upon his arrival, ASMS employees and his family members were waiting for him with a surprise – a Golden Apple! Mr. Commander is the recipient of WKRG News 5's Golden Apple Award which they describe as "honor[ing] local teachers who are making a difference in the classroom or in a learn-from-home setting."
Mr. Commander is part of the ASMS English Department and is the Emily Staples Hearin Communication Center faculty member at the school. The communication center is funded by the Hearin-Chandler Foundation with the goal of teaching students the communication skills needed to excel and stand out in the fields of STEM (Science, Technology, Engineering, and Math). Therefore, in addition to teaching English courses, Mr. Commander manages the ASMS communication program which includes courses on public speaking, journalism, and debate.
Mr. Commander was nominated for the Golden Apple Award by recent ASMS graduate and young alumna, Jalexis Edwards. When asked what receiving this award means to him, Mr. Commander expressed, "For me, receiving this award is a great honor. …The surprise was amazing! I had no idea what was about to happen when I [arrived] there. It warmed my heart seeing everyone who came out for it."
ASMS Academic Dean, Dr. Mitch Frye, shared that he has witnessed Mr. Commander going above and beyond to help students learn on many occasions. "Mr. Commander is an innovative teacher who challenges his students while showing them the utmost respect and compassion. Students admire him for his sharp insights and his keen wit, while his colleagues find him to be an endlessly helpful peer," says Frye.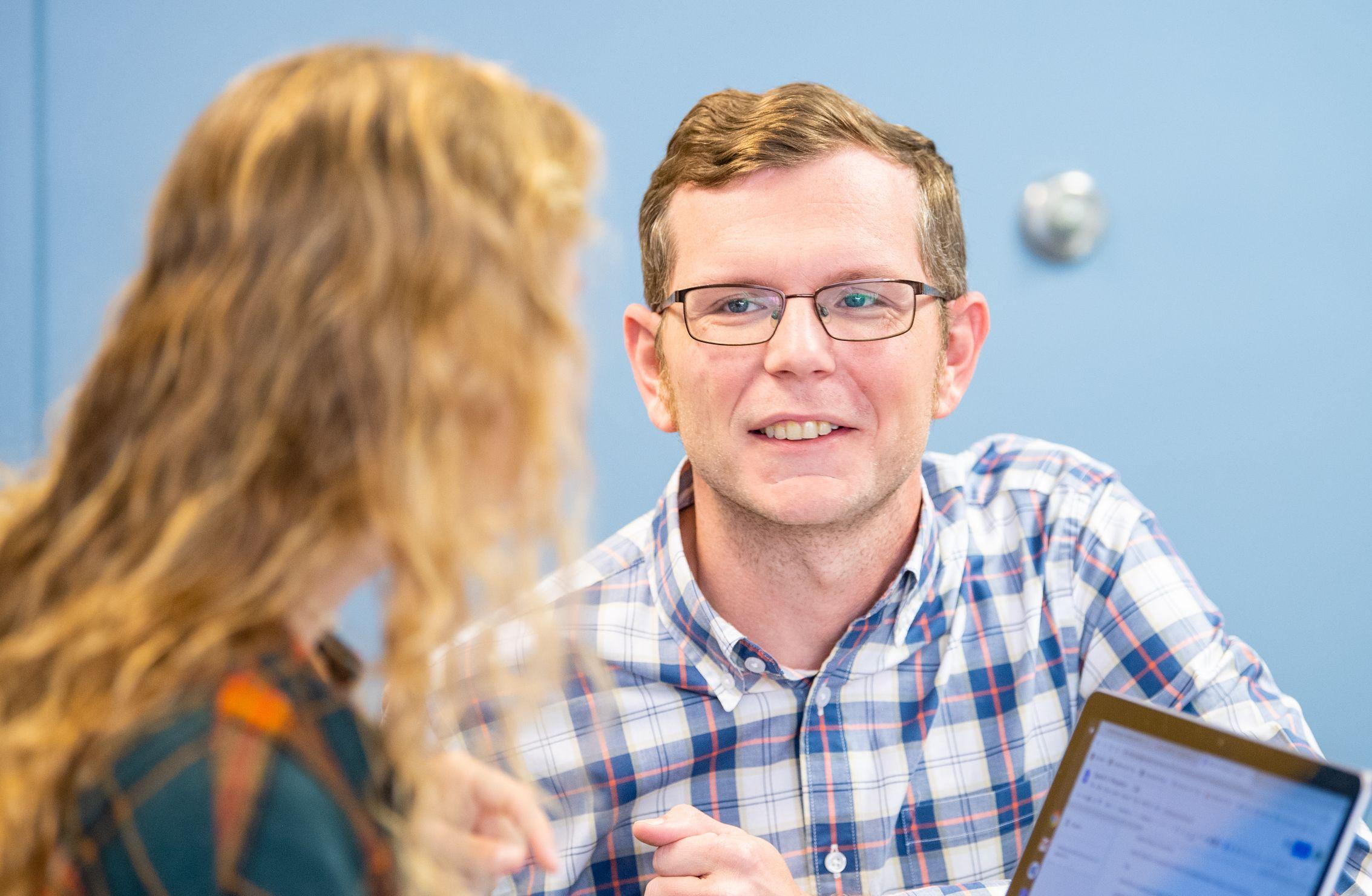 Mr. Commander often gives up free time, nights, and weekends because he cares about the positive impact his time is having on students and their success. He has served as the sponsor of the school Beta Club (a volunteer organization), mock trial team, and speech and debate club. In her nomination, Edwards specifically praised Mr. Commander for his work in elevating the speech and debate club to place at both the state and national level of competition.
"Daniel Commander is an outstanding educator and communicator. We are grateful to have him as a member of the ASMS faculty, and he is very deserving of this honor for his work with students both inside and outside the classroom. We appreciate WKRG celebrating him with the Golden Apple Award," says school president Dr. John Hoyle.
In her nomination, Edwards shared the following words about Mr. Commander, "Not only has Mr. Commander taught me valuable lessons in the classroom, but he has also taught me valuable lessons outside of the classroom. He has taught me so many things in regards to understanding other people and their identities and ways of thinking. He manages to teach us history, economics, and science all in one course while keeping the classroom interesting. He is a favorite among students because of his positive attitude and fun classes. … Mr. Commander is the perfect role model for students. He shows what it means to be passionate, dedicated, and hardworking on a daily basis. He is always on time and always has a positive attitude and kindness to spread. I have never met anyone as empathetic and caring as Mr. Commander."
Watch Mr. Commander's Golden Apple news segment on Tuesday, October 20 at 5:00 PM CST on WKRG News 5.