ASMS OPENS OUTDOOR CLASSROOM SPACES BASED ON SCHOOL FOUNDERS' VISION 30 YEARS AGO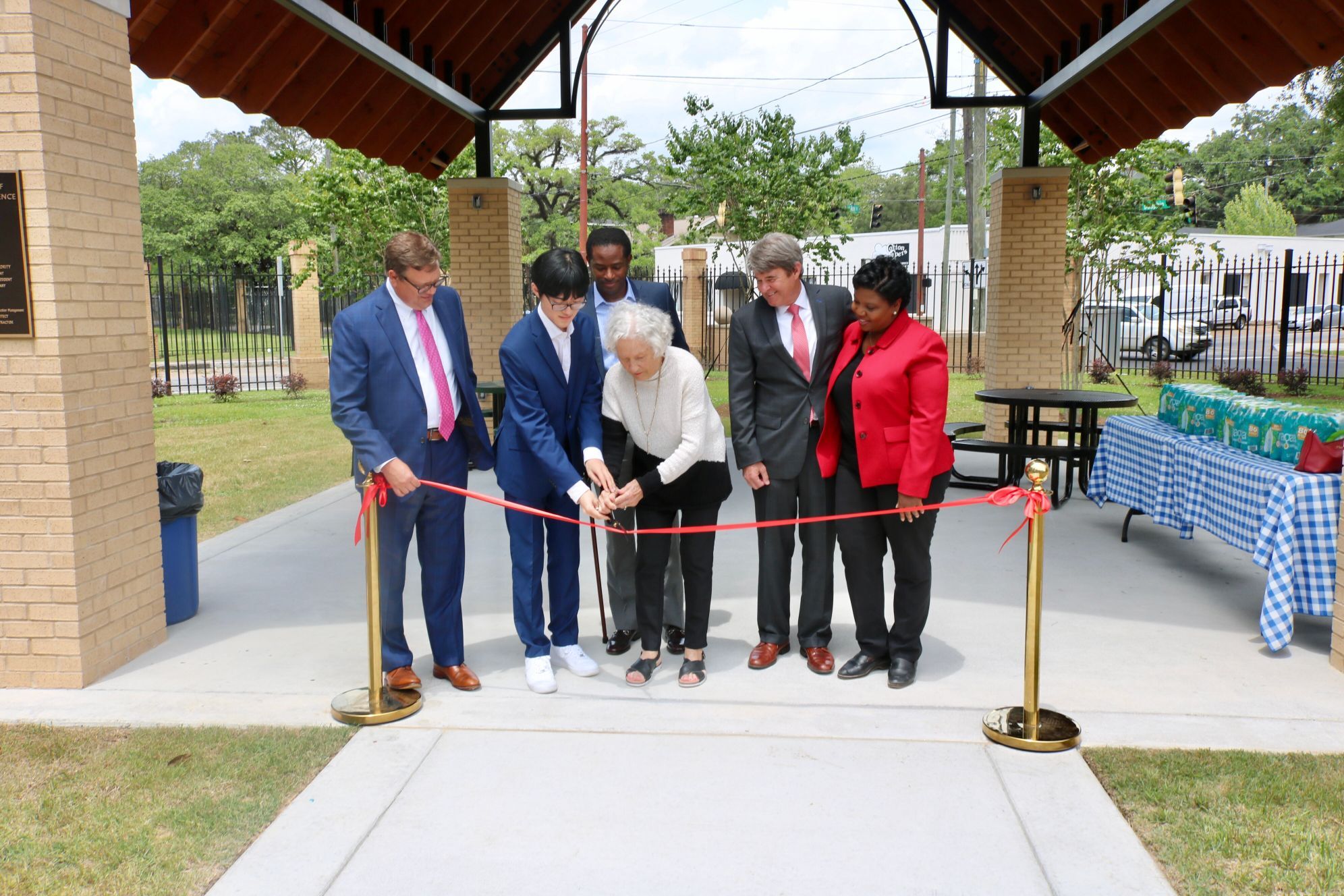 Mobile, Ala. – 30 years after the original leaders of the Alabama School of Mathematics and Science (ASMS) founded the school, ASMS opened outdoor classrooms which were envisioned as part of the original campus master plan. The school hosted a ribbon cutting ceremony to celebrate the opening of both an outdoor amphitheater and covered pavilion on their campus.
"Bringing these spaces to fruition now coincides with a growing body of research, which is finding that learning outside has excellent benefits for students including reduced stress, improved attention, and even better immune function. Although we have tables and benches across campus, we were lacking the space for them to learn as a class or in groups together. Now they have a space to learn outside, perform outside, connect outside, and so much more. ASMS would like to thank the leaders of the State of Alabama for valuing education and making these classrooms a reality for our students," says ASMS President, Dr. John Hoyle.
The school received funding for the project through the State of Alabama's Public School and College Authority as well GEER (Governor's Emergency Education Relief Fund) awards supporting COVID-19 relief. The project was also made possible by donors who generously gave to ASMS on their annual Giving Tuesday fundraising day.
"From the original blueprints of the school to the place we are standing today, these outdoor classrooms have been created for us to further engage in our academic and personal endeavors in the new, refreshing setting of the outdoors. Whether we are exploring our passions or just simply enjoying the nature around us, I truly believe everyone will find their own way to use these amazing new spaces," says ASMS SGA President, Nathan Kim, who is a senior from Mobile County.
The ASMS school community has aimed to respond to the COVID-19 pandemic with resilience and an unwavering commitment to their mission. The motivation for the Outdoor Classroom project was driven by keeping the future of the school at its forefront. In staying true to this motive, the school also plans to break ground on a new Science Research Center this summer.
Those who wish to donate resources or partner with the school on initiatives like this one should reach out to ASMS Vice President of Development, Dr. Samantha Church (schurch@asms.net).
###
WATCH
Ceremony
---
Ribbon Cutting
---
CONSTRUCTION PROGRESS
THANK YOU!
These spaces became possible through the work and support of many individuals and organizations.
Ms. Doryan Carlton - State Budget Officer in the Alabama Department of Finance
Representative Bill Poole - State Finance Director.
Giving Tuesday 2020 Donors - Alumni, Family Members, Faculty, Staff, Board Members, and Friends of ASMS
Tobias & Comer Law, LLC
Zito Russell Architects
E.M. Dunaway General Contractors
The ASMS Facilities and Maintenance team members - Robert, Mike, and Ben
ASMS VP of Development - Dr. Samantha Church
ASMS Director of Finance - Ms. Kristy Gunther
Governor Kay Ivey
Ms. Ann Smith Bedsole
ASMS Foundation Board and School Board Members