Alabama School of Math and Science Black Student Union Collects and Delivers Selma Tornado Relief Supplies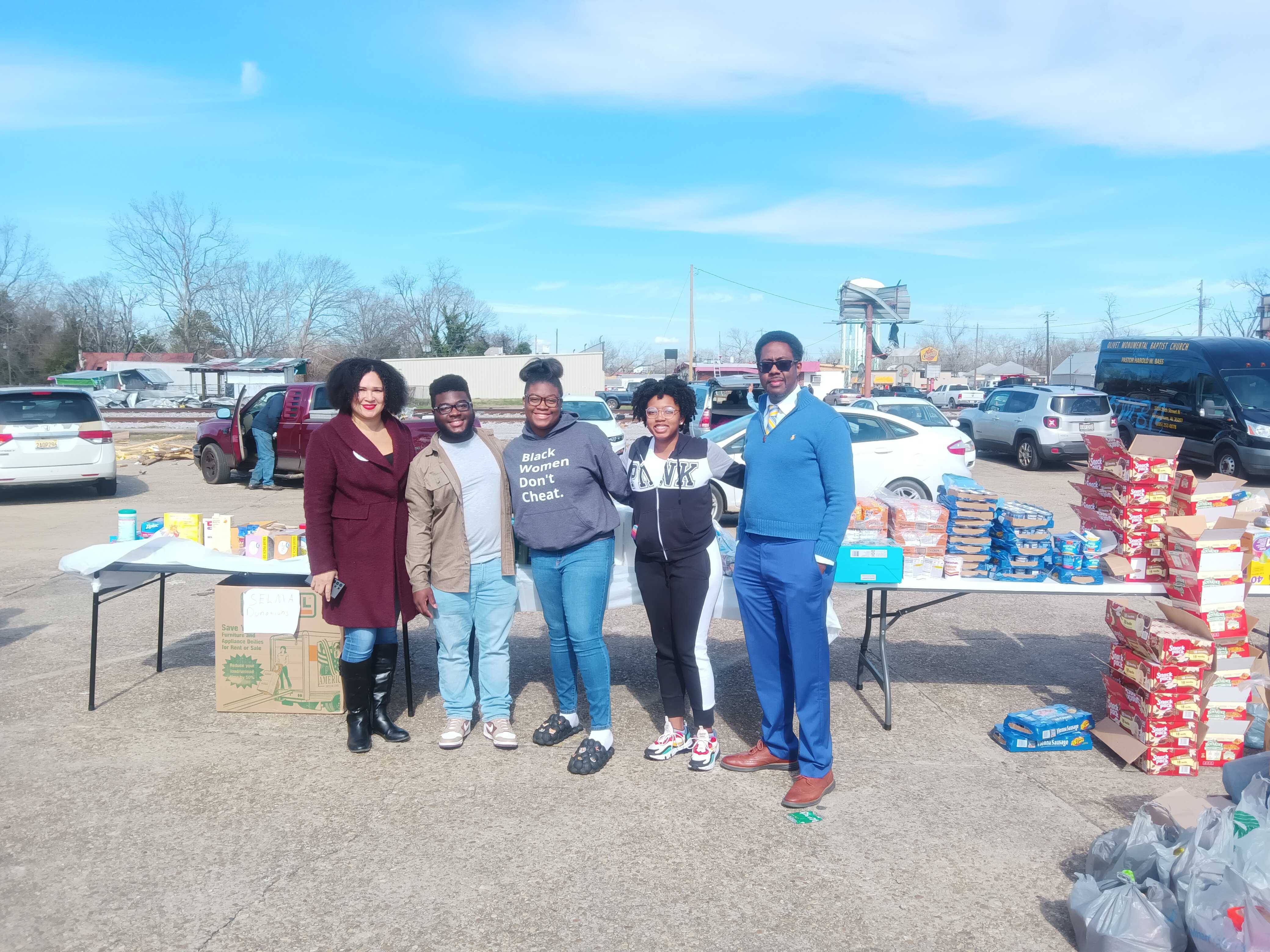 All the way on the Gulf Coast, the tragedy of the Selma tornado hit home for the students of the Alabama School of Math and Science (ASMS). Several ASMS students and graduates are from the Selma area, and the current students in the ASMS Black Student Union (BSU) wanted to do something to help those affected by the tornado.
ASMS BSU president, Meagan Nix, reflected on her trip to Selma by sharing, "As a native of Selma, AL, it has been heartbreaking to see the devastation that occurred on January 12, 2023 … On January 27, 2023, the Alabama School of Math and Science Black Student Union, traveled to Selma to exemplify the love and compassion we have, not only as a local [school] community but as a community that shows love no matter the distance. We were able to give to the [Selma] community all the amazing, donated items from our ASMS family to help with the needs of others. It brought joy to us to see the many smiles on faces and hear the many "Thank Yous." I am very pleased to say that I am a proud [ASMS] Dragon!"
Specifically, the BSU student leaders partnered with Mrs. Alicia Chestnut, founder of Selma Education Literacy Math & Arts (S.E.L.M.A), to collect and deliver supplies. They sent out a list of needed items to the ASMS school community, drove the collected items to Selma, and spent the day distributing supplies to residents with the members of Mrs. Chestnut's S.E.L.M.A. board.
"After a week or so of encouraging donations, we had boxes full of goods to hand out. It was empowering to see the ASMS community come together to support such a generous cause," said BSU student leader Jayden Cooper.
Mrs. Chestnut expressed her gratitude to ASMS school officials in this way: "On behalf of the City of Selma and my S.E.L.M.A team, I would like to say thank you for an awesome day on Friday. We appreciate ASMS traveling the extra mile to assist in our disaster relief. The F-2 tornado that affected Selma and our surrounding areas caused much devastation; however, the partnership that we have with ASMS has motivated and encouraged us. Thank you also to the ASMS Black Student Union for leading this effort. It was an honor to meet the students and see them so dedicated to helping our neighbors in need. ASMS will always hold a special place in our hearts, in our time of need we didn't have to ask. ASMS simply asked what we needed and showed up for Selma."
The ASMS BSU students also had the opportunity to engage with Selma-area leadership including State Representative Prince Chestnut. "I'm thankful for Alabama School of Math and Science partnering with us to bring some relief to [the] citizens of Selma doing their best to survive in the aftermath of the biggest natural disaster to occur here in my lifetime," said Representative Chestnut.
ASMS enrolls students from all 67 counties in Alabama, and the ASMS BSU students are a perfect example of how the heart of ASMS extends far beyond the campus in Mobile, and it always will.

---
ASMS extends a special thank you to ASMS Director of Admissions and Outreach, Mr. Ken Robinson, who supported the BSU students in coordinating this effort.
ASMS would also like to thank our school community members for their generosity!