Announcing the 2022 - 2023 JBLA Cohort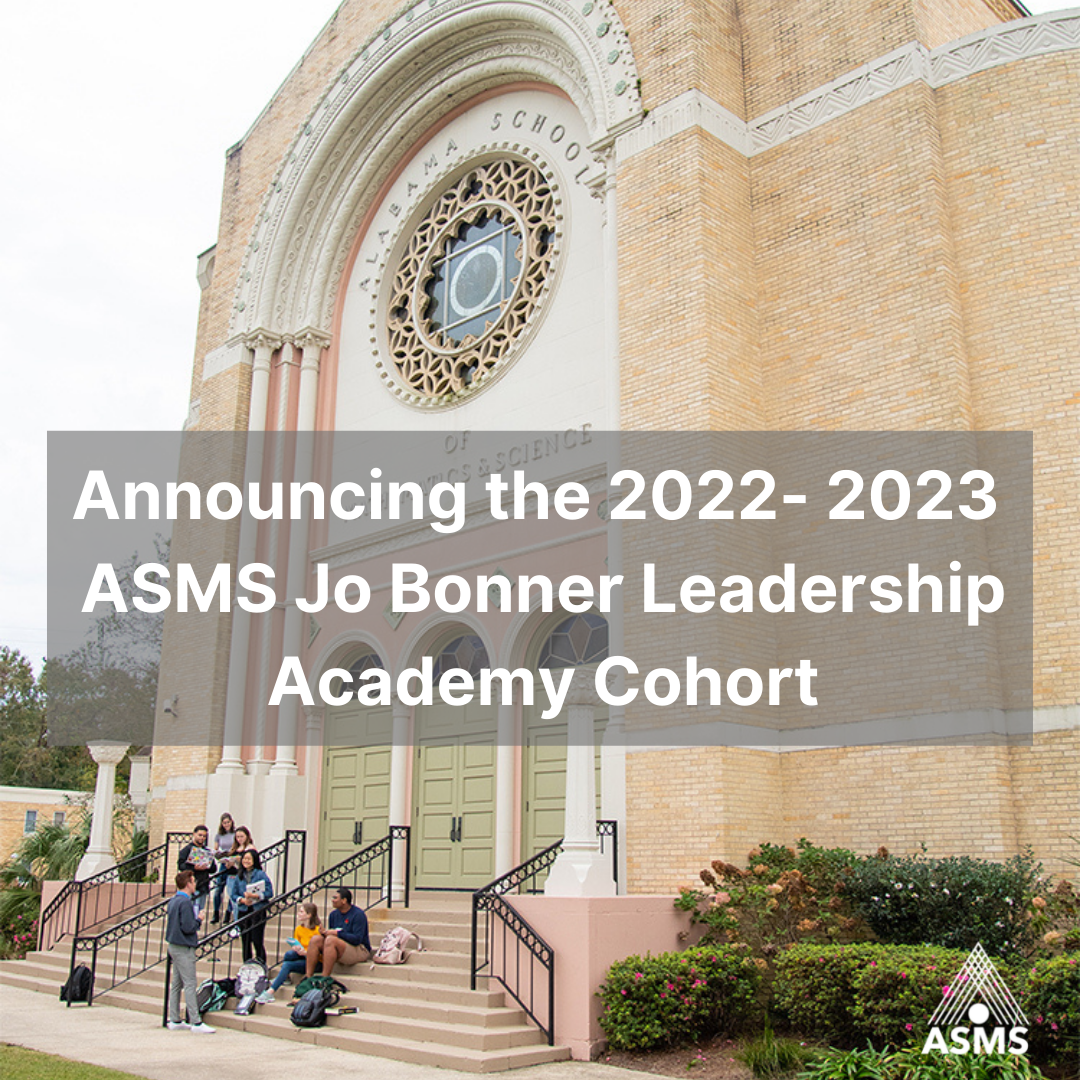 ---
We are pleased to announce that 73 students have been selected for the ASMS Jo Bonner Leadership Academy 2022 - 2023 cohort. They will begin their participation, training, and leadership through JBLA next school year. The selected students and their home counties are listed below. Congratulations students!
About JBLA
The Jo Bonner Leadership Academy (JBLA) will maximize the potential of ASMS students to do the exceptional and to lead with purpose. Through a combination of leadership development and experiential learning, the academy provides opportunities for students to participate in group workshops, team building exercises, skill trainings, breakout sessions, and personal reflection. Students will learn to achieve goals and address challenges through realizing their own leadership impact and working collaboratively on a team. Graduates of the academy will live with character, serve generously, and envision the future for themselves and the world around them.
JBLA was created with a long-term view for our students as well. It will provide our students with a robust leadership experience on their resume for the purposes of college admission. It is also modeled after college-level leadership programs, so our students will have a strong leadership foundation when applying to such programs one day.
History of JBLA
When the legislature created ASMS in 1989, they wanted the school to promote leadership. Leadership is at the very core of the ASMS mission statement. It is our aim to equip students to positively transform their community, state, and nation through their leadership - as current students and as graduates. During their time at ASMS, many of our students become leaders through the positions they hold and the roles they are called to serve in on our campus.

However, is a person a leader simply by holding a position? Is a person prepared to maximize their leadership when given a title or responsibility? Does a person know how to spend their time and energy when entrusted with a leadership role?
The ASMS Jo Bonner Leadership Academy was created to answer all of these questions as our school takes a more intentional approach to student leadership development. Through JBLA, our students learn about exemplary leadership, and when we think about exemplary leadership, we think about our former school board chairman, Jo Bonner. He graciously agreed to let us name the Leadership Academy after him. He served as our key-note speaker at the JBLA retreat in fall of 2020 and fall of 2021.

2022 - 2023 Cohort
| | | |
| --- | --- | --- |
| Wyatt | Aiken | Baldwin County |
| Ugie | Alilonu | Tuscaloosa County |
| Jack | Bailey | Baldwin County |
| Mary Ellis | Barton | Baldwin County |
| Camryn | Bedgood | Baldwin County |
| Matheson | Bell | Houston County |
| Matt | Boucher | Baldwin County |
| Destiny | Buchanan | Coffee County |
| Thomas | Carmichael | Mobile County |
| Trinity | Causey | Mobile County |
| Connie | Chieh | Mobile County |
| Noah | Clark | Mobile County |
| Jayden | Cooper | Mobile County |
| Saku | Cui | Baldwin County |
| Alex | De Los Santos Gallegos | Baldwin County |
| McKenzie | Dimson | Monroe County |
| Dori | Do | St. Clair County |
| Ava | Dowden | Baldwin County |
| Chloe | Dykes | Mobile County |
| Liam | Ellison | Shelby County |
| Grace | Eyermann | Mobile County |
| Ivy | Foster | Mobile County |
| Wesley | Franklin | Baldwin County |
| Noah | Frost | Colbert County |
| Brea | Gaillard | Mobile County |
| Arteisia | Gilmore | Mobile County |
| Lylli | Gruber | Baldwin County |
| Marcus | Hannah | Autauga County |
| Omar | Hernandez-Tena | Shelby County |
| Kaylie | Hull | Elmore County |
| Dinali | Jayasena | Mobile County |
| Brian | Jeong | Tuscaloosa County |
| Sara | John | Lee County |
| Cora | Johnson | Mobile County |
| Tuyako | Khristoforova | Shelby County |
| Abby | Knight | Mobile County |
| Carly | Layfield | Talladega County |
| Albert | Le | Baldwin County |
| Alexa | Lopez | Mobile County |
| Lucas | MacDonald | Mobile County |
| Alaina | Marshall | Mobile County |
| JaQuacia | McClaney | Montgomery County |
| May | Molina-Mejia | St. Clair County |
| Zoi | Moon | Autauga County |
| Grace | Morin | Baldwin County |
| Lex | Mroczko | Baldwin County |
| Chloi | Murphy | Clarke County |
| Emily | Nguyen | Mobile County |
| Meagan | Nix | Dallas County |
| Tayo | Osiyoku | Mobile County |
| Kyra | Owens | Mobile County |
| Venus | Radoslovich | Mobile County |
| Abby | Saalwaechter | Madison County |
| Emma | Saalwaechter | Madison County |
| Jacob | Schneekloth | Baldwin County |
| Jaylen | Sellers | Dallas County |
| Retaj | Shaalan | Mobile County |
| Ayah | Shalan | Mobile County |
| Joe | Sherrod | Mobile County |
| Lily | Smith | Marshall County |
| Lila | Solano | Mobile County |
| Mekhi | Stennis | Mobile County |
| Kaeli | Stevens | Baldwin County |
| MK | Sudduth | Winston County |
| Annie | Sudduth | Winston County |
| Baylie | Tagudar | Mobile County |
| Julia | Taylor | Baldwin County |
| Rita | Tran | Mobile County |
| Andreea | Trifas | Calhoun County |
| Emma | Wahlers | Baldwin County |
| Anna | Watson | Baldwin County |
| Allen | Wright | Elmore County |
| Marlan | Zha | Jefferson County |