ASMS Student Leaders Participate Virtually in the Inaugural Jo Bonner Leadership Academy Retreat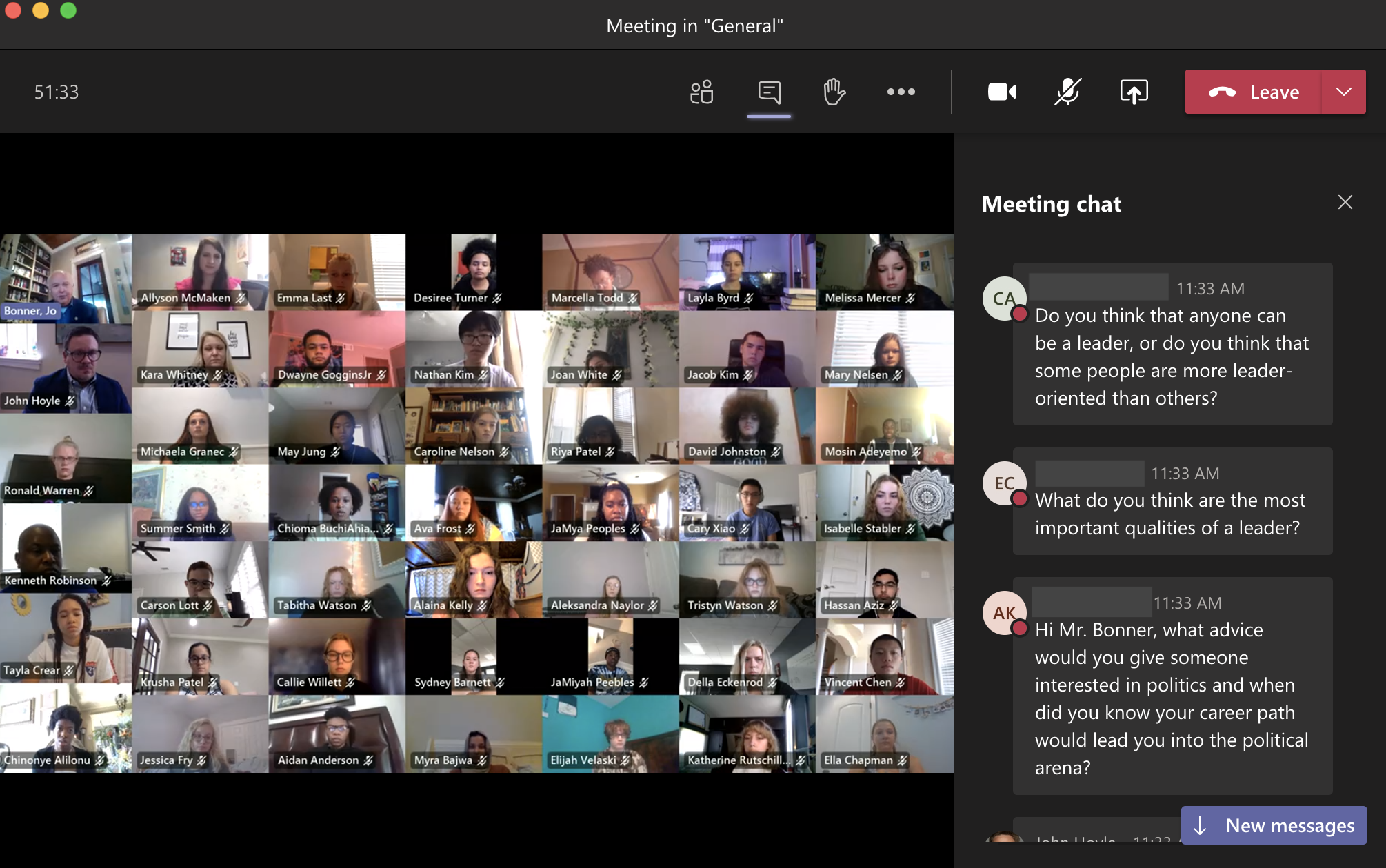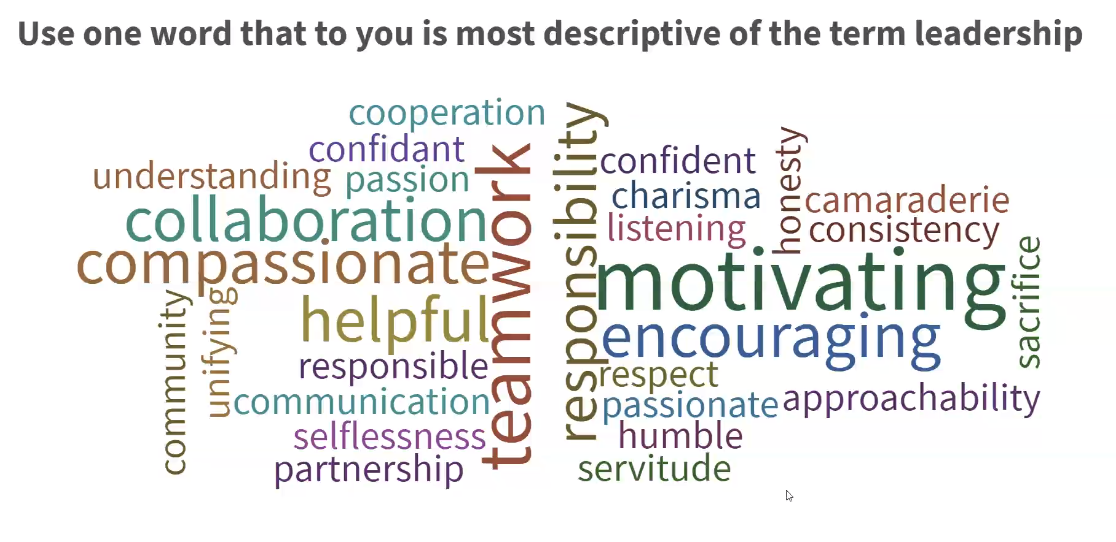 Leadership is at the core of the mission statement for the Alabama School of Mathematics and Science (ASMS). The school established the Jo Bonner Leadership Academy (JBLA) to take a more intentional approach to student leadership development. Due to COVID-19, ASMS moved forward virtually with the inaugural year of the program.
The school describes JBLA in this way: JBLA will maximize the potential of ASMS students to do the exceptional and to lead with purpose. Through a combination of leadership development and experiential learning, the academy provides opportunities for students to participate in group workshops, team building exercises, skill trainings, breakout sessions, and personal reflection. Students will learn to achieve goals and address challenges through realizing their own leadership impact and working collaboratively on a team. Graduates of the academy will live with character, serve generously, and envision the future for themselves and the world around them.
Each year, the school selects Ambassadors and Peer Advisors, and these student leaders are being given the opportunity to participate in a JBLA leadership retreat and several trainings this fall. Upon successful completion, these students will be considered graduates of the 2020 Jo Bonner Leadership Academy and fully approved and equipped to move into their leadership roles.
Through JBLA, ASMS students are learning about exemplary leadership.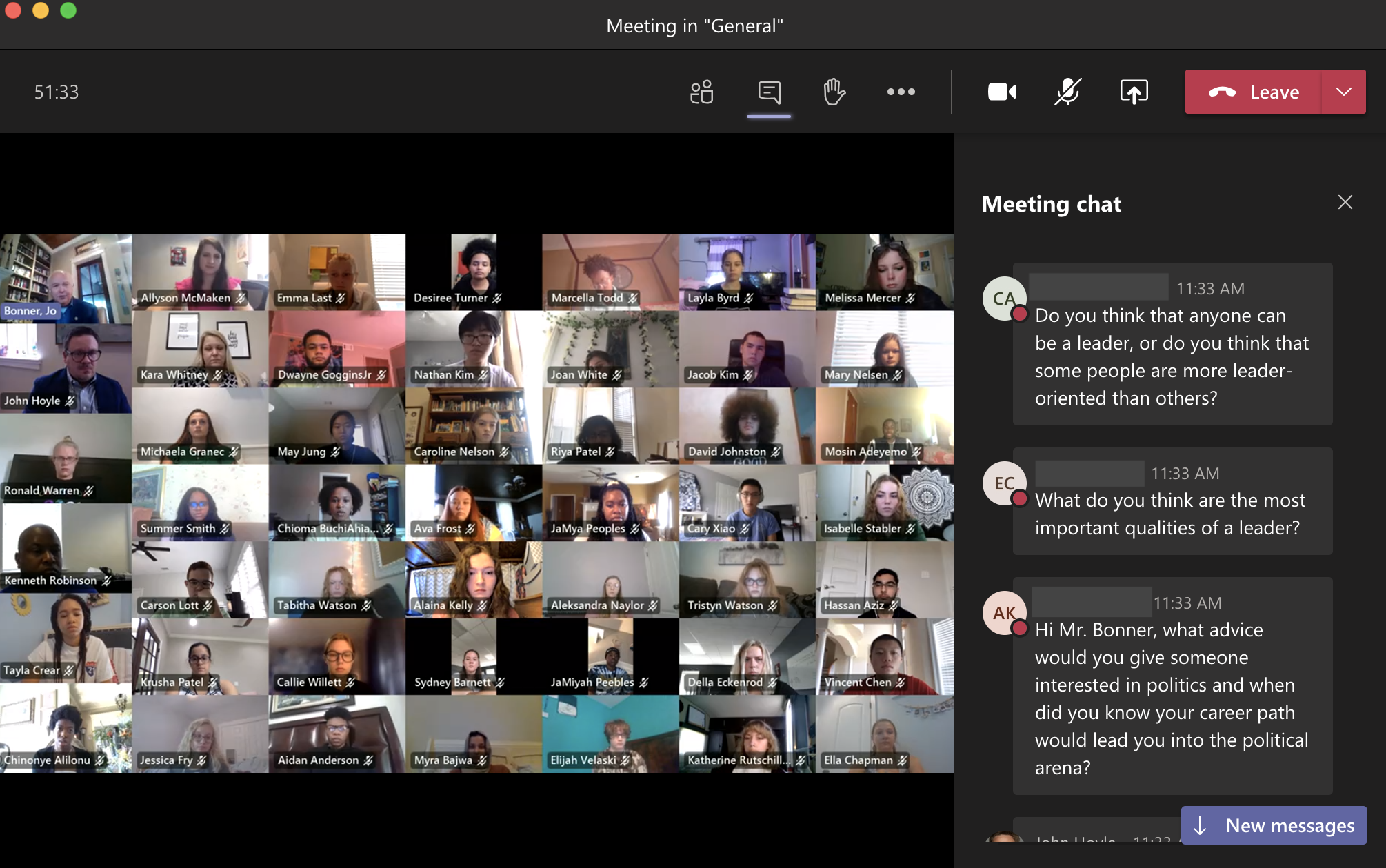 "When we think about exemplary leadership, we think about our school board chairman and chief of staff to the governor of Alabama, Jo Bonner. He graciously agreed to let us name the Leadership Academy after him and to serve as our key-note speaker at the JBLA retreat," says school President Dr. John Hoyle.
This past weekend, students participated virtually in the inaugural JBLA Retreat. After hearing from Jo Bonner, students engaged in activities and discussions that culminated in learning about the 5 Practices of Exemplary Leadership from Kouzes and Posner's book the The Leadership Challenge.
"I am so grateful for the opportunity to participate in JBLA. It's really special and means a lot that ASMS is investing in students through this program. The virtual retreat yesterday was a great experience, and I enjoyed learning more about leadership. I am looking forward to applying what I learned in JBLA to my position as a Peer Advisor this school year," says ASMS junior Ava Frost.
JBLA was created with a long-term view for our students as well. It will provide ASMS students with a robust leadership experience on their resume for the purpose of college admission. It is also modeled after college-level leadership programs, so ASMS students will have a strong leadership foundation when applying to such programs one day.
"The inaugural JBLA retreat was a meaningful day in the history of ASMS. ASMS students are some of the brightest in the state, and yesterday was a testament to how they will positively lead at ASMS and go on to transform the world around them through their leadership," says Allyson McMaken who has been coordinating the JBLA program for the school.

2020 – 2021 JBLA Participants
Ambassadors
| | | |
| --- | --- | --- |
| FIRST | LAST | COUNTY |
| Aidan | Anderson | Mobile |
| Sydney | Barnett | Baldwin |
| Jade | Bustos | Madison |
| Layla | Byrd | Mobile |
| Tayla | Crear | Sumter |
| Katherine | Echeverri | Etowah |
| Jessica | Fry | Winston |
| Michaela | Granec | Tuscaloosa |
| Emma | Joly | Baldwin |
| Alaina | Kelly | Fayette |
| Jacob | Kim | Mobile |
| Nathan | Kim | Tuscaloosa |
| Micah | Kimbrough | Shelby |
| Melissa | Mercer | Baldwin |
| Lizziah | Murry | Dallas |
| Marie | Naylor | Shelby |
| Mary Bentley | Nelsen | Baldwin |
| Caroline | Nelson | Baldwin |
| Mackenzi | Parks | Dale |
| Krusha | Patel | Houston |
| JaMiyah | Peebles | Tuscaloosa |
| Madison | Pickens | Mobile |
| Katherine | Rutschilling | Calhoun |
| Christopher | Schofield | Butler |
| Alex | Sessions | Elmore |
| Audrey | Shore | Tuscaloosa |
| Summer | Smith | Choctaw |
| Isabelle | Stabler | Houston |
| Tabitha | Watson | Jefferson |
| Tristyn | Watson | Jefferson |
| Joan | White | Mobile |
Peer Advisors
| | | |
| --- | --- | --- |
| FIRST | LAST | COUNTY |
| Sinmi | Adeyemo | Calhoun |
| Chinonye | Alilonu | Tuscaloosa |
| Hassan | Aziz | Mobile |
| Myra | Bajwa | Mobile |
| Joy | Buchi | Etowah |
| Ella | Chapman | Shelby |
| Vincent | Chen | Butler |
| Della | Eckenrod | Morgan |
| Ava | Frost | Etowah |
| Dwayne | Goggins | Macon |
| Samuel | Graham | Baldwin |
| David | Johnston | Mobile |
| May | Jung | Augtauga |
| A'Blessin | King | Shelby |
| Emma | Last | Baldwin |
| Carson | Lott | Mobile |
| Ella | Nichols | Randolph |
| Riya | Patel | Houston |
| JaMya | Peoples | Dallas |
| Spencer | Purdy | Mobile |
| Elbread | Roh | Augtauga |
| Marcella | Todd | Mobile |
| Desiree | Turner | Mobile |
| Elijah | Velaski | Baldwin |
| Ron | Warren | Mobile |
| Callie | Willett | Shelby |
| Cary | Xiao | Tuscaloosa |