Congratulations to the 2022 ASMS Awards Day and Senior Convocation Award Recipients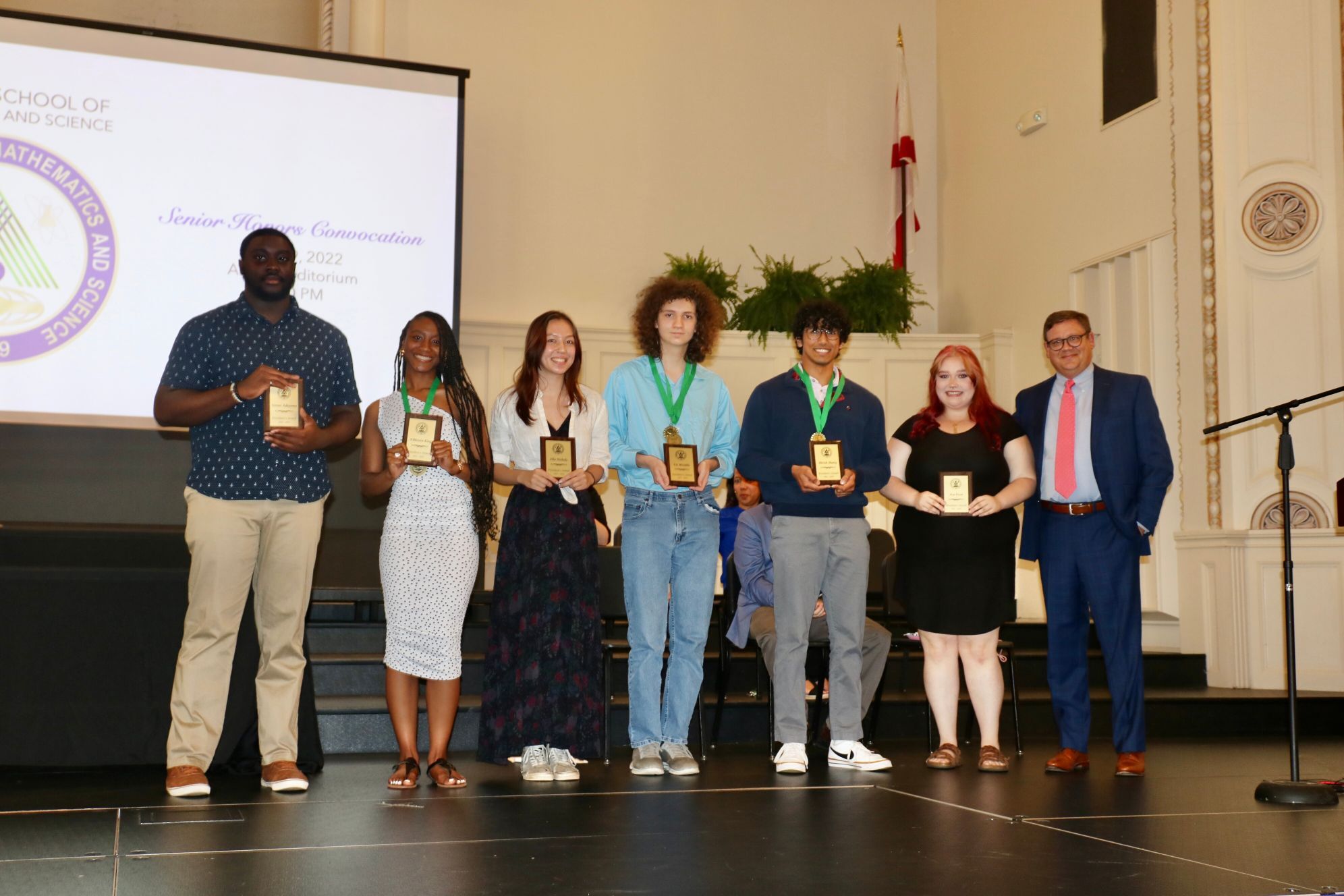 On Thursday, May 19 ASMS celebrated the school year by honoring outstanding students with various awards at a morning Awards Day program and afternoon Senior Convocation program. Congratulations to all of our 2022 award recipients!
View Photos
Awards Day
---
Senior Convocation
---
AWARDS DAY 2022 - Award Recipient List


Hugh O'Brien Youth Leadership
Dori Do & Lex Mroczko
Jefferson Book Award
Shayla Abrams 
Boys State and Girls State
Zoi Moon
Daughters of the American Revolution Good Citizens Award
Rebecca McAuliffe
National Merit Scholarship
Jacob Kim, Olivia McAleer & Elbread Roh 
Outstanding Biology Student Awards
Daniel Knight   
Liz Womble   
Destiny Buchanan   
Shirey Coffey   
Mary Ellis Barton   
Gabriel Gurt   
Dinali Jayasena   
JaQuacia McClaney   
Grace Eyermann   
Mekhi Stennis   
Fiat Le   
Pariz Lumpkin   
Chemistry Awards
Senior Chemistry Award – Sydney Barnett, Sanju Mupparaju & Bentley Nelson  
Junior Award in Advanced Electives – Marlan Zha  
Junior Award in AP Chemistry - Braden Forehand & Emma Wahlers  
Sophomore Chemistry Award – Zachary Desmond, Ivy Foster, Omar Hernandez, Ayah Shalan, Joseph Sherrod & Allen Wright  

Computer Science Awards
Most Computer Science Courses - Oscar Presnall
Excellence in Computing - Liam Stewart
Excellence in Computing - Liz Womble
Excellence in Computing - Benjamin Miller
Excellence in Computing - James Weaver
Excellence in Computing - Elbread Roh
Excellence in Computing - Sam Graham
Most Improved in Computing - Isabella Wu
Most Promising in Computing - Abby Saalwaechter, Kevin Chen, Ajay Wallack, Sebastian Grieves, Trinity Causey, & Zachary Desmond
English Awards
Senior English Awards
Ruth Delmas
Whitney Neese (Communication)    
Junior English Awards
Ligaya Gapud
Anna Livingston
Grace Morin
Venus Radoslovich
Kennedy White   
Sophomore English Awards  
Ivy Foster   
Brantley Howard  
Brandon Hunt  
Julia Taylor   
Fine Arts Awards
The National School Choral Award (one male & one female)  
Holt Templeton  
Kaylie Hull     
Choral Director's Award  
Madison McPhillips  
Kannon Seals     
Band Awards  
John Philip Sousa - Praveena Kumaresan  
Patrick Gilmore - Whitney Neese  
Director's Award - Kannon Seals  

Visual Art Awards  
Ruth Delmas  
Katherine Echeverri  
Sam Graham  
History Awards
Jackson McKercher   
Bentley Nelson    
Shayla Abrams   
Kennedy White   
Kaylie Hull   
Marlan Zha   
Braden Forehand   
Layla Moberg   
Joseph Sherrod   
Allen Wright   
Parker James   
Ava Frost

Mathematics Awards
Outstanding Sophomore in Mathematics  
Brian Jeong  
Sara John  
Joseph Sherrod  
Julia Taylor     
Outstanding Junior in Mathematics  
Tuyako Khristoforova  
Ajay Wallack   
Marlan Zha     
Outstanding Senior in Mathematics  
Mariah Arnold  
Eli Chapman  
John Huff  
Shrish Shetty 
Isabela Wu  
Physical Education Awards
PE Award for Cross Country - Becca McAuliffe (manager)    
PE Award for Volleyball - Ava Frost    
PE Award for Basketball - Jaylen Sellers    
PE Award for Tennis - Nandu Kondamuru & Andreea Trifas    
PE Award for Archery - Chloe Dykes  
PE Award for Intramurals - Camryn Bedgood & Zak Davis    
PE Award for Cheerleading - Ava Dowden, Baylie Tagudar & Dinali Jayasena    
PE Award for Weight Training - Matthew Simpson  
Physics Awards
Outstanding Student in AP Physics C - Bentley Nelson & Nathan Kim
Outstanding Student in AP Physics 1 - Liz Womble & Eli Chapman
Outstanding Student in Honors Physics - Rebecca McAuliffe & Adam Amissah
Outstanding Student in Introduction to Physics - Kevin Chen & Morgan Farrar
Outstanding Student in Astronomy - Marina Roddy
Outstanding Student in Medical Physics - Shayla Abrams
Outstanding Student in Robotics - Bubba Schofield
Outstanding Student in Robotics - Shrish Shetty

World Languages Awards
Outstanding Student in German - Sviat Markin
Outstanding Student in Spanish
Mason Bayles
Jayden Cooper
Ligaya Gapud  
Research Fellows Program  
Asiel Torres 
Carter Swafford 
Elbread Roh 
Ella Nichols 
Emma McSpadden 
Eugene Min 
Isabella Wu 
Jacob Kim 
James Weaver 
James Yang 
Katherine Echeverri 
Kelsey Cox 
Ligaya Gapud 
Liz Womble 
Lucinda Barber 
Marina Roddy 
Marlan Zha 
Mason Bayles 
Mosin Adeyemo 
Muhammed Shalan 
Nicholas Kim 
Oscar Presnall  
Parker James 
Patrick Decker 
 Rima Patel  
Sanjana Mupparaju 
Sofia Laugelli 
Sophia Neno  
Venus Radoslovich  
Tuyako Khristoforova 
Zoi Moon 
Mobile Regional Science & Engineering Fair
Participants - Liz Womble, Elbread Roh, Jacob Kim, Nicolas Kim & Sanju Mupparaju 
The Best in Show 3rd place winner was Nicholas Kim. 
The Best in Show 1st place winner was Sanju Mupparaju.
Sophomore Awards
Outstanding Sophomore in Arts & Humanities - Sara John and Lex Mroczko  
Outstanding Sophomore in STEM - Zac Desmond and Julia Taylor  
Junior Awards
Outstanding Junior in Arts & Humanities - Alex Griffin & Kennedy White  
Outstanding Junior in STEM - Marlan Zha  
Dr. James Njeng'ere Award
Adam Amissah & Aiyana Travis

Hall Competition Winner
NEWTON


SENIOR HONORS CONVOCATION 2022 - Award Recipient List
4.0 Academic Award

Olivia McAleer
Rebecca McAuliffe
Madisson McMichael
Sanjana Mupparaju
Mary Bentley Nelson
BIOLOGY: 
Concentration in Biology 
Mosin Adeyemo  
Chinonye Alilonu  
Mariah Arnold  
Myra Bajwa – with Distinction  
Lucinda Barber  
Sydney Barnett – with Distinction  
Zakary Davis  
Ruth Delmas  
Sara Enfinger – with Distinction  
Nathan Kim – with Distinction  
Daniel Knight – with Distinction  
Jiheun Lee  
Layla Moberg  
Whitney Neese  
Bentley Nelsen  
Ella Nichols  
Peyton Plumlee – with Distinction  
Marina Roddy  
Muhammed Shalan – with Distinction  
Lexi Shoemake  
Aiyana Travis  
Katherine Winn  
Liz Womble – with Distinction   
Senior Excellence Medals in Biology  
Sanju Mupparaju 
Nathan Kim 
Muhammed Shalan 
Sydney Barnett  
CHEMISTRY: 
Concentration in Chemistry 
Mosin Adeyemo  
Sydney Barnett  
Mason Bayles  
Bentley Nelsen  
Muhammed Shalan   
Senior Excellence Medal in Chemistry  
Mason Bayles    
COMPUTER SCIENCE:  
Concentration in Computer Science  
Quinn Dolbeare  
Samuel Graham  
Benjamin Miller – with Distinction  
Oscar Presnall – with Distinction  
Liam Stewart  
James Weaver   
Senior Excellence Medals in Computer Science  
Oscar Presnall  
Liam Stewart  
Elbread Roh  
Liz Womble     
ENGLISH:  
Concentration in English 
Chinonye Alilonu  
Layla Byrd – with Distinction  
Ruth Delmas  
A'Blessin King  
Sofia Laugelli  
Rebecca McAuliffe - with Distinction  
Layla Moberg –with Distinction  
Whitney Neese  
Marina Roddy –with Distinction  
Audrey Shore  
Katherine Winn   
Senior Excellence Medals in English 
Rebecca McAuliffe   
Marina Roddy   
Thomas Templeton   
Sanjana Mupparaju (Communication)    
FINE ARTS: 
Concentration in Instrumental Performance  
Praveena Kumaresan   
Concentration in Visual Arts  
Katherine Echeverri – with Distinction  
Samuel Graham – with Distinction  
Sofia Laugelli – with Distinction    
Concentration in Vocal Music  
Holt Templeton   
Senior Excellence Medals in Fine Art 
Holt Templeton (Choir) 
Elbread Roh (Band) 
Eugene Min (Art) 
Sofia Laugelli (Art)    
HISTORY:  
Concentration in History 
Zakary Davis  
A'Blessin King  
Daniel Knight   
Senior Excellence Medals in History  
A'Blessin King                     
Ella Nichols   
Bentley Nelsen                   
Sophia Lauguelli     
MATHEMATICS: 
Concentration in Math  
Mariah Arnold  
Eli Chapman  
Katherine Echeverri  
Jacob Kim – with Distinction  
Nathan Kim – with Distinction  
Jiheun Lee – with Distinction  
Emily MacDonald  
Madisson McMichael  
Sanjana Mupparaju – with Distinction  
Rima Patel  
Oscar Presnall  
Elbread Roh  
Shrish Shetty  
Liz Womble – with Distinction  
Isabella Wu – with Distinction   
Senior Excellence Medals in Mathematics  
Jacob Kim  
Nathan Kim  
Sanju Mupparaju  
Kenneth Womble    
PHYSICAL EDUCATION:  
Senior Excellence Medals in Physical Education  
Sydney Barnett   
Aiyana Travis   
Shrish Shetty   
James Yang     
PHYSICS:  
Concentration in Physics 
Emily MacDonald  
Shrish Shetty   
Senior Excellence Medals in Physics 
Mariah Arnold   
Emily MacDonald   
Sanjana Mupparaju   
Shrish Shetty   
WORLD LANGUAGES: 
Concentration in German  
Hannah Nguyen – with Distinction  
Elbread Roh   
Concentration in Spanish  
Mason Bayles  
Madisson McMichael   
Senior Excellence Medals in World Languages  
Elbread Roh – German   
Olivia McAleer – French   
Olivia McAleer – Spanish   
Service Academy Appointment – United States Coast Guard
Eli Chapman
President's Award
Sinmi Adeyemo
A'Blessin King
Ella Nichols
Liz Womble
Shrish Shetty
Ava Frost
Bedsole-Bell Award
Nathan Kim
Elbread Roh 
ASMS Hall of Fame
Jacob Kim  
Rebecca McAuliffe  
Madisson McMichael  
Elbread Roh  
Aiyana Travis  
Olivia McAleer  
Sanjana Mupparaju  
ASMS Spirit Awards
Adam Amissah
Emily MacDonald