Presenting The ASMS Class Of 2022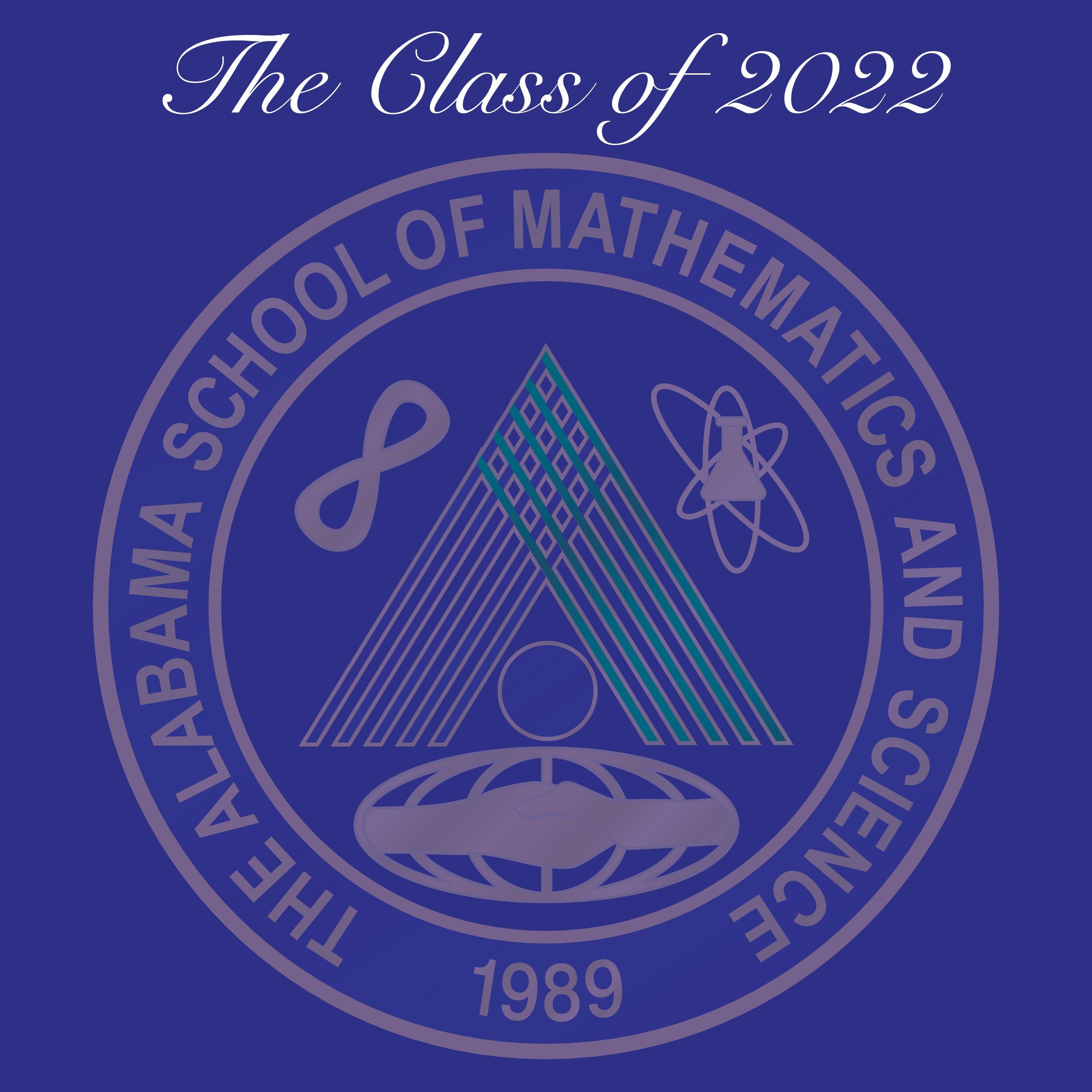 Graduation Program
---
This year's Alabama School of Mathematics and Science senior class is nothing short of exceptional. The Class of 2022 includes students from 24 different counties across the state of Alabama. We are so proud to share some of their accomplishments with our school community!

The average ACT score of the class is a 29 (9 points above the national average).
1 senior earned a perfect 36 score on the ACT.
3 seniors were named National Merit Finalists.
1 senior is a finalist for the U.S. Presidential Scholars program.
5 seniors placed 1st in the Regional Science and Engineering Fair this year.
This class was awarded over $7 million in scholarship opportunities.
1 senior was named an Emmy Noether Aspiring Research Scientist scholar.
These seniors were the first graduates to participate in the ASMS Spring Research Forum.

THE CLASS OF 2022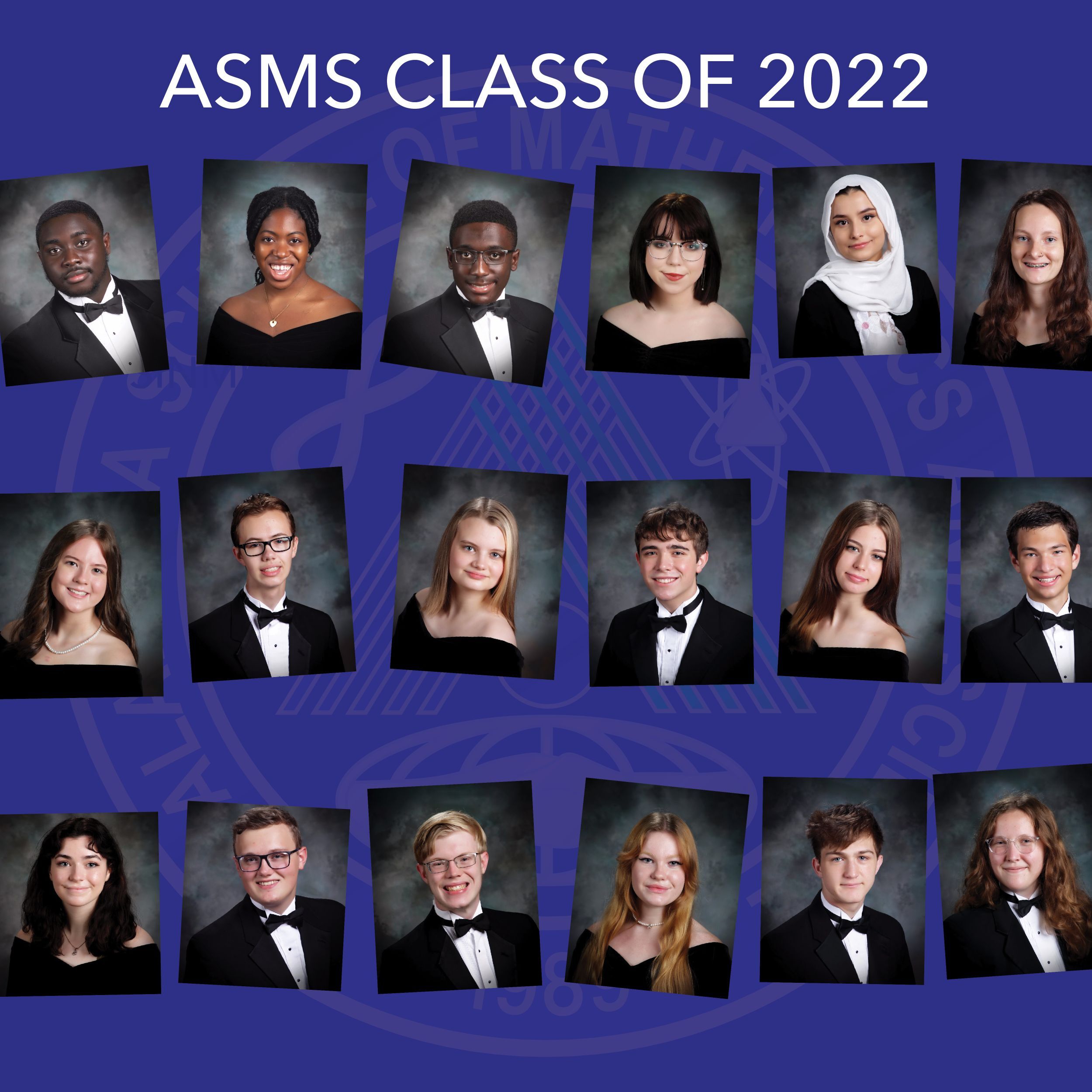 Sinmi Adeyemo
Calhoun
Columbia University
Chinonye Obianuju Alilonu
Tuscaloosa
University of Pennsylvania
Adam Kwame Amissah
Montgomery
The University of Alabama at Birmingham
Mariah Audrey Rose Arnold
Autauga
The University of Alabama at Birmingham
Myra Mubarik Bajwa
Mobile
University of South Alabama
Lucinda Mae Barber
Madison
University of Nevada, Reno
Sydney Elizabeth Barnett
Baldwin
Auburn University
Mason Wesley Bayles
Calhoun
The University of Alabama at Birmingham
Abigail Rose Burnett
Madison
Auburn University
Luke Campbell Burroughs
Baldwin
The University of Alabama
Layla Mechele Byrd
Mobile
Auburn University
Eli Samuel Chapman
Baldwin
United States Coast Guard Academy
Kelsey Marie Cox
Baldwin
Auburn University
Zakary Colt Davis
Houston
Troy University
Patrick Layton Decker
Shelby
Auburn University
Ruth Emmaline Delmas
Mobile
The University of Alabama at Birmingham
Quinn Matthew Dolbeare
Mobile
The University of Alabama
Anna Elizabeth Dorris
Baldwin
Lehigh University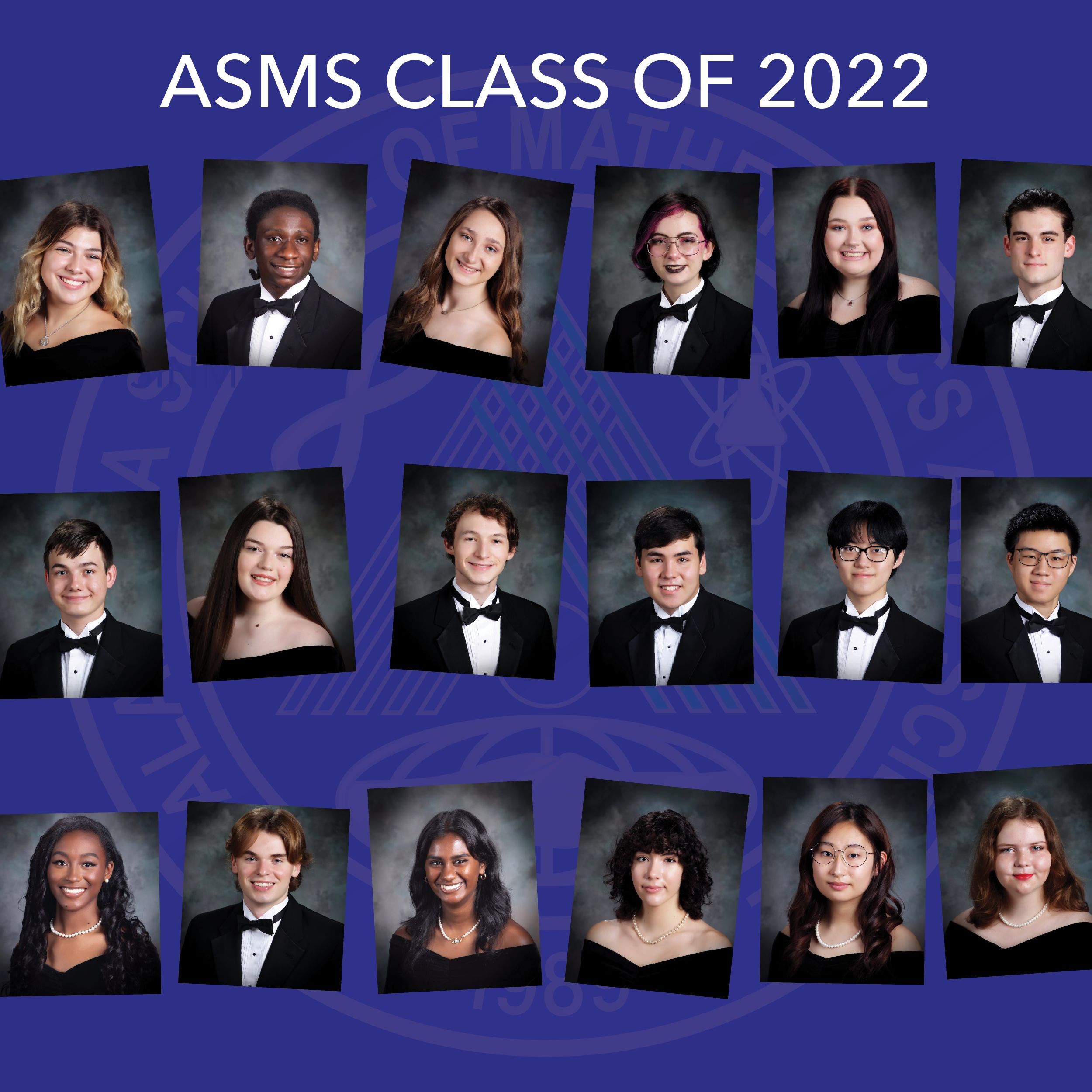 Katherine Hannah Echeverri
Etowah
Sarah Lawrence College
Emmanuel Josiah Edwards
Dallas
The University of Alabama
Sara Grace Enfinger
Geneva
The University of Alabama
Taryn Lee Faris
Mobile
The University of Alabama at Birmingham
Ava Blue Frost
Etowah
The University of Alabama
Samuel James Graham
Baldwin
The University of Alabama
John Michael Huff
Baldwin
The University of Alabama
AnaGrace Marie Kelly
Lauderdale
The University of Alabama in Huntsville
Michael Colin Kennedy
Mobile
The University of Alabama
Jacob Davis Ji-Seung Kim
Tuscaloosa
The University of Alabama
Nathan Chanyoung Kim
Mobile
Massachusetts Institute of Technology
Nicholas Choi Kim
Shelby
The University of Alabama in Huntsville
A'Blessin René King
Autauga
Howard University
Daniel Anderson Knight
Houston
The University of Alabama at Birmingham
Praveena Kumaresan
Baldwin
The University of Alabama at Birmingham
Sofia Josephine Mae Laugelli
Baldwin
The University of Alabama at Birmingham
Jinny Lee
Lee
Boston College
Emily Rose MacDonald
Morgan
The University of Alabama in Huntsville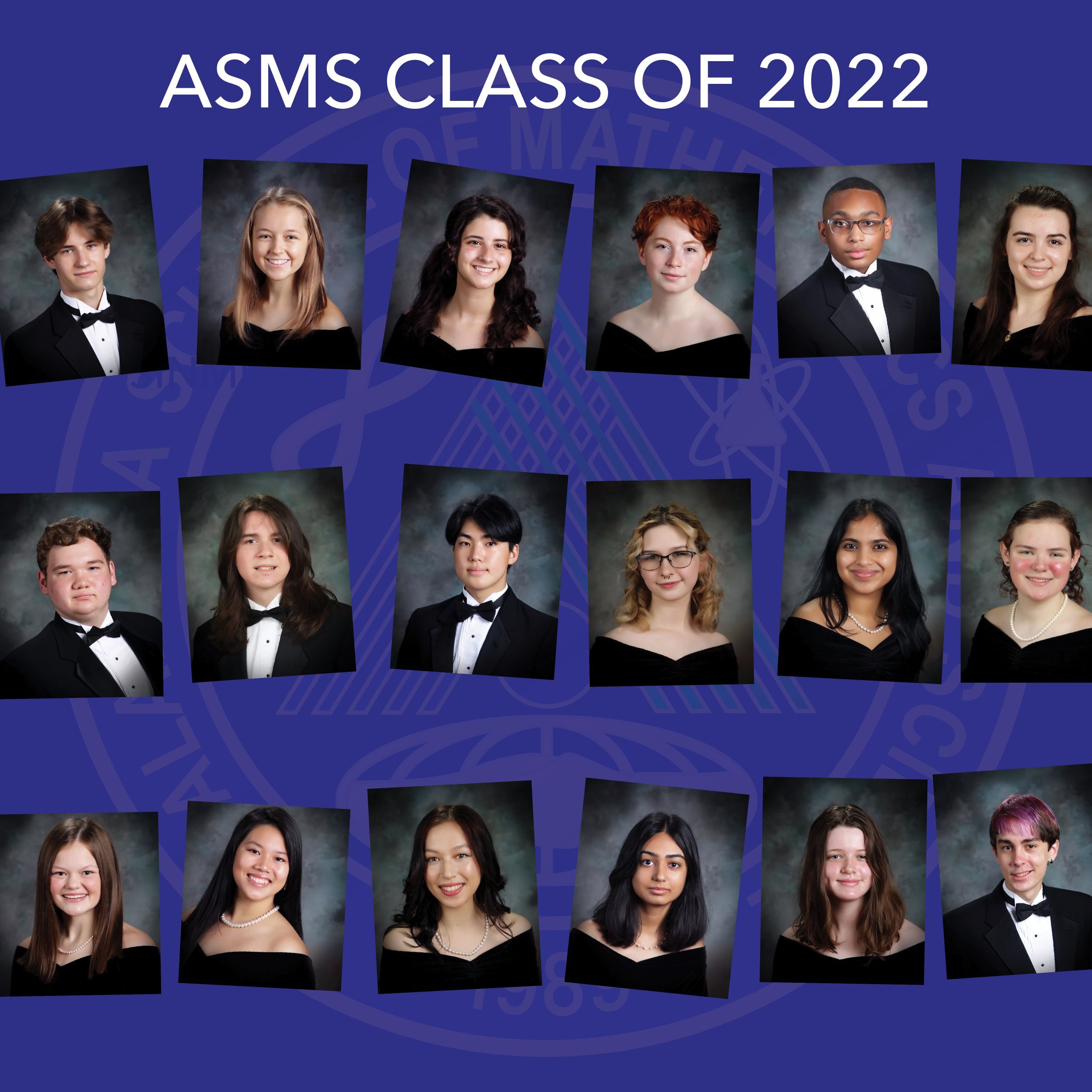 Sviatoslav Markin
Shelby
The University of Alabama at Birmingham
Olivia René McAleer
Baldwin
University of South Florida
Rebecca Ashley McAuliffe
Baldwin
Hamilton College
Samantha Paige McCrispin
Tallapoosa
Auburn University
Christian Isaiah McKinnon
St. Clair
University of Memphis
Madisson Monica McMichael
Baldwin
The University of Alabama
Asher Israel McMillan
Elmore
Auburn University at Montgomery
Benjamin Thomas Miller
Etowah
The University of Alabama at Birmingham
Eugene Min
Mobile
Vanderbilt University
Layla Jolie Moberg
Escambia
University of West Alabama
Sanjana Mupparaju
Calhoun
Massachusetts Institute of Technology
Whitney Marie Neese
Mobile
The University of Alabama at Birmingham
Mary Bentley Nelsen
Baldwin
The University of Alabama at Birmingham
Hannah Hanh Nguyen
Mobile
The University of Alabama at Birmingham
Ella Yu-mei Nichols
Randolph
The University of Alabama at Birmingham
Rima Nilesh Patel
Houston
Auburn University
Peyton Emma Plumlee
Madison
Undecided
Oscar Kuntz Presnall
Tuscaloosa
The University of Alabama at Birmingham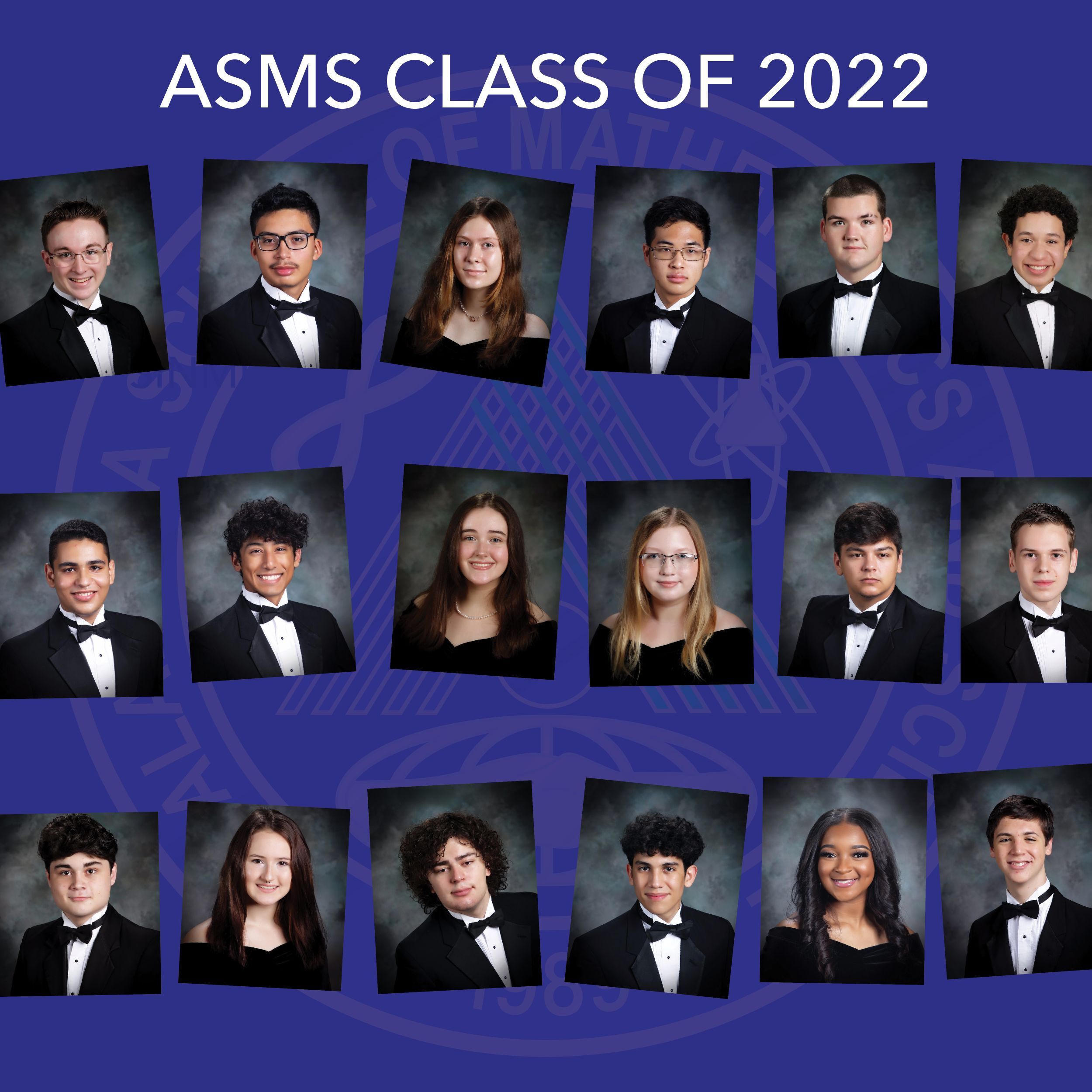 Thomas Matthew Robinson
Shelby
The University of Alabama in Huntsville
Manuel De Jesus Robles
Houston
The University of Alabama in Huntsville
Marina Una Roddy
Mobile
The University of Alabama at Birmingham
Elbread Eunsoo Roh
Autauga
Rice University
Christopher William Lee Schofield
Butler
Auburn University
Kannon James Seals
Baldwin
The University of Alabama at Birmingham
Muhammed Abdelfatah Shalan
Mobile
The University of Alabama at Birmingham
Shrish Nagendra Shetty
Houston
Auburn University
Lexi Rachelle Shoemake
Dale
The University of Alabama at Birmingham
Audrey Catherine Shore
Tuscaloosa
Western Carolina University
Matthew Carter Simpson
Jefferson
Mississippi State University
Ian Samuel Stevens
Franklin
The University of Alabama at Birmingham
Liam Joseph Stewart
Mobile
Auburn University
Jasmine Elaine Straub
Lauderdale
Auburn University
Thomas Holt Templeton
Mobile
Vanderbilt University
Asiel Arnaldo Torres
Madison
Auburn University
Aiyana Elisia Travis
Mobile
The University of Alabama at Birmingham
James Fletcher Weaver
Baldwin
Auburn University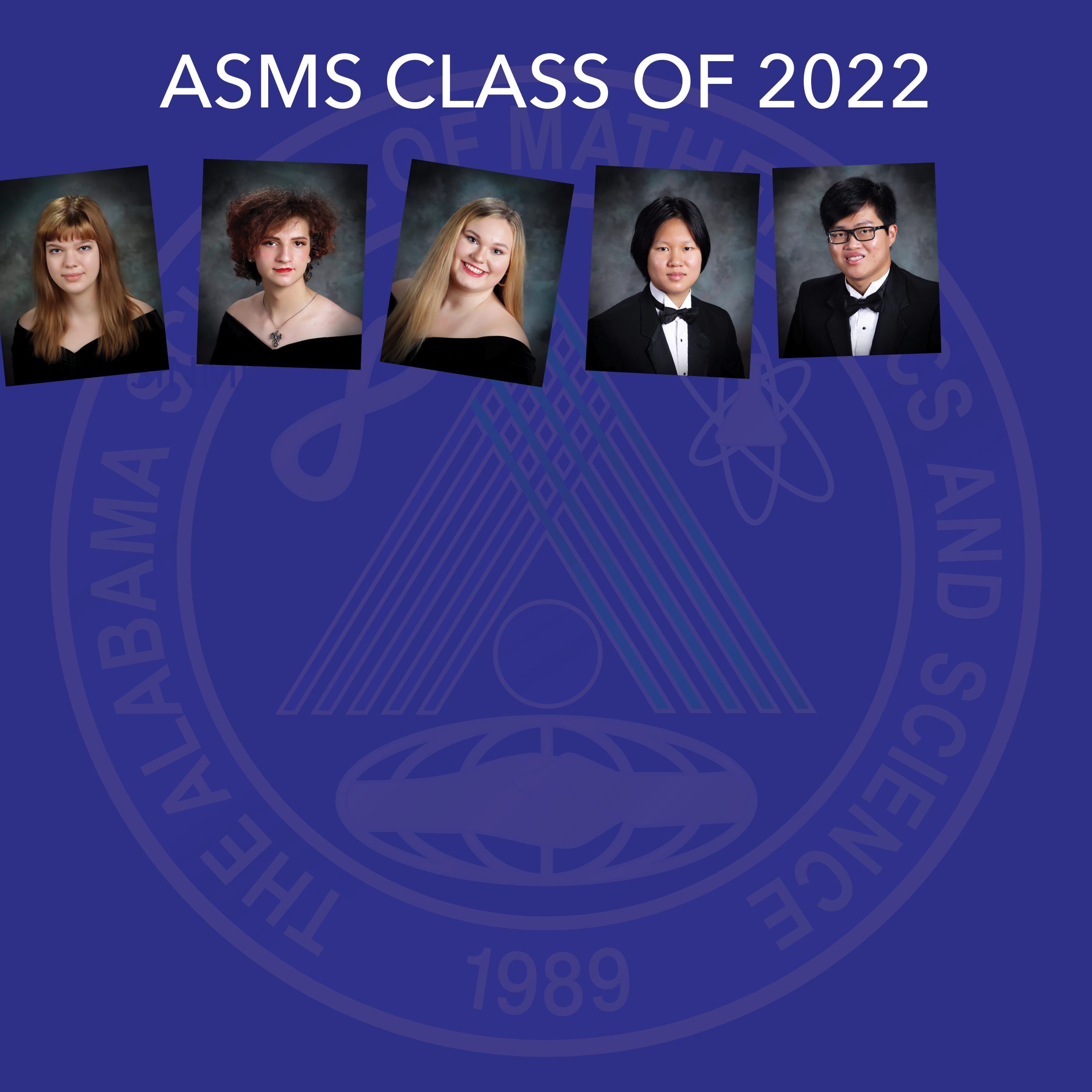 Katherine Shelby Winn
Butler
Vassar College
Liz Anthony Womble
Houston
Troy University
Sarah Grace Wood
Blount
The University of Alabama at Birmingham
Isabella Wu
Tuscaloosa
The University of Alabama
James Xiang Yang
Tuscaloosa
The University of Alabama