ASMS Class of 2019 Alum Named Goldwater Scholar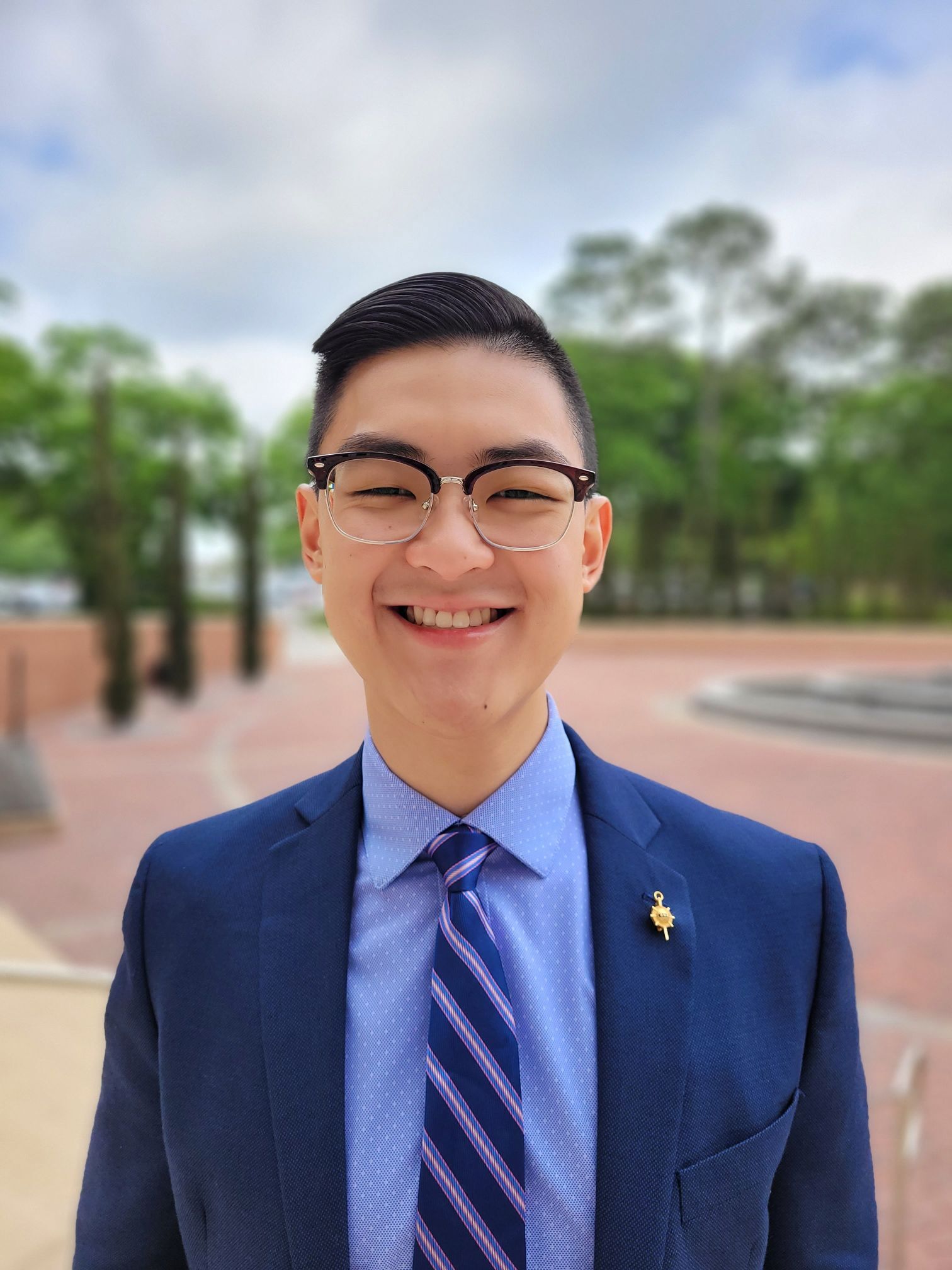 By ASMS sophomore, Liam Ellison - Shelby County
Noel Godang is an exceptional scholar at the University of South Alabama (USA) and an outstanding alumnus of the Alabama School of Mathematics and Science (ASMS). He is a Class of 2019 ASMS graduate and was recently named a Goldwater Scholar, an esteemed scholarship program which recognizes those with exceptional promise for careers in research and exemplary performance in natural science, engineering, or mathematics. According to The Barry Goldwater Scholarship and Excellence in Education Foundation, "From an estimated pool of over 5,000 college sophomores and juniors, 1242 natural science, engineering and mathematics students were nominated by 433 academic institutions to compete for the 2022 Goldwater scholarships" (web). Godang is one of just 417 recipients from across the United States.
After Godang graduated from ASMS, he chose to attend the University of South Alabama, majoring in Biomedical Sciences and minoring in Biology and Music. While at South, he joined the USA Honors College and the Alpha Epsilon Delta Pre-Health Society. With research in mind, he joined the Borchert Lab in the USA College of Medicine Department of Pharmacology during his first semester.
Godang began conducting research at the Borchert Lab under his mentor Dr. Glen Borchert. Godang explains the broad focus of his research as "the roles of noncoding RNAs in oncogenesis." Godang was able to continue his research throughout last summer since he was a recipient of the 2021 Summer Undergraduate Research Fellowship from the University of South Alabama. His research ended up proving thus far an amazing success and has been greatly influential in his life as a scholar. Godang expressed, "With the results produced from my summer research, I was invited as a speaker at the 2021 Undergraduate Research Symposium at the University of South Alabama [where] I was also awarded the Phi Kappa Phi Poster of Excellence Award. These research and study opportunities have allowed me to become a co-author on a paper in Cells pertaining to noncoding RNAs in prostate cancer cells."
Godang has already started theorizing the practical applications of his research with the Borchert Lab. Godang posits that the novel cellular interactions they are investigating could help attain earlier cancer detection or possibly even work as a means of therapy for cancer patients. Alongside his research in prostate cancer, Godang is also investigating malignant properties pertaining to Long G4-capable regions in the human genome. Godang was recently hired as the Laboratory Manager for Borchert Lab which now allows him to be part of all of the research projects in the Borchert Lab.
However, Godang's brilliance precedes his time at the Borchert Lab. While at ASMS, Godang was able to grow his passion for the study of the human body and all of the intricate processes and interactions that undergo inside. He commented, "ASMS created the foundation to who I am today. With the advanced academic rigor, leadership, and research focus for students, I was able to cultivate a sense of curiosity, and it motivated me to dive deeper into science and find my focus." While at ASMS, Godang took courses such as molecular and classical genetics, organic chemistry, and other biology and chemistry classes. He attributes a large part of his current success to the teachers and faculty at ASMS, claiming that he would not be who he is today without them.
After being named a 2022 Goldwater Scholar, Godang had this to say, "I am extremely humbled to have been a recipient this year, especially after several difficult semesters with the pandemic causing problems with making progress in research. To me, this award is not just for me but also for all of my mentors who have helped me throughout the process. The experiences that I have acquired from my mentors all the way from ASMS to college have defined what I learn as a student. I hope that me being a Goldwater Scholar is also rewarding for them as it is for me."
Godang hopes to become a physician after college and intends to research a better clinical integration of personalized medicine in patient care. His work is sure to be revolutionary, and we are proud to call him an ASMS alumnus.