ASMS Students Named Winners of World's Largest K-12 Science Competition for their Innovation to Address Hearing Loss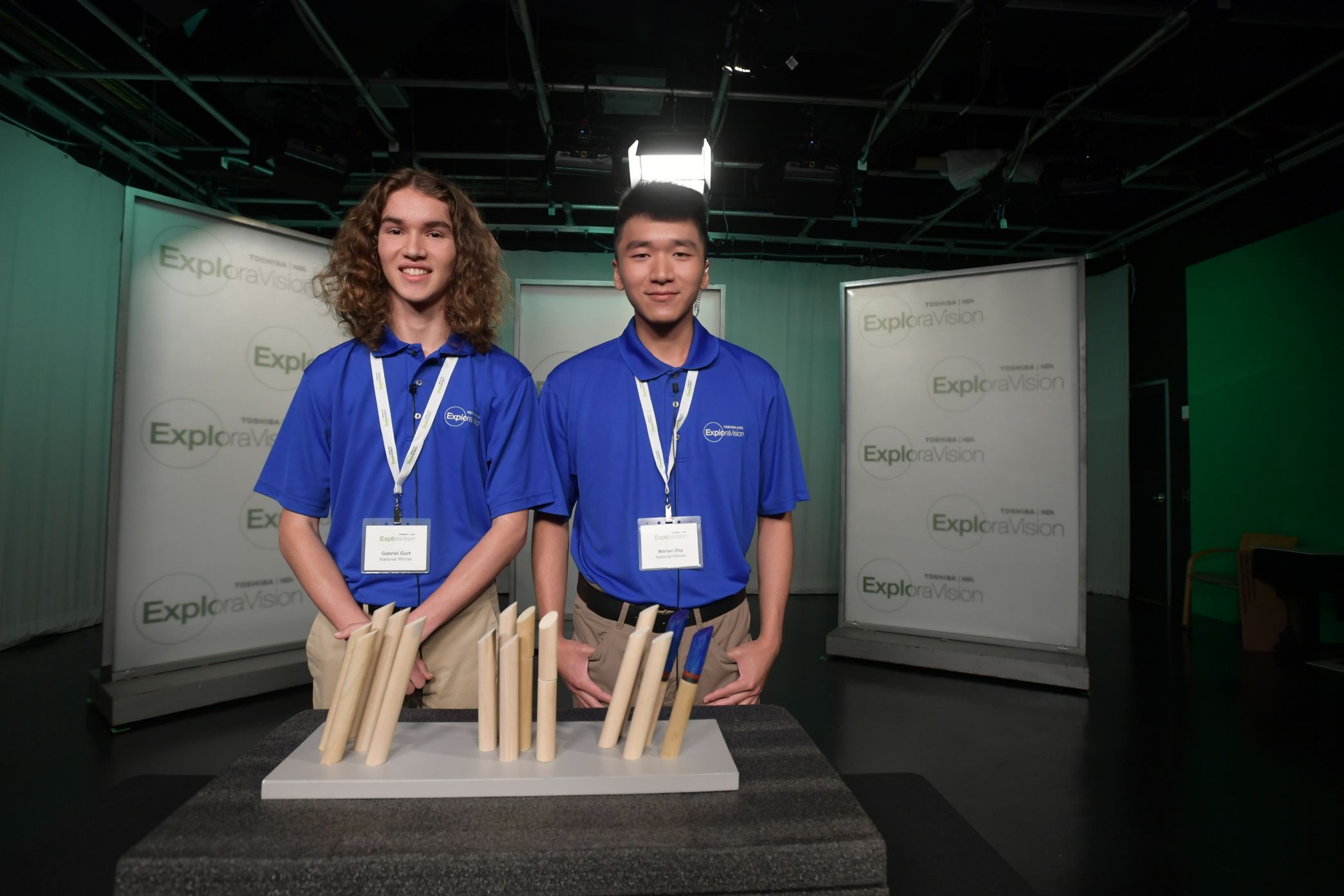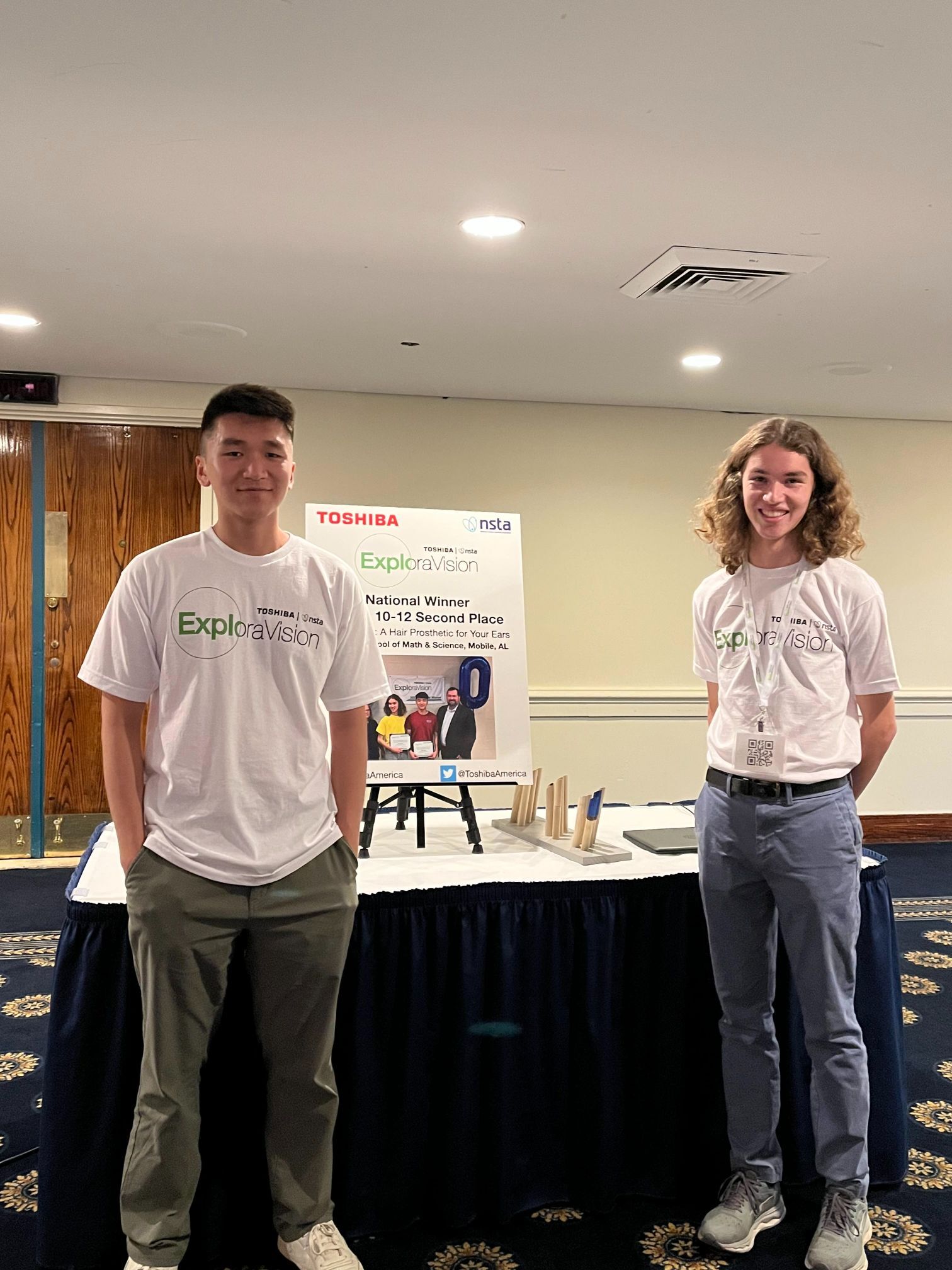 Mobile, Ala.– Two ASMS students are national winners of the world's largest K-12 science competition for their CiliaBuilder innovation to address hearing loss. Gabriel Gurt and Marlan Zha were selected as the 2nd place winners out of 2,000 submissions and 6,000 students for the Toshiba / National Science Teaching Association (NSTA) ExploraVision Competition, a program that has existed since 1992.
The ExploraVision competition challenges students to solve real-world problems with a focus on STEM. They are tasked with envisioning a new technology 10 or more years in the future and researching the current science landscape for their solution. Participants are sponsored by a teacher who guides and coaches them through the process of designing, researching, and even analyzing the feasibility of their idea.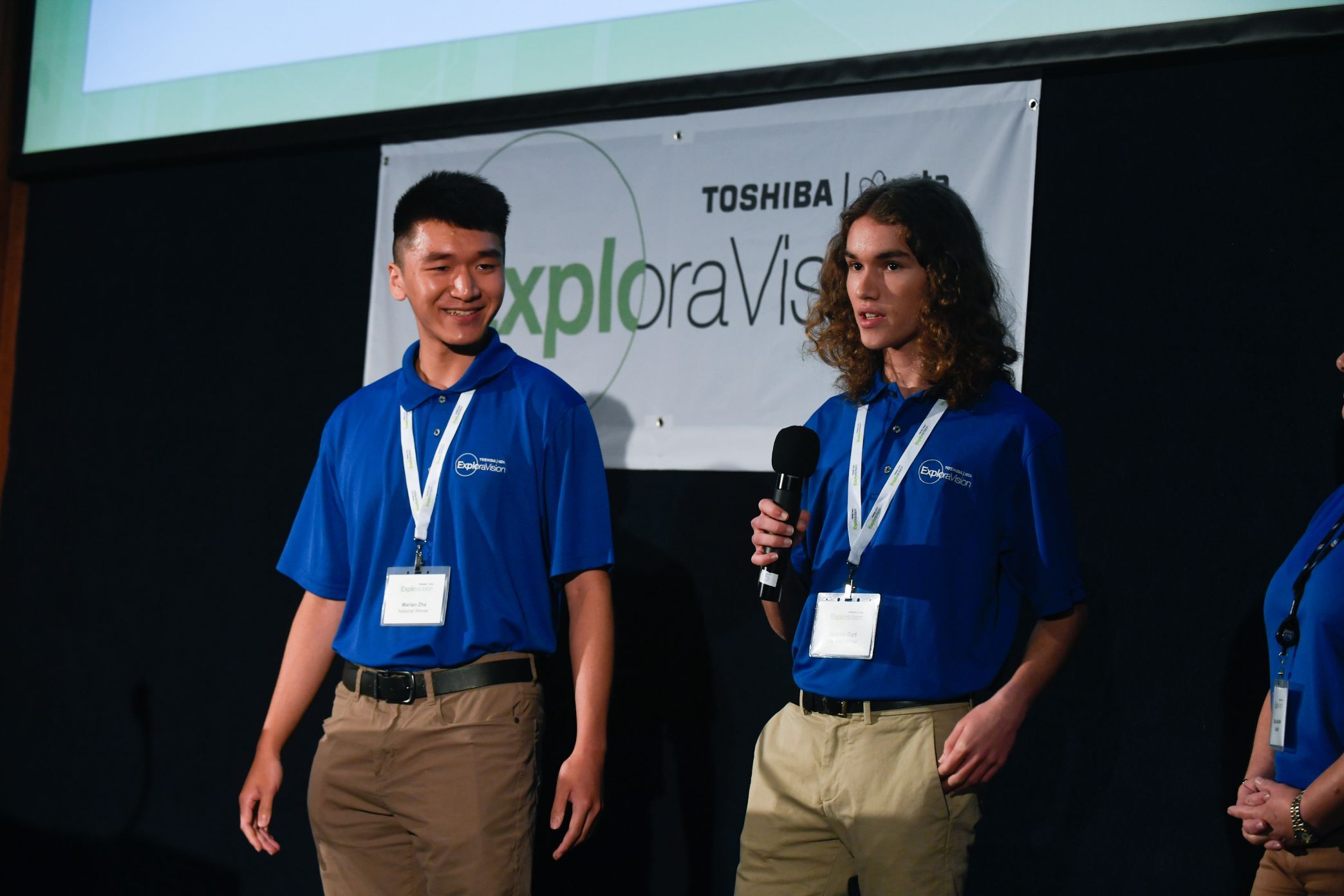 Gurt and Zha were coached by ASMS chemistry department faculty member, Dr. Elisa Rambo. They describe that when coming up with their innovation, they were inspired by their love of music and desire to learn more languages. Gurt shares, "We wanted to improve access to the things we love for everyone around the world." Zha echoes, "Our motivation for the project comes from the fact that by 2050 the World Health Organization predicts that as many as 1 in 4 people will have hearing problems."

The students named their innovation CiliaBuildier, and they explain it in this way:
"Imagine hair extensions inside your ear! Hearing loss due to noise exposure is a common issue for billions of people. Although this form of hearing damage is preventable, around 60% of childhood hearing loss is due to noise. Hearing loss can be caused by a physical degradation of stereocilia inside the cochlear canal. Healthy stereocilia are able to move in response to sound waves initiating a signal that is received by the brain. When damaged, the stereocilia are shortened and unable to move properly. This project will present a solution to this problem. Using targeted protein binding, a cilia prosthetic will be docked onto the damaged stereocilia. The prosthetic will lengthen the damaged cilia restoring the proper movement potential and the cochlea's ability to send signals to the brain."
The students submitted a 150-word abstract, 11-page paper description, research bibliography, and 5 sample web pages which communicate and promote their idea. They were named regional ExploraVision winners in April and awarded certificates at the school's Ann Bedsole Day luncheon. At the luncheon, a representative from the Toshiba Corporation, an ExploraVision sponsor, also surprised the students with the news they had been selected as 1 of just 8 national winners. The students would be invited to Washington, D.C. and will also both receive $5,000 in U.S. savings bonds.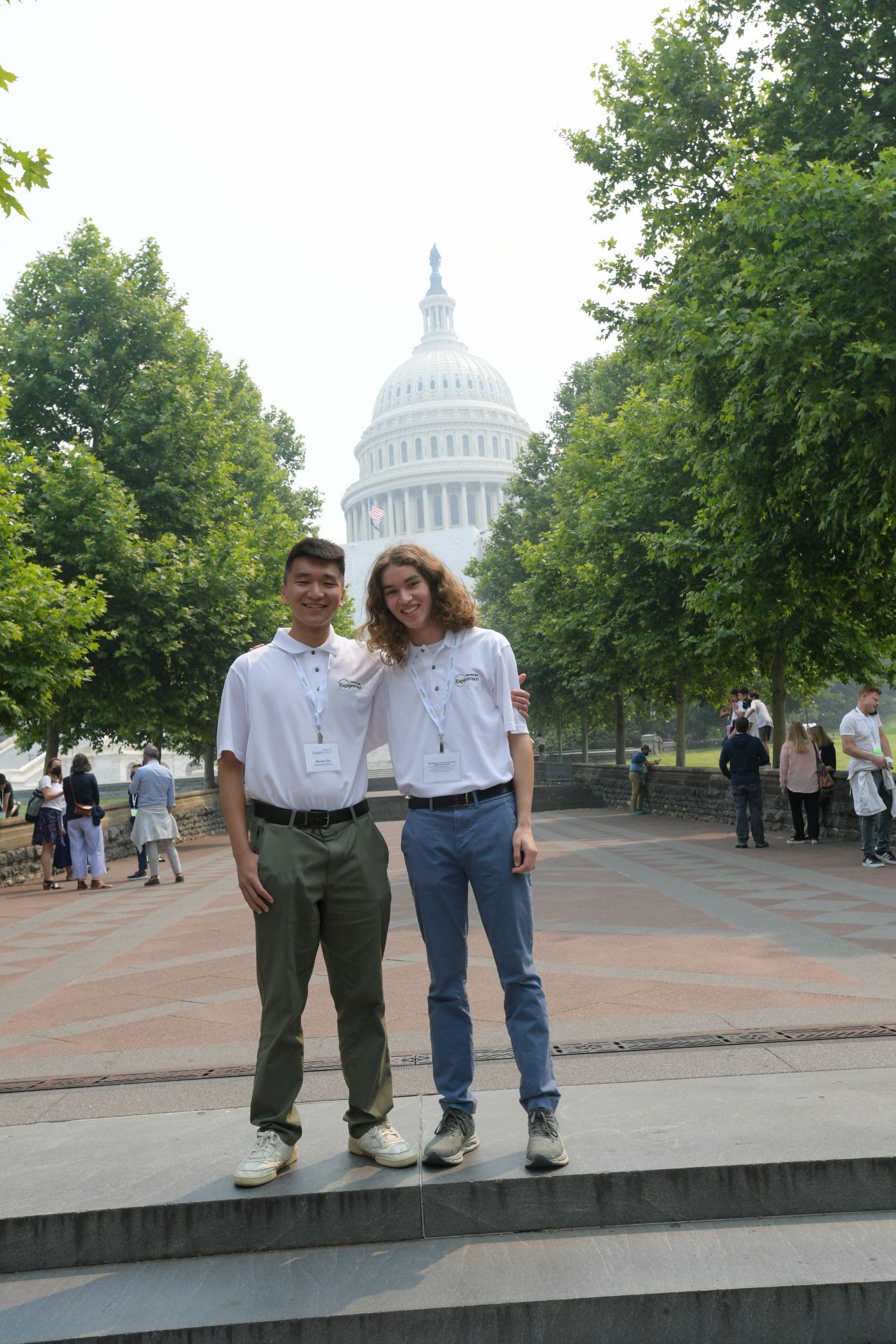 Gurt and Zha recently returned from their trip to D.C. where they engaged with U.S. Congressmembers from Alabama, shared their innovation with world leaders in STEM at a Science Showcase, participated in a press tour, and visited the nation's capital. They were even honored at an award's ceremony where Bill Nye the Science Guy served as the keynote speaker.
Dr. Rambo traveled to D.C. with the students, and she expresses, "The ExploraVision experience has been a valuable curricular component of my class for over 15 years. Every student project builds on course content and provides students an opportunity to extrapolate creative solutions to real world problems. Marlan and Gabe created a simple and elegant solution to a common yet complicated health issue. Working with these two young men was a privilege and honor."

---
ASMS leadership says that because the school's teachers are college-level faculty members, students can participate in programs like ExploraVision with bright ideas and a strong academic foundation to support their work. "We are incredibly proud of these two students and grateful to Dr. Rambo for her mentorship. I would not be surprised if in 10 years we find that Gabe and Marlan have made CiliaBuilder a reality for our world," says ASMS president, Dr. John Hoyle.
Those who wish to learn more about the student's innovation can visit their CiliaBuilder webpage or watch their ExploraVision video submission.
###
About ASMS
The Alabama School of Mathematics and Science is the state's only fully public and residential high school for sophomores, juniors, and seniors pursuing advanced studies in math, science, and the humanities. ASMS is a research-focused learning community committed to innovation, interdisciplinary collaboration, and diversity with a mission to empower motivated Alabama students to improve their community, state, and nation. Tuition, room, and board are free. Learn more at asms.net
About Toshiba
Toshiba Corporation Toshiba Corporation leads a global group of companies that combines knowledge and capabilities from almost 150 years of experience in a wide range of businesses—from energy and social infrastructure to electronic devices—with world-class capabilities in information processing, digital and AI technologies. These distinctive strengths support Toshiba in building infrastructure that everyone can enjoy, and a connected data society, and in achieving the Company's ultimate goal, a future that realizes carbon neutrality and a circular economy. Guided by the Basic Commitment of the Toshiba Group, "Committed to People, Committed to the Future," Toshiba contributes to society's positive development with services and solutions that lead to a better world. The Group and its 110,000 employees worldwide secured annual sales of 3.4 trillion yen (US$25.1 billion) in fiscal year 2022.
About Toshiba America, Inc.
Founded in 1965, Toshiba America, Inc. (TAI) is a subsidiary of Tokyo-based Toshiba Corporation and the holding company of four Toshiba operating companies that offer a broad range of products and solutions for the residential, commercial, and industrial sectors. The three companies, which along with TAI are known collectively as Toshiba America Group, are Toshiba America Electronic Components, Inc. (Semiconductor solutions), Toshiba America Energy Systems, Corp. (Power generation solutions), and Toshiba International Corporation (Industrial, power electronics & transmission & distribution solutions).
About NSTA
The National Science Teaching Association (NSTA) is a vibrant community of 40,000 science educators and professionals committed to best practices in teaching science and its impact on student learning. NSTA offers high quality science resources and continuous learning so that science educators grow professionally and excel in their career. For new and experienced teachers alike, the NSTA community offers the opportunity to network with like-minded peers at the national level, connect with mentors and leading researchers, and learn from the best in the field. For more information, visit www.nsta.org, or following NSTA on Twitter, Facebook, Instagram, YouTube, and LinkedIn.