Seven ASMS Seniors Named National Merit Finalists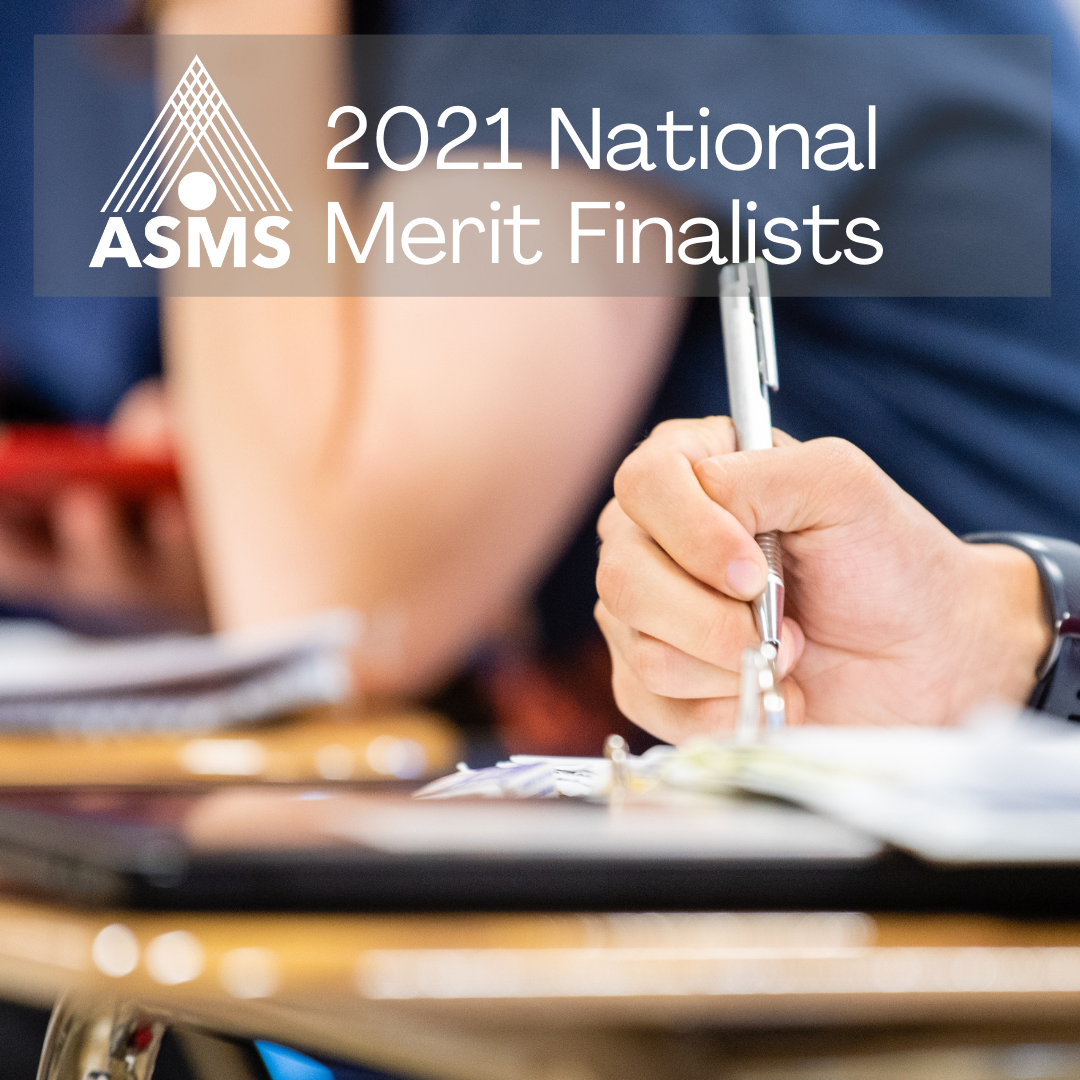 10% of seniors in the Alabama School of Mathematics and Science (ASMS) Class of 2021 have been named National Merit Finalists by the National Merit Scholarship Corporation (NMSC) for a total of seven students in all – a significantly high number compared to other high schools of similar size. These students are in the top 1% of high school seniors in the nation.
In 2019, more than 1.5 million juniors from 21,000 high schools entered the 2021 National Merit Scholarship Program by taking the Preliminary SAT/National Merit Scholarship Qualifying Test (PSAT/NMSQT®). Students typically take the test during their junior year and find out if they are Semifinalists in fall of their senior year. In fall of 2020, less than 1% of high school seniors, numbering around 16,000 nation-wide, were announced as Semifinalists with around 15,000 being named Finalists in early 2021. To become a Finalist, Semifinalists submit a detailed scholarship application, with information about their academic record, school involvement, community activities, leadership, employment, honors, and awards received. They also submit an essay and endorsement by a school official.
Becoming a National Merit Finalist can open significant opportunities for students to receive scholarship funding from institutions of higher education and other organizations. Many in-state institutions in Alabama provide full tuition scholarships and/or fully paid room and board.
"ASMS is always proud when one of our seniors is named a National Merit Finalist, but to have 10% of an entire senior class be named Finalists, that is almost unheard of. It speaks volumes of our students' resiliency and what they can accomplish even in the face of global challenges. The future is bright for these seven seniors, and we extend our congratulations to them and their families," says ASMS school president Dr. John Hoyle.
National Merit Scholarship winners will be announced in spring of 2021.
Congratulations to these seniors and their families!
ASMS National Merit Finalists:
Joseph Hulcher, Mobile County
Emma Joly, Baldwin County
Veda Joshi, Houston County
Gregory Li, Baldwin County
Elijah Velaski, Baldwin County
Tabitha Watson, Jefferson County
Cary Xiao, Tuscaloosa County
###
NMSC: National Merit Scholarship Corporation, a not-for-profit organization that operates without government assistance, was established in 1955 specifically to conduct the annual National Merit Scholarship Program. Scholarships are underwritten by NMSC with its own funds and by approximately 400 business organizations and higher education institutions that share NMSC's goals of honoring the nation's scholastic champions and encouraging the pursuit of academic excellence.
ASMS: The Alabama School of Mathematics and Science is the state's only fully public and residential high school for sophomores, juniors, and seniors seeking advanced studies in math, science, computer science, and the humanities. ASMS is a research-focused learning community committed to innovation, interdisciplinary collaboration, and diversity with an aim to empower motivated Alabama students to improve their community, state, and nation. Tuition, room, and board are free. Learn more at asms.net.