ASMS Hosts "I AM 400" Banner Father-Son Artists at Assembly in Celebration of Black History Month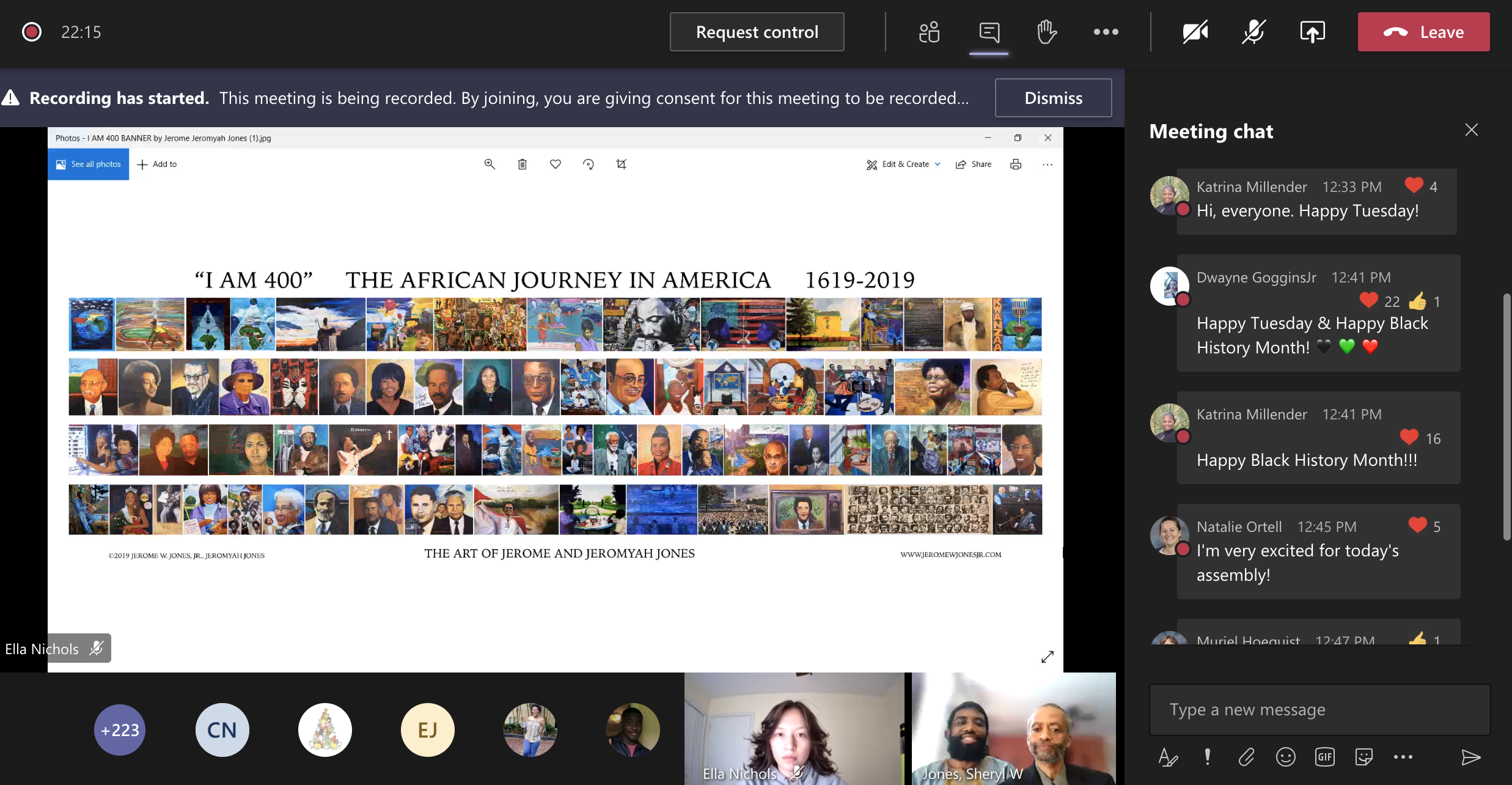 The students, faculty, and staff of ASMS experienced a rousing start to their celebrations of Black History Month through an assembly which featured the inspired works and words of father-son artists, Jerome and Jeromyah Jones. Having previously been featured in segments by notable media outlets like The Today Show, the Joneses each have distinct, commendable careers, but they work together on outreach and art surrounding Black history and culture. They spoke to ASMS about the connections they have made throughout their career as well as the history and inspiration behind their artistry.
Both Jerome and Jeromyah have a wide array of acclaimed works. Jerome's paintings can be found in many private and public collections, including those of Stevie Wonder, Michael Jordan, and the City of Richmond. Classically educated in the arts, he attended Virginia Commonwealth University, and he holds a Bachelor of Fine Arts in painting and printmaking. Jeromyah, too, pursued art in his higher education, receiving a Bachelor of Arts in Comprehensive Art from Hampton University in 2011. Jeromyah's landscapes have been featured in Maymont's Japanese Gardens in Richmond as well as alongside his father's works in exhibits held at many institutions like the Black History Museum.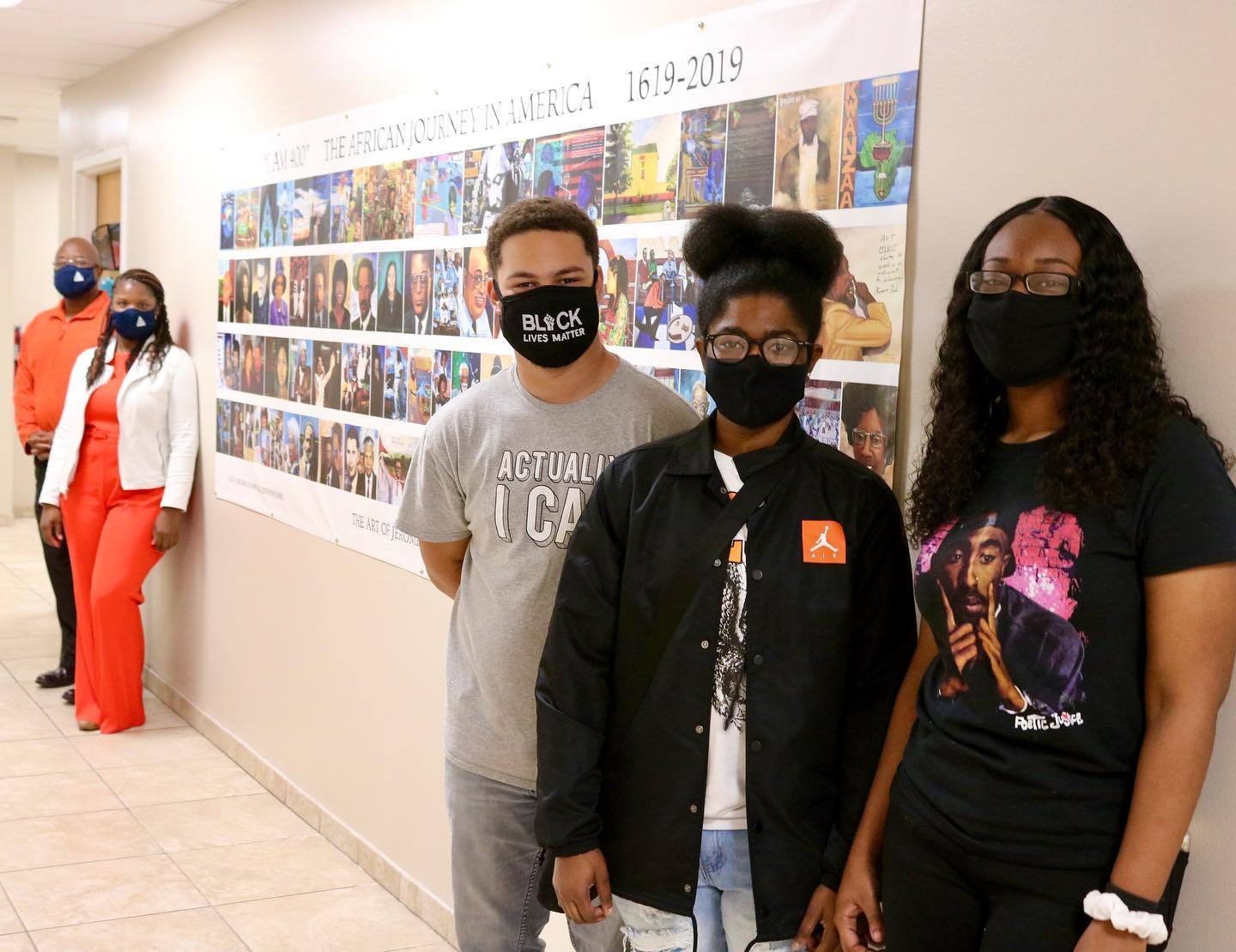 These visionaries were especially meaningful guests for ASMS because a banner entitled "I AM 400" featuring their paintings hangs in the ASMS administration building and is seen by students, staff, and guests every day. The banner displays a collection of 69 works painted by both Jeromyah and Jerome depicting "The African Journey in America." Jerome Jones said that when his son was born, he believed in "not just teaching him the history but introducing him to history-makers." The father-son team has met many of the Black leaders and innovators shown in the banner, and Jerome has been able to present many of his works to the painting subjects. Their website, http://www.jeromewjonesjr.com/, features a page about the banner in which they describe it as "a creative way for you to educate and motivate others to appreciate the accomplishments of Africans in America from 1619 to 2019." Jerome Jones shared during assembly that the banner serves as a way to correct negative portrayal and mischaracterizations, highlight the history and contributions of Black men and women in America, and hint that Black history spans much further than America in 1619. Jeromyah expressed that "struggle is what we have gone through, but it is not who we are."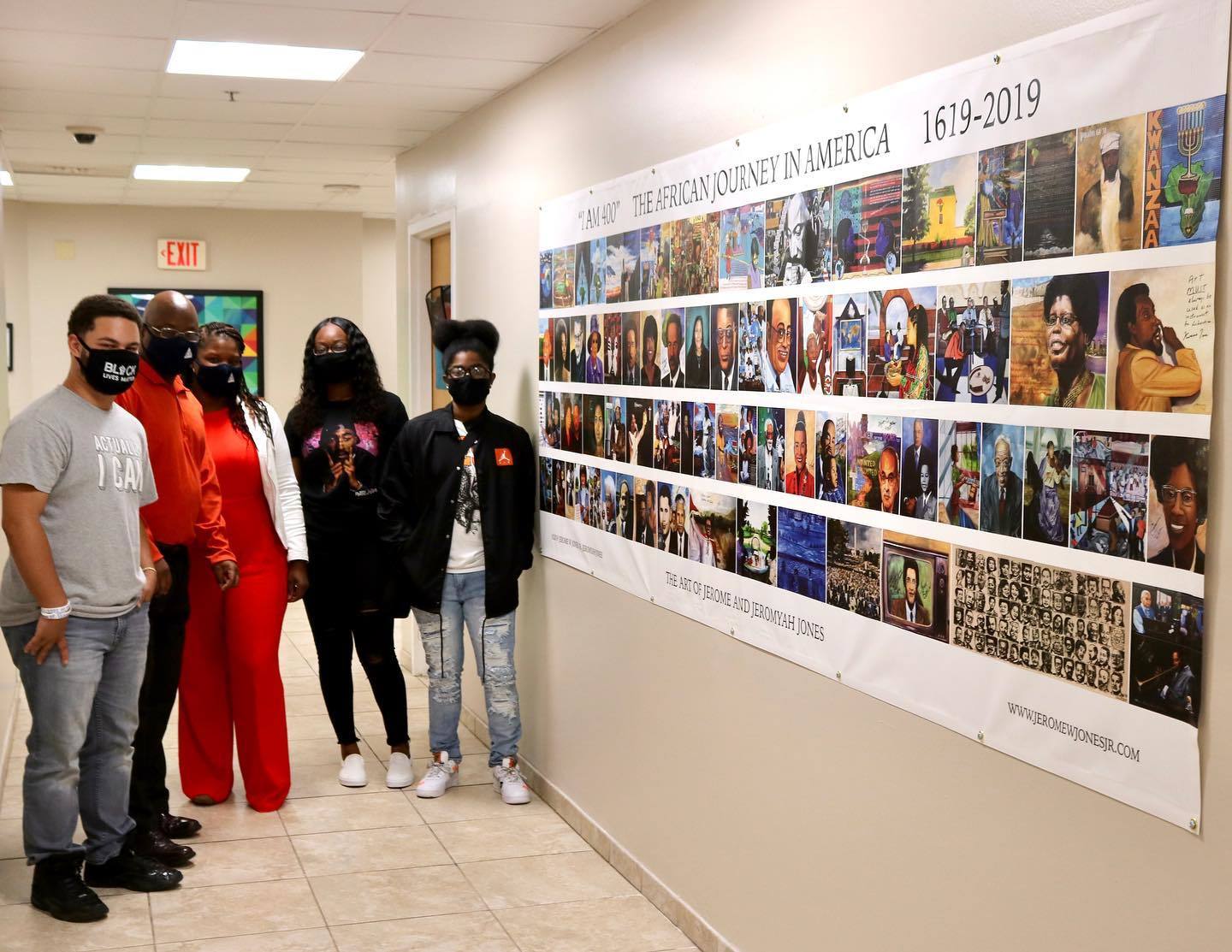 During the assembly, they introduced the concept of the 3 I's they employ before they put brush to canvas: information, inspiration, and imagination. These ingredients allow them to "come together at the table as father-son artists about what to create next," says Jerome. In their time spent speaking to ASMS, both Jerome and Jeromyah expressed the meaning and intention of their work, but it is Jeromyah who intertwines poetry into their descriptions. During the assembly and other interviews as well, he beautifully articulated the personal and cultural significance behind a painting. Their work, on its own, speaks volumes, but in having the Joneses there to present at our school assembly, they displayed their lyrical dynamic, and it made for a very unique presentation which resonated with all in attendance. ASMS thanks the Joneses for taking the time to inspire our students and introduce themselves as the artists behind a prized piece in our school hallway.
By Ruth Delmas, ASMS junior