ASMS Celebrates School Founder Ann Bedsole's 90th Birthday and her Contributions to Students and the State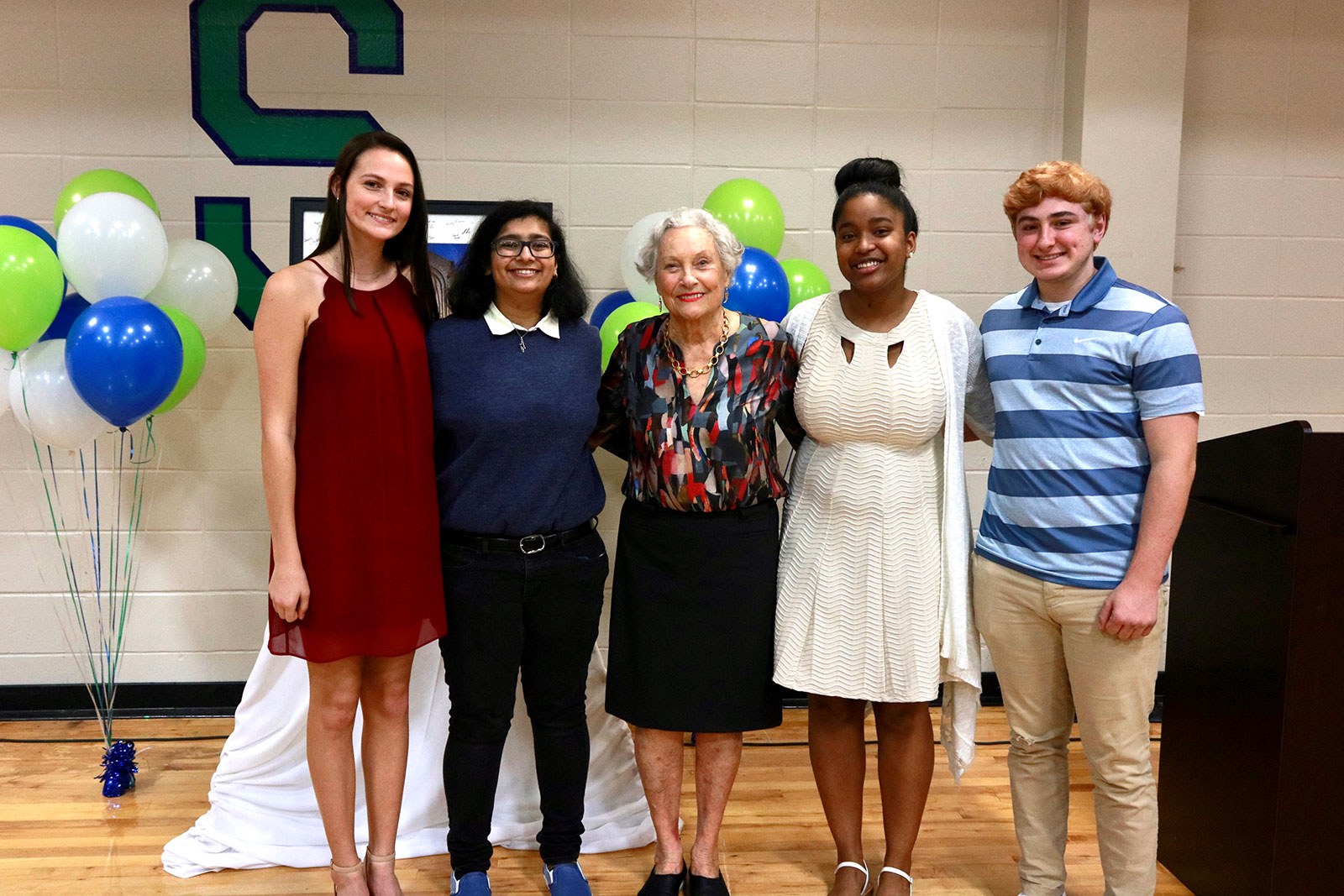 Ann Bedsole is a founder, benefactor, and champion of the Alabama School of Mathematics and Science (ASMS) in Mobile, Ala. At age 59, when many people would have been looking forward to retirement, Ms. Bedsole was casting vision for the future of education and for the next generation of leaders in our state, sponsoring the bill in the State Senate to establish ASMS.
Now, 30 years later, ASMS held a birthday celebration honoring Ms. Bedsole not just for her years of investment in the school but for 90 years of high-impact leadership in the state of Alabama. On January 7, 2020 Ms. Bedsole celebrated her 90th birthday. The positive transformation that Ms. Bedsole has brought about in her lifetime is something many people would only ever dream of accomplishing.
President of ASMS, Dr. John Hoyle, described it in this way, "She is exactly the type of leader we hope our students will become one day. Not many people can claim to be a true visionary. What makes Ann Bedsole so special is that she has been a visionary for not just one but multiple organizations, populations, and philanthropies."
Ms. Bedsole was the first Republican woman to ever be elected to the Alabama House of Representatives and the first female to be elected to the Alabama State Senate. She was the founding president of the Mobile Historic Homes Tour and Alabama Forest Resources Center. She has served on multiple boards, received many public service awards, and still owns and operates two businesses.
"She sees the future not just with hope but also through a realistic lens. She envisions the incredible possibilities for our state, and she is very aware of the hard work, synergy, and support needed to get there. I think that is why she has not stopped going to work even at the age of 90," says Hoyle.
Her continual work is what led to such exceptional progress at the Alabama School of Math and Science. From an idea in the legislature to the school campus on Dauphin Street today, Ms. Bedsole has been there every step of the way. She served on the school board, is currently on the foundation board, and provided the seed funding for the school's newest academic facility – the Ann Bedsole Building.
"Just as we predicted way back when, we have evolved from a 'field of dreams' into a school which is 100 percent committed to producing Alabama's best leaders and most outstanding innovators. These young men and women are literally creating opportunities out of what others might see as challenges and obstacles," says Bedsole.
Students at ASMS now have access to experiential learning opportunities, research programs, leadership training, and 100+ rigorous courses. The average ACT score for ASMS graduates is a 30. To date, ASMS students have earned 255 million dollars in scholarships.
ASMS students themselves are very familiar with Ms. Bedsole and the role she has played in advancing the school.
"Ms. Bedsole has given ASMS students opportunities that we could have never imagined. If you told me three years ago that the majority of my classes would be college level classes, or that I would have numerous opportunities to grow as a leader, I would not have believed you. Thanks to Ms. Bedsole and ASMS, the unimaginable is my everyday reality," says senior Jalexis Edwards.
Ms. Bedsole's greatest passion at ASMS has always been the students themselves. At her birthday celebration, student speakers reflected on her impact and expressed their gratitude to her. The student body also presented her with a photo of the school surrounded by a matte where each of them signed their name with a note of appreciation.
"I cannot think of a better way to say Happy Birthday to Ann than to let her hear directly from the students whose lives she has forever changed for the better," says President Hoyle.
It is not easy to make it to the age of 90. It is not easy to transform the landscape of education. It is not easy to be a trailblazer in the state of Alabama. Truly, Ann Bedsole is nothing short of amazing.