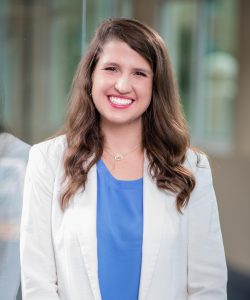 Allyson McMaken
Director of External Relations
amcmaken@asms.net
|
(251) 441-2128
M.A., Higher Education Administration - The University of Alabama
B.S.F.C.S., Human Development and Family Sciences The University of Georgia
Biography: Allyson McMaken chose a career in education from the joy of helping students maximize their God-given potential. Her professional background includes admissions, orientation, recruiting, event planning, strategic communication, and student leadership development. At ASMS, Mrs. McMaken oversees communication, alumni relations, and leadership programs. Her aim is for ASMS to be celebrated across the state of Alabama for the positive impact of both current students and alumni. She is married to her husband who is a lawyer in Mobile.
Certification: Personal and Organizational Leadership - The University of Georgia
Accomplishments: During her time recruiting for C&IS at UA, Mrs. McMaken increased the college's undergraduate enrollment by 36% across two years – the highest of any other college at UA. She established the college's inaugural on-campus recruitment program – Capstone Communication Day. She also founded the university's collaborative recruitment group known as the Recruitment Partners Roundtable. In her first year at ASMS, Mrs. McMaken started a committee to develop a branding standards guide for the school, resulting in official colors, logos, and wordmarks. She is also coordinating the school's inaugural Jo Bonner Leadership Academy program.