Weather Response Update 2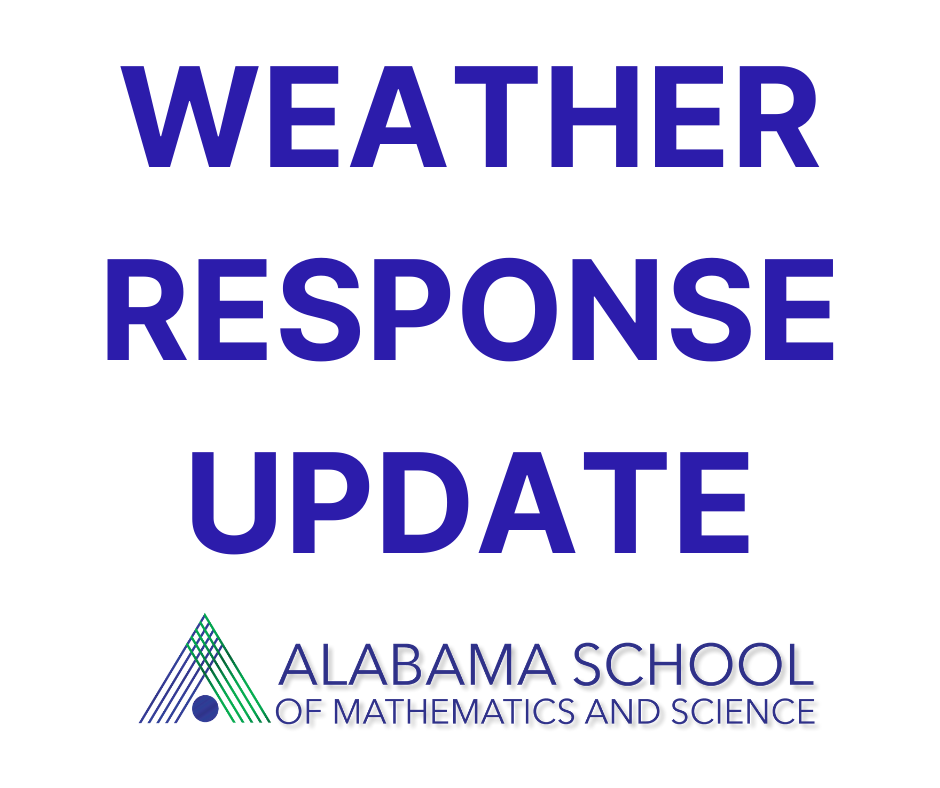 A Message from President John Hoyle:
September 14, 2020

Dear ASMS Community Members,
Our students just completed the mandatory assembly where we overviewed emergency weather procedures, and they participated in a severe weather drill to prepare for Hurricane Sally. We are doing everything we can to avoid closing our campus once more, and I am confident we are appropriately working to be ready for the storm.
Please review these important updates:
Weather
Sally has now formed into a Hurricane, and the Mobile area has been placed under a Hurricane Warning.
Due to the storm's slow-moving nature and the projected eastern path, we are now expecting power outages and heavier amounts of rain.
The storm's slow nature also means that the start of severe weather may begin later than expected and last additional days during the week.
New Options for Traveling Home
ASMS has decided to rent a charter bus for students who would like to leave. The bus will load at 3:30 p.m. today and will follow the standard route up I-65. Parents must submit a REACH request for their students to ride the bus. We are not evacuating the campus but giving families an alternative if they are uncomfortable with their students remaining on campus.
A return bus will be provided on Sunday, September 20, 2020 (unless conditions do not permit).
Families may also come to campus to pick up their students. Since the storm is moving slowly, the deadline has been extended until 7 p.m. tonight for this option.
All students who leave campus due to weather may return on Sunday (unless conditions do not permit).
Classes
Students will not meet virtually for their academic classes on Tuesday or Wednesday but have been given assignments to complete during this time.
Preparations
Additional administrators will be on campus for the duration of the storm.
Foodservice has been secured for the duration of the storm.
ASMS will coordinate a run to Winn Dixie for students who may need last-minute items.
We have 121 students on campus at this time, and the parents of each of those students will receive a phone call from the school.
Other
SGA officer elections, class representative elections, and the third JBLA training have now been postponed until further notice.
Dr. Scarlette Studdard (sstuddard@asms.net) is the ASMS Leadership Team member who should be contacted with questions.
We have decided it would be best to postpone all move-in scheduled through Saturday, September 19. If you were planning to move in during this week, we will reschedule you soon.
I want to reiterate that Sally is a very slowing moving storm with an unpredictable path. We will try and update families during the storm, but that may not be possible.
As I have said for the last six months, I appreciate the flexibility and patience you have shown – 2020 has been a special kind of year!
Sincerely,
John Hoyle
President