Outstanding ASMS Alumnae and Sisters: Shayla Barnes-Holloway (1994) and Shannon Barnes Martin (1998)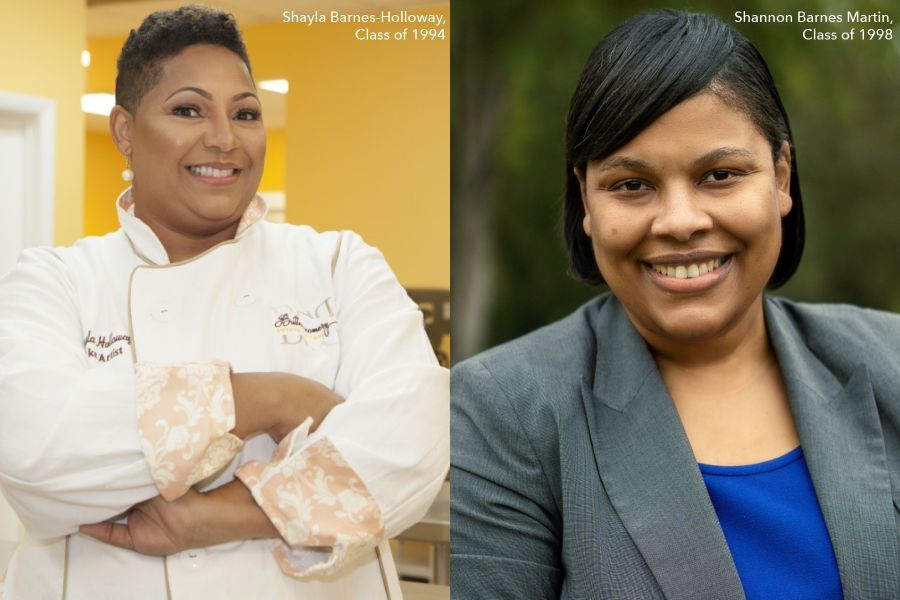 Sisters Shayla Barnes-Holloway (Class of 1994) and Shannon Barnes Martin (Class of 1998) both graduated from ASMS within the first 5 years of the institution's founding. Their stories remind us that each ASMS student is unique, and students graduate prepared to forge their own meaningful path.

The Barnes sisters grew up in the rural town of McIntosh, Alabama with 6 other siblings, a mom who worked in education, and a dad who worked as a chemical operator and entrepreneur. Their mom, being an educator, recognized that they were not being adequately challenged at their home school, so she launched them into ASMS their junior years.
Shayla described, "ASMS opened my eyes wide to a different way of learning, doing, seeing, and being around others. I was finally able to flex my intellectual muscle in a real way with others who came from places like me and those who came from completely different places."
"I gained exposure to classes and people I had never been around before. ASMS is so diverse, and I was no longer being picked on for being the smart kid. I remember thinking 'I am amongst my people,'" said Shannon.
They explained how the rural experience is different from anything else. Nothing in pop culture really acknowledges or captures their lived experiences in rural America where there is an immense lack of access. They expressed how everyone is intelligent but not everyone has the opportunity to show it or have it cultivated.
Both sisters say that ASMS became an unmatched academic opportunity for them.
After graduating from ASMS, the sisters said that Shayla's story includes some twists and turns which led her to where she is today while Shannon's story involved a more straight forward academic and career path.
Shayla graduated from ASMS in 1994 and went on to earn a bachelor's degree in English from Spring Hill College (SHC) in Mobile, AL. After teaching for 3 years, Shayla left the classroom to work with nonprofits and school districts focused on school reform and innovation, and then she ultimately moved on to manage operations for several companies providing Supplemental Education Services to school districts throughout the Southeast. After juggling marriage, an expanding family, and a demanding career, Shayla decided to become a stay-at-home mom. While making a birthday cake for her sons, she discovered a new passion and skill – baking. Shayla soon launched her own company, The Buttercreamery Sweets Boutique, and her renown grew fast. Since founding her company in 2011, she has created edible works of art for celebrities such as Lebron James and Dwayne Wade, companies such as Carnival Cruise Lines and American Express, and has appeared on The Cooking Channel and Netflix.
Shayla exclaimed, "I joke that my life is a series of fortunate events, but I also credit my mom who finagled and pushed me. She saw the intellectual potential in me even when I did not feel the fit myself. When I finally found baking, I knew I found my fit. I use STEM in baking every day – measurements, temperature, calculations, and more. Instead of a typical science lab, it is a cooking lab!"
After graduating from ASMS in 1998, Shannon went on to pursue her undergraduate degree in nursing from Spring Hill College (SHC) in Mobile, AL and a master's degree in Pediatric Nursing from the University of Alabama at Birmingham (UAB). Her patient care nursing experience includes pediatric nursing, bone marrow transplants, medical surgery, and more. She eventually transitioned to working in the field of nursing informatics and clinical documentation. She currently lives in Chelsea, AL with her husband and 4 children. She works for a software company building and creating pediatric clinical content, and she is also pursuing a Doctorate of Nursing Practice from the University of South Alabama (USA) in Nursing Informatics which she will graduate with in 2022.
Shannon shared, "I really loved nursing and patient care, but I also enjoy that in my current role I have an opportunity to impact the quality of care, documentation, and reimbursements for patients."
Each sister's story is a reflection of the holistic nature of STEM learning provided by ASMS. The sisters expressed that STEM means so much more than math and science classes. ASMS students embrace their STEM education and use that experience to be what they want to be. ASMS students can become nurses and informatics practitioners. They can also become entrepreneurs and bakers. Just ask Shayla and Shannon. "At ASMS, you don't have to dim your light. You can be who you want to be and pursue what you want to pursue, and do it authentically," said the sisters.