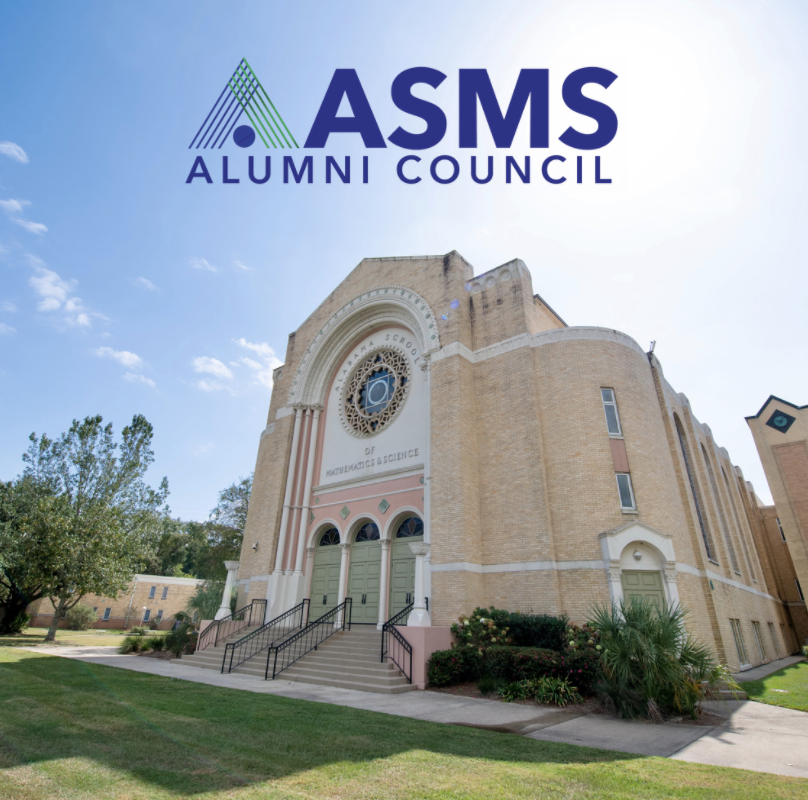 Mission
The ASMS Alumni Council works in tandem with the Alabama School of Mathematics and Science to promote the interests of all graduates and students of the school in support of the school's mission.

Vision
The purpose of the ASMS Alumni Council is to engage, celebrate, and support Alumni of ASMS as they continue their professional journeys; to serve as the voice of the Alumni of ASMS; to support the growth of students during their time at ASMS and as they move into the world as graduates; and to support ASMS in its development as a premier academic institution.
2022 - 2023 Alumni Council
Dr. Bob Ashurst, Class of 1994 - Chairman
W. Robert Ashurst, Ph.D., is the Uthalut Family Endowed Associate Professor of Chemical Engineering at Auburn University in Auburn, Alabama. He is also the Director of the Samuel Ginn College of Engineering Design and Innovation Center. Dr. Ashurst graduated from ASMS in 1994, then went to Auburn University and earned a Bachelor of Chemical Engineering degree. His doctorate in Chemical Engineering is from the University of California at Berkely, and he stayed at UC Berkeley for another year as a post-doctoral researcher. In 2004, Dr. Ashurst joined the faculty at Auburn University and has conducted research in molecularly thin films, thin film deposition processes, and surface and interfacial engineering particularly related to semiconductor materials and processes.
Dr. Laura Cepeda, Class of 1995
Dr. Laura Tucker Cepeda is a dermatologist and Mohs surgeon who specializes in skin cancer surgery. She worked in private practice in Fairhope for many years including as a medical director. She most recently served as Chief Medical Officer for the Mobile County Health Department to coordinate COVID-19 response. Her degrees include an undergraduate degree from Auburn University, a doctor of medicine from the University of South Alabama, and an Executive MBA from Auburn University. She completed her residencies after medical school at the University of South Alabama, New York Medical College, and SUNY Downstate. She is also a published researcher and presenter.
Jacob Commerford, Class of 2015
Jacob Commerford received his bachelor's degree in neuroscience from the University of Alabama at Birmingham in 2019. During his senior year he was elected Battalion Commander of his ROTC unit. His senior thesis investigating psychedelic and MDMA use among veteran populations was submitted through the Science and Technology Honors Program. The following year he took on the role of Residential Life Coordinator at ASMS. Since then he has been serving his commitment to the US Army as a helicopter pilot with the rank of Second Lieutenant. After switching to a National Guard position he currently lives in Birmingham Alabama and is actively seeking PhD program opportunities.
Dr. Tracy Jill Doty, Class of 2000
Dr. Tracy Jill Doty is a neuroscientist with expertise in sleep research, human brain imaging, and affective neuroscience. She serves as the Chief of the Sleep Research Center at the Walter Reed Army Institute of Research in Silver Spring, MD. Dr. Doty holds a bachelor's degree in Psychology/Neuroscience from Duke University and a Ph.D. in Clinical Neuroscience from the Karolinska Institutet and NIH Graduate Partnership Program. Her current work focuses on interventions to either enhance the restoration of sleep or enhance alertness during wake using electrical brain stimulation, caffeine, and performance modeling.
Jerika Edwards - Class of 2019
Jerika Edwards is an Urban Studies and Public Policy major with a Pre-Law concentration at Dillard University. Jerika currently serves as a HBCU White House Scholar, 4.0 Dean's List scholar, and a member of the Dillard University Thompson-Cook Honors Program. During her time at Dillard, she had served as Freshman Class President, creating strategic programming for Dillard's Class of 2023, and later served as Sophomore Class Representative. Jerika also served as Public Relations co-chair of Dillard's NAACP chapter. A Dillard Debate Team member, Jerika was ranked fifth overall at the 2020 National HBCU Speech and Debate Tournament. Outside of her extracurricular activities, she worked as a Resident Assistant where she created a safe haven for incoming female students. Edwards' other activities include Student Government Association Elections Commissioner, Assistant Coach for Louisiana World School Debate Team in 2020, and she formerly served in University President Dr. Walter Kimbrough's PODUS student leadership group.
Hunter Fuller, Class of 2010
Hunter Fuller is a network and telecommunications engineer focusing on interdisciplinary collaboration. In their time with the University of Alabama in Huntsville, they have served as principal investigator for science cyberinfrastructure grant projects, designed the University's off-premises disaster recovery infrastructure, and taken a leadership role in the Office of Information Technology's COVID-19 response. Their endeavors outside of UAH include volunteer network planning for charity organizations, including makerspaces and an Alabama Public Radio station, as well as public art installations utilizing LED lights and displays as the medium.
Mekhala Garvin, Class of 2007
Mekhala is an organizational change lead with experience in healthcare, public sector, and technology change initiatives. She is experienced in project management and delivery, clinical operations, and patient experience. ​She is an Advisory Sr. Consultant at Avanade.
Mekhala's background brings a unique perspective with a Master of Public Health as her foundation and experience in industry roles including patient experience healthcare administration and clinical lead roles in outpatient centers. ​
She has healthcare experience working for large institutions like M.D. Anderson Cancer Center and is passionate about elevating the human experience in healthcare and driving experience excellence through focused intent, strategy, and education.
Isaiah Gresham, Class of 2008
Isaiah T. Gresham is a driven entrepreneur with a Master of Accountancy and a Certified Public Accountant license. He is the founder of Gresham Financial, a tax, accounting, and consulting firm specializing in a personal approach to accounting and tax services. The fundamental drive behind his business is to support fellow entrepreneurs and advocate for financial literacy. As a rigorous learner, he is dedicated to creating and sharing education with those in need. He regularly speaks to audiences from high school students to business owners and professional organizations on financial and business topics, among other philanthropic pursuits.
Jeremy Griggs, Class of 1998
Jeremy Griggs is a graduate of Louisiana State University where he earned both his bachelor's and master's degree in Petroleum Engineering. After working as an engineer for several years, he transitioned to work in the field of investment banking. Today, he is the Managing Director and Head of Energy Asset Management at Hudson Advisors L.P. (an Investment Adviser to Lone Star Funds). He is a member of the ASMS President's Society through his generous support of ASMS and currently resides in Houston, TX.

Abe Harper, Class of 2000
Abe Harper is the President and CEO of Harper Technologies, LLC - a "Concierge Culture" IT Service Provider based in Mobile, AL. Harper Technologies specializes in Managed IT, Infrastructure Services, and Data Services. As a business in a fast-paced industry, Harper Technologies, employs the latest industry tools, knowledge, and methodologies to solve clients' problems. Every procedure and tool are consistently evaluated to ensure that they embody the company slogan, "Today's Company, Tomorrow's Technology"

Abe, a native of Daphne, AL, is an alumnus of the Alabama School of Math and Science. He also attended Florida A&M University and the University of South Alabama where he met his wife Audra. They have been married for just over 15 years, and have two princesses (Natalie and Erin),one prince (Abe Harper III) , and one puppy (AJ Harper).
Aside from being an entrepreneur, husband, and a father, Abe has a specific passion for the local and regional community. His desire is to help create better future opportunities for the generations to follow. Abe is very active in the regional community serving in several organizations, including the following:
Merchants and Marine Bank – Board of Directors
Alabama Innovation Corporation –Corporation Member
Prichard Preparatory School – Chairman, Board of Directors
CityHope Church – Elder
Alabama Small Business Development Center Network – Advisory Director
Aside from work and community activities, Abe also has a few hobbies and tries to indulge when things are quiet. He loves traveling and is also private pilot. Additionally, he enjoys fishing, photography, and saltwater aquariums.
Dr. Mimi Gardner Huizinga, Class of 1995
Dr. Mimi Gardner Huizinga is an internist and leads medical affairs for ImmunoGen, a biotechnology company focused on the development of antibody-drug conjugate therapeutics for the treatment of cancer. She worked as a senior leader in large hospital systems and health policy prior to her work in pharmaceuticals. She is a part-time faculty member at the Johns Hopkins University School of Medicine. She has undergraduate degrees from Mississippi State University as well as a doctor of medicine and a masters in public health (epidemiology) from Vanderbilt University. She completed her residency and fellowship in internal medicine at Vanderbilt University. She currently splits her time between Boston, MA and Nashville, TN.
Heather Khassian, Class of 1996
Heather Fuller Khassian is a class of 1996 alumni of ASMS. Heather was raised in Brierfield, Alabama and attended public school in Montevallo until she was accepted to ASMS in 1994. While at ASMS, Heather fell in love with biology and chemistry because of the amazing professors and resources available to students, which allowed her to explore these subjects in ways not offered in many public schools in Alabama. After graduation from ASMS, Heather went on to earn degrees in both biology and chemistry at Huntingdon College, graduating with honors in both subjects.
Heather then taught chemistry and physics at Bibb County High School before attending law school at Washington University in St. Louis. Heather earned her J.D. with honors in 2004 and then moved to Houston, Texas where she began her legal career with a focus in the sciences. Among the technologies Heather has worked on throughout her legal career include genetic testing chips, hematology controls, genetically modified crops, spine and knee medical treatments, secure payment processing, blue tooth devices, and energy efficient chemical manufacturing. Heather has also worked on a number of pro bono matters, which has allowed her to represent individuals and organizations in fights for justice for many underserved communities. Serving these communities has been one of the most rewarding aspects of her career.
Heather has been married to her husband, Farzam, since 2005. They are raising their children, twin daughters, Phoebe and Corinne, and son, Colby, in Sugarland, Texas, where they spend their afternoons and weekends exploring the various managed ecosystems of their neighborhood, nearby hiking trails in state parks, and growing all sorts of fruits and vegetables in their backyard garden.
Darrell Rigsby, Class of 2003
Darrell grew up in Fayette, AL, where he earned his Eagle Scout Award from Troop 45 in 2002. He graduated from ASMS in 2003. He attended The University of Alabama, graduating in 2008 with his bachelor's degree in Geography and went on to Auburn University, graduating in 2012 with Master of Community Planning and Master of Science in Geography degrees. In his current role as Senior Planner with the City of Prattville, and previously working as a Planner and Transportation Director for three different Regional Councils of Government in Alabama, Darrell has gained extensive knowledge and experience in the areas of community planning and development, regional planning, transportation planning, grant writing and administration, and various governmental functions and affairs.
Darrell has served as Scoutmaster, Assistant Scoutmaster and Committee Member of two Boy Scout Troops, Board Member of a Homeowners Association, Pod Representative for a Homeowners Association, and has volunteered with various other organization over the past fifteen years.
Darrell is married to Kelli McNamara Rigsby and they have one child, Elliott, and multiple pets. In his free time, he enjoys spending time with family and friends, spending time with his pets, going to the beach, running, and outdoor recreation.

Questions?
E-mail Allyson McMaken, Assistant Director of Communication and Alumni Outreach (amcmaken@asms.net)